DYK: 10 facts from Donaldson's big night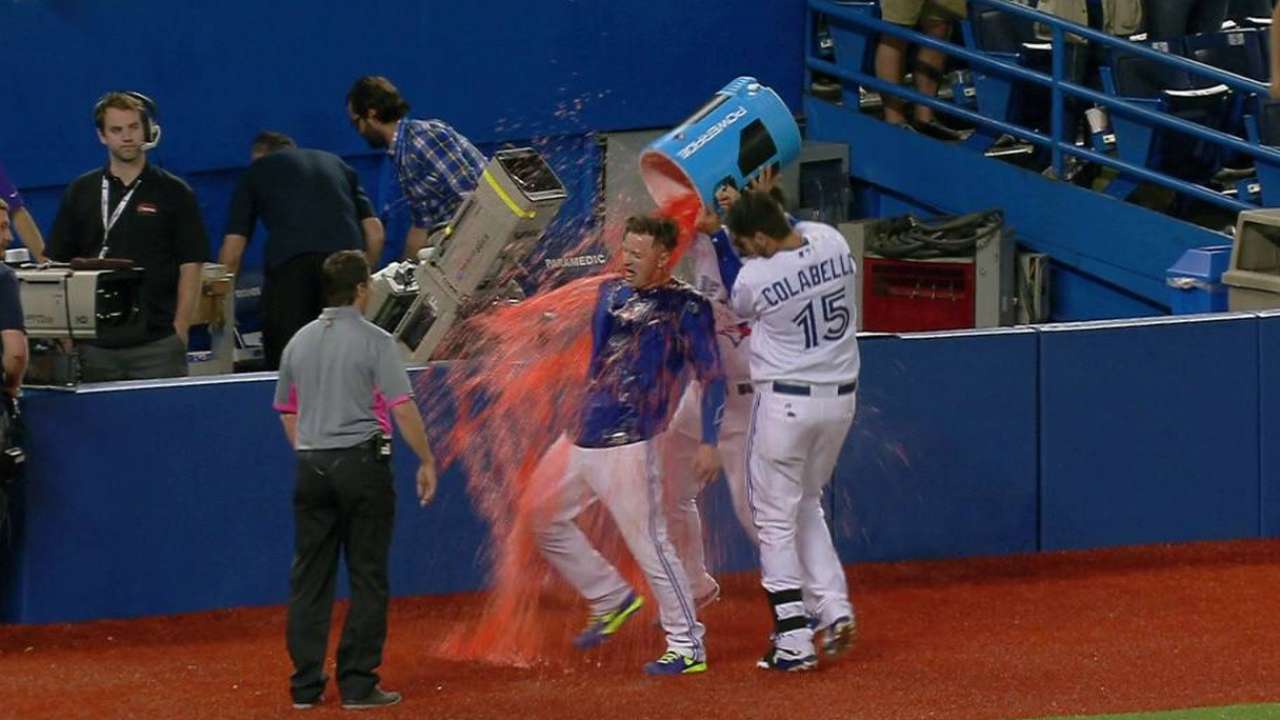 Even a quick look at the box score from Toronto's 10-9 walk-off win over the White Sox on Tuesday would be enough to indicate that Josh Donaldson had a pretty incredible night.
The Blue Jays third baseman went 4-for-4 with four RBIs, five runs scored, two home runs and a walk. That type of line is already special, even before factoring in that the second of those two home runs was a walk-off shot in the bottom of the ninth.
Put it all together and Donaldson's effort was one of the best in franchise history and, in some ways, it even stacks up with some of the better individual performances of all-time. Here's a look at 10 intriguing facts related to Donaldson's big night: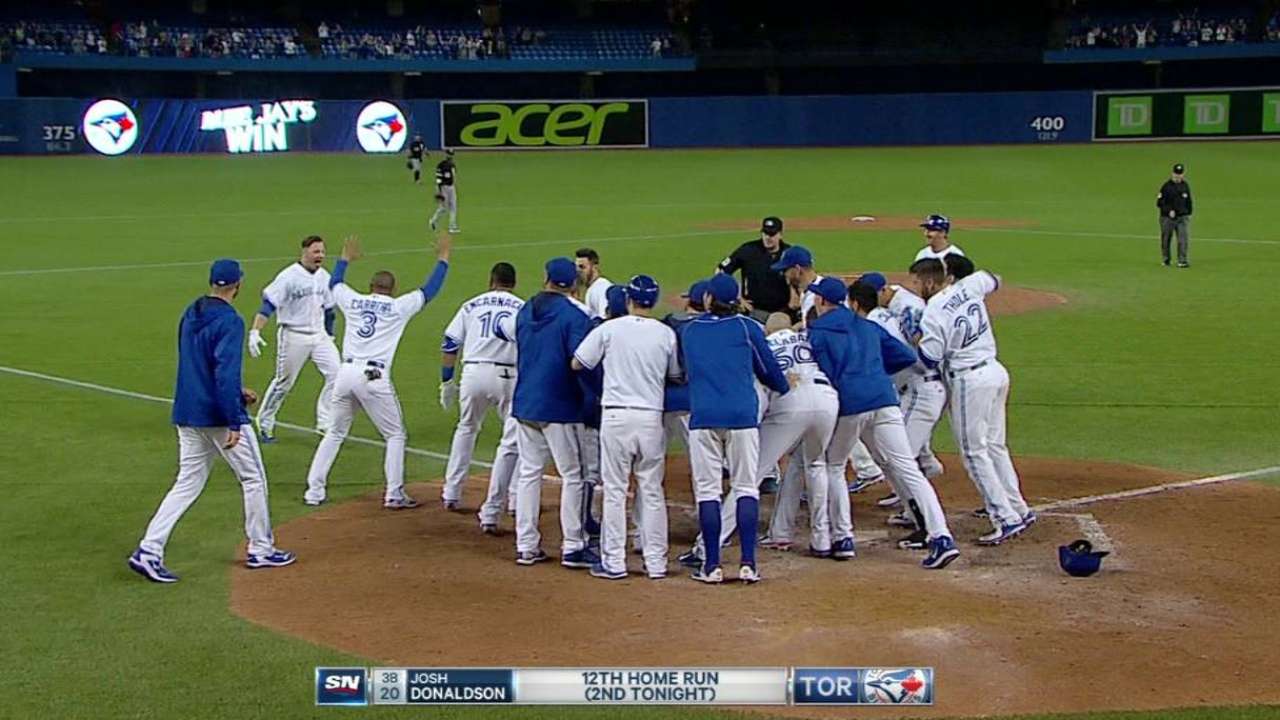 • Donaldson is the first Blue Jays player in franchise history to record at least four hits, four RBIs and five runs in a game.
• As for the rest of the league, Donaldson is just the 12th player since at least 1914 to go 4-for-4 with at least four RBIs and five runs. The last player to reach those plateaus was Angels shortstop Erick Aybar on Sept. 18, 2011, while Ken Griffey Jr., Mel Ott and Lou Gehrig are among the others on the list.
• Toss in Donaldson's walk in his only other plate appearance Tuesday night and that makes him only the 18th player since 1914 to reach base safely in all five plate appearances, while also reaching those four-RBI and five-run plateaus.
• From the department of oddities, Donaldson's performance against the White Sox made him the first American League player with at least four hits and two homers, the second of which was a walk-off, in a non-extra innings game since current White Sox manager Robin Ventura did so on July 31, 1991. Like Donaldson, Ventura was also batting out of the No. 2 spot and playing third base in that game.
• Meanwhile, Donaldson's other homer came in the first inning on the very first pitch he saw, making him the first player to hit a walk-off homer after also homering in the first inning since Justin Upton on April 6, 2013. The last Blue Jays player to accomplish the feat was Reed Johnson on June 15, 2003.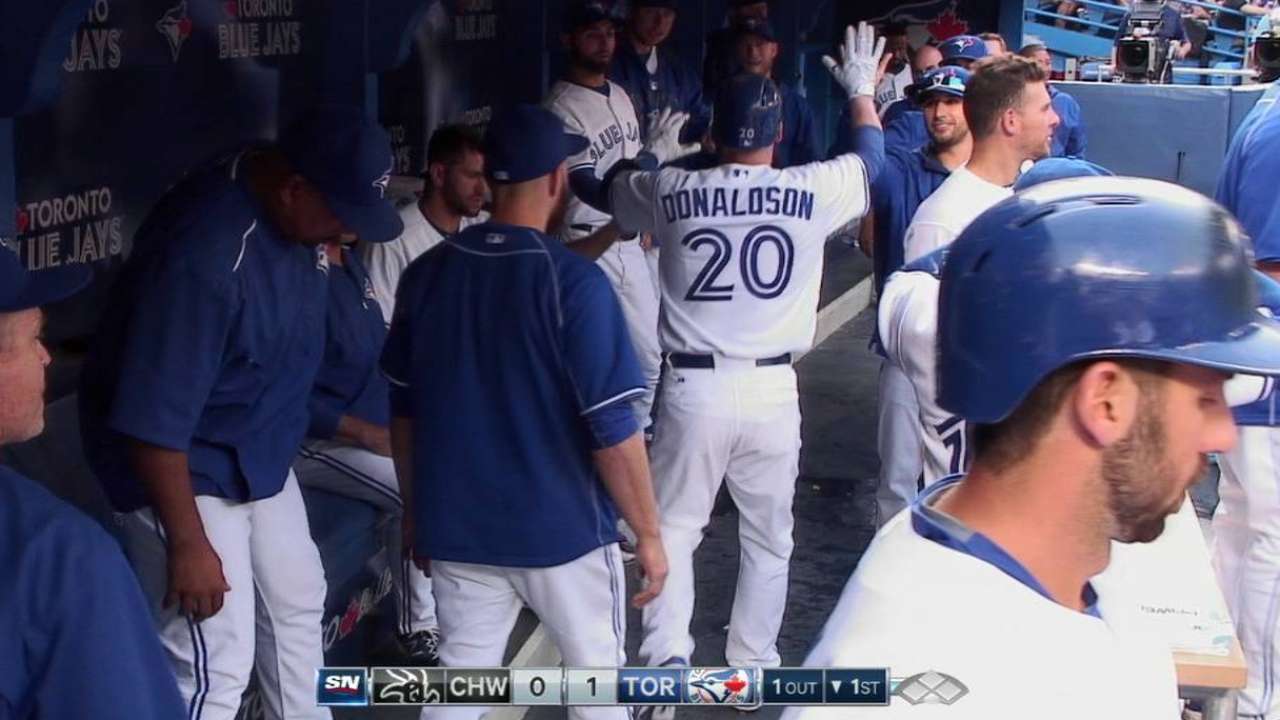 • Speaking of that first-inning homer, it came on the very first pitch Donaldson saw from White Sox starter John Danks. That makes Donaldson the first player to homer on both the first pitch he saw and the final pitch of the game since then-White Sox outfielder Andruw Jones did so against the Mariners on April 23, 2010.
• Making Donaldson's four-RBI, five-run effort all the more impressive is the fact that the Blue Jays scored only 10 runs total. Donaldson is the first player to reach each of those plateaus during a game in which his team scored 10 runs or fewer since Griffey on May 24, 1996. Griffey went 4-for-4 with six RBIs and five runs in a 10-4 Mariners victory over the Yankees.
• Building off that last one, he's also the first player to score at least half of his team's runs in a game in which the club scored 10 or more since George Springer did so for the Astros on May 26 of last year. Springer also went 4-for-4 with five runs scored in that contest, a 9-2 victory over the Royals.
• No player since at least 1974 (Baseball-Reference walk-off data is complete back to the '74 season) has tallied at least four hits, four RBIs and five runs in a game that his team won in any type of walk-off fashion. Donaldson not only did so in a game the Blue Jays won via walk-off, but bonus points to him for being the guy to walk it off.
• Donaldson is the first Blue Jays player to score at least five runs in a game since Orlando Hudson did so in a 12-6 victory over the Red Sox on May 13, 2004.
Paul Casella is a reporter for MLB.com. This story was not subject to the approval of Major League Baseball or its clubs.