Garza continues Brewers' starting woes
Right-hander joins Lohse in struggling atop Milwaukee rotation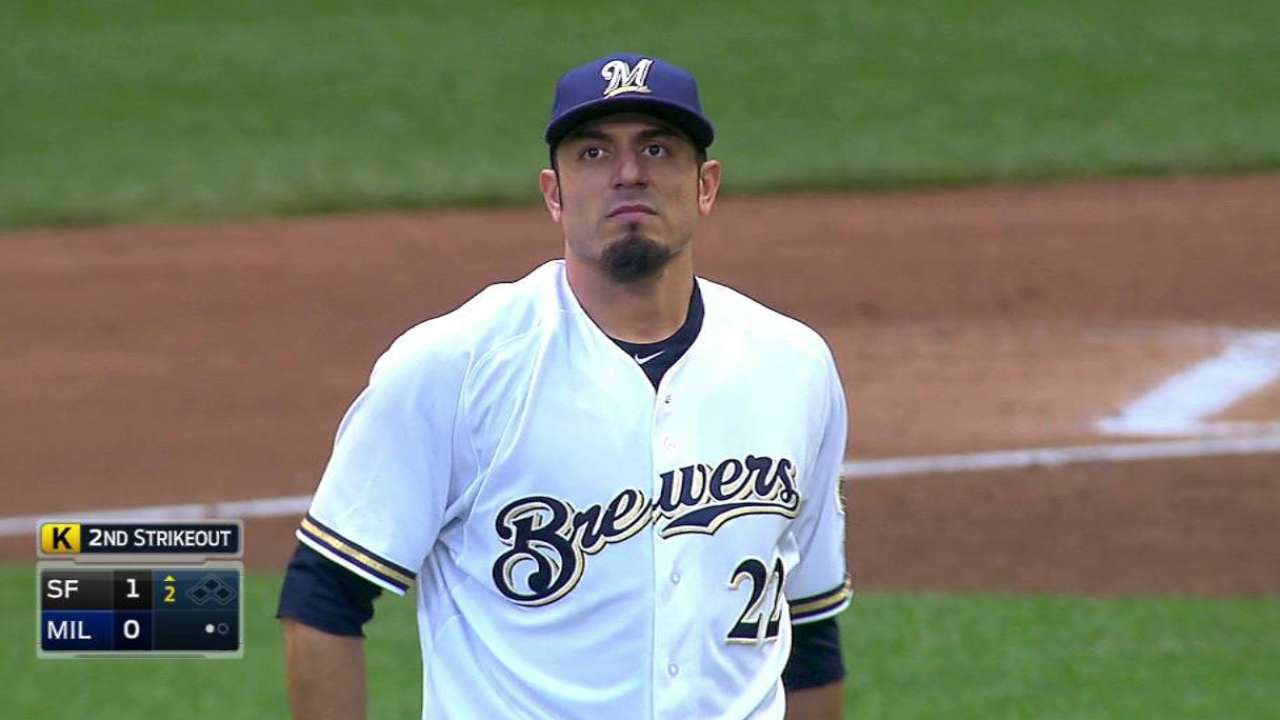 MILWAUKEE -- The Brewers are paying $23.5 million this season for stability from the top two spots of the starting rotation, and Kyle Lohse and Matt Garza are struggling to deliver on that investment.
Lohse's ERA after 10 starts is 5.80, inflated by a 5 1/3-inning, five-run loss to the Giants on Monday afternoon. Garza's ERA after 10 starts is 6.00, pushed up by a five-inning, five-run, two-homer performance against the Giants on Tuesday night in the Brewers' 6-3 loss at Miller Park.
The loss dropped Garza's record to 2-7 in the second season of a four-year, $50 million contract. He is tied with San Diego's Andrew Cashner for the Major League lead in losses.
"To be honest with you, I don't know what's going on," Garza said. "It's frustrating. At the same time, it's just unreal. ... It's frustrating. You have to keep going. You have to keep grinding."
Both Lohse and Garza were done in by a big inning, a recurring problem for Brewers pitchers this season. On Monday, seven consecutive San Francisco hitters reached safely against Lohse and reliever Jeremy Jeffress during a seven-run sixth inning. On Tuesday, five straight Giants collected hits against Garza during a three-run fourth inning, two of the runs scoring on Matt Duffy's home run from the eight-hole.
Garza also surrendered a first-inning home run to Hunter Pence.
"The home runs. It's starting to become a trend," Garza said. "It's an adversity period in my life, in my career, so you keep going. I'll just keep pounding the pavement, keep going out there, keep grinding. That's all I can do. My stuff's there. If it wasn't, I wouldn't be striking out guys out there.
"I have to figure out what's going on. Maybe it's [pitch] sequence. Maybe I'm tipping. It's something. I'll get to the bottom of it."
Adding to the Brewers' troubles, No. 3 starter Wily Peralta, a 17-game winner last season, was 1-5 with a 4.00 ERA before hitting the disabled list this week with a left oblique strain. He said he expects to miss four to six weeks.
"We felt like we could do it with guys that are 2-3-4 starters," said Brewers manager Craig Counsell, who worked in the team's front office before assuming manager duties May 4. "If you're going through a five-man rotation over 162 games, maybe you don't match up well against Madison Bumgarner but you match up well against the other team's [No.] 4 or 5 starter.
"[Lohse and Garza are] different pitchers. They have success in different ways. They're getting stuck at similar points but it's not the same to me because they do it differently. For sure, for Matt it's the big inning. It's the big moment for Matt. We have to figure out how to limit the damage."
Adam McCalvy is a reporter for MLB.com. Follow him on Twitter @AdamMcCalvy, like him on Facebook and listen to his podcast. This story was not subject to the approval of Major League Baseball or its clubs.