Back at .500, streaking Rangers not satisfied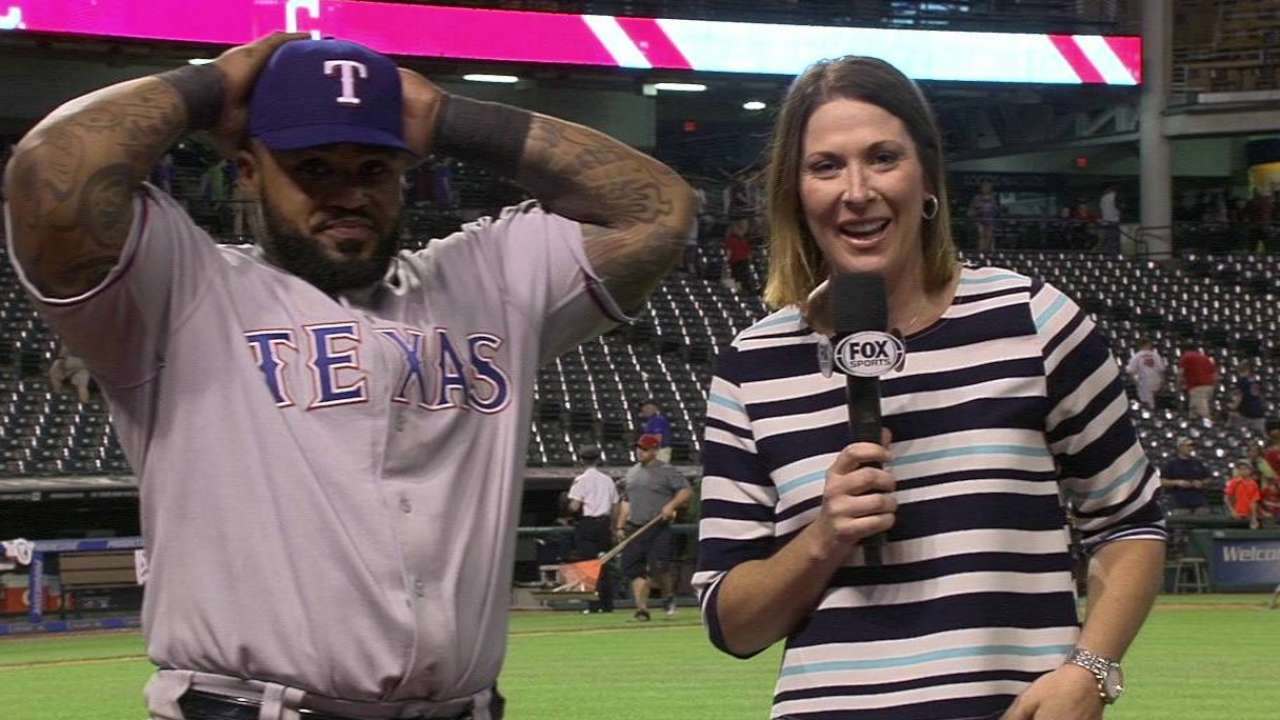 CLEVELAND -- For the second time in as many nights, the Rangers erased a late-inning deficit to secure a victory, 4-3 on Tuesday night in Cleveland. For the seventh game in a row, the Rangers have found themselves in the win column. And for the first time since the sixth game of the season, the Rangers are a .500 ballclub.
Comebacks don't happen without help from multiple parties. Seven-game winning streaks don't happen without every aspect of a team playing well. As cliché as it sounds, this Rangers club is a team that's firing on all cylinders right now.
"Winning is contagious," manager Jeff Banister said. "I think all of it plays together. It's a lot more fun to play when you're winning games."
To win seven games in a row, you'll need an anchor to carry the load. That anchor has been Prince Fielder, who, after a 3-for-5 game with a double and a home run on Tuesday night, is 14-for-24 (.583) with five homers and 15 RBIs over his last five games.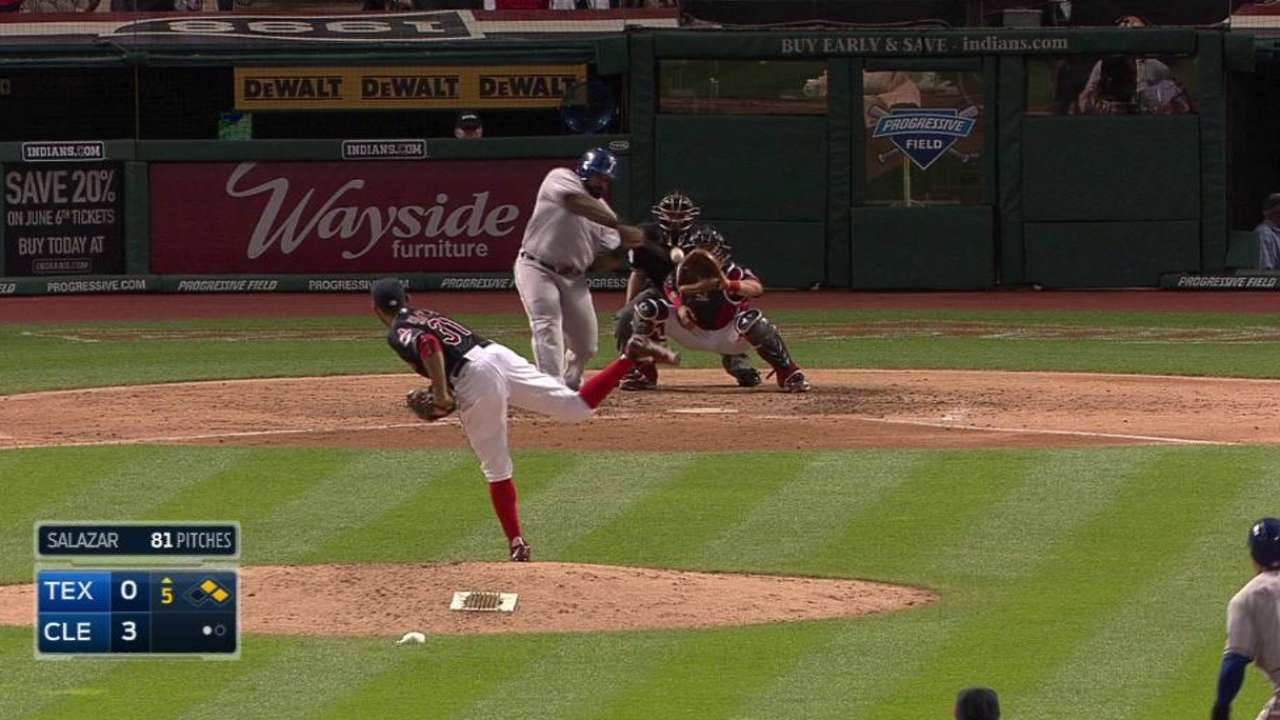 "As good as I've seen," Banister said of Fielder's stretch.
To mount comebacks, you'll need your guys to string together clutch hits against the other team's bullpen. Typically, that involves the ability to hit same-handed pitching when your opponent is playing the matchups. That's what Mitch Moreland did, when he hit his first home run off a left-handed pitcher since September 9, 2013.
"Mitch's first at-bat of Spring Training was off a left hander and he drove the ball hard over the shortstop's head," Banister said. "The next at-bat was a home run to straight away center field. I'd like to believe that our process of having the lefties face lefties in Spring Training has been paying off for us."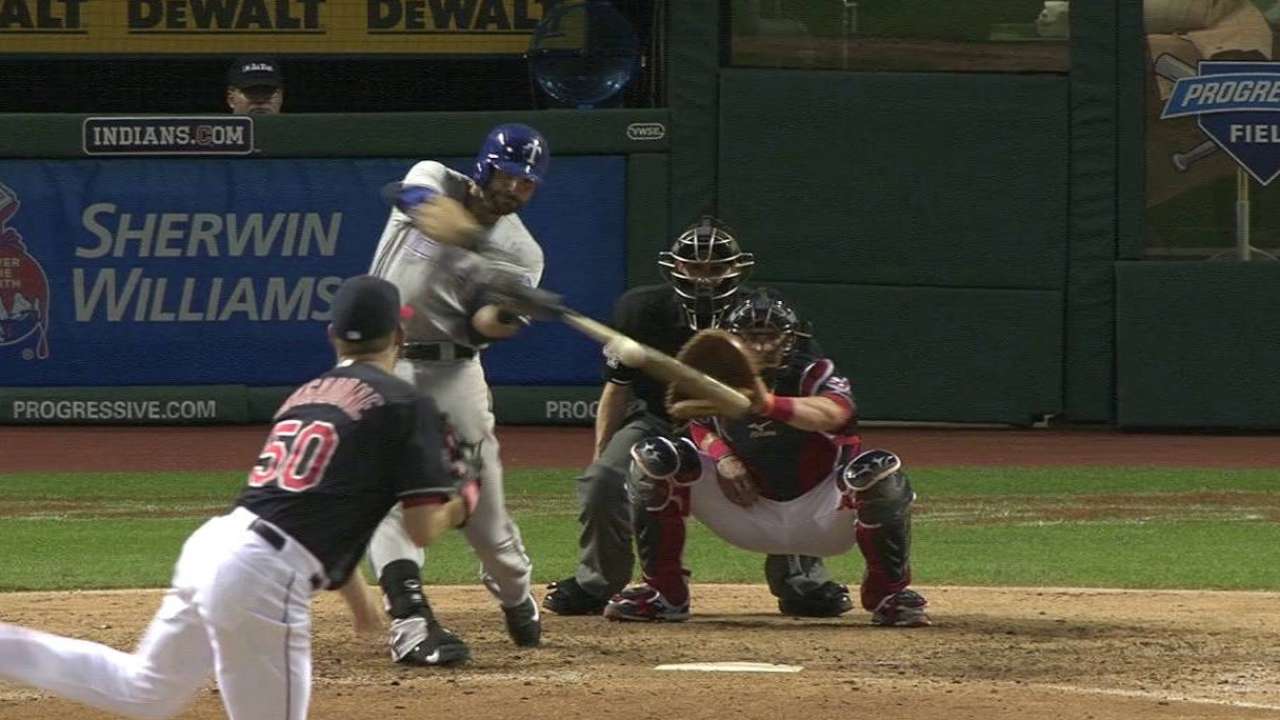 To consistently stave off another team's comebacks, you'll need strong performances from your bullpen. One night after the Rangers' bullpen held the Indians at bay for one run over six-plus innings, the back end did it again with 3 2/3 scoreless innings from Tanner Scheppers, Keone Kela, Ross Ohlendorf and Shawn Tolleson, the latter of which Banister still won't name his closer, but jokingly referred to as his "ninth-inning relief pitcher."
Add it all up and you get a team on a season-high win streak, and a team that has clawed its way back to .500. And while that's a nice mark, it's still not where the Rangers want to be.
"The reality is, the day we start worrying about if we're .500 or one game over or below .500 really goes against the concept we set out in Spring Training," Banister said. "Going through all those years in Pittsburgh and [all the fans clamored for .500], I can tell you that was not our goal. As soon as we got rid of that thought process is when that ballclub actually started to take off. It was a mark in the road, and it was a part of the journey getting us where we want to go."
August Fagerstrom is an associate reporter for MLB.com. This story was not subject to the approval of Major League Baseball or its clubs.