Not trying to do too much, Bucs' hitters thriving
PITTSBURGH -- With a full count and two outs in the fifth inning Tuesday night, Marlins starter Jose Urena fired a 93-mph fastball to the outer half of the plate. Pedro Alvarez reached out and grounded it through the left side of the infield, and Starling Marte wheeled around third base to score.
It was an encouraging sign for Alvarez, able to beat the shift and drive in a run. But it was also emblematic of the Pirates' approach in their 5-1 win over the Marlins at PNC Park -- and the attitude that's helped their lineup churn out runs during their five-game winning streak.
"It's a sign of a team that's understanding the situation, understanding how they're going to be pitched and taking what's being given to them," second baseman Neil Walker said. "Not trying to do too much."
As the Bucs scuffled through April, the lineup was plagued by too many players trying too hard. There were moments where everything clicked, where the Pirates' lineup kept the line moving the way they'd planned on.
But it's clicked more often the last few days, as evidenced by Tuesday night's performance. All five of the Pirates' runs against Urena came with two outs.
"It's happened more consistently right now. It's happened throughout the season; just hasn't happened enough," Pirates manager Clint Hurdle said. "This isn't some new thing that they've unwrapped. We just haven't done it with the consistency we were able to carry it through last year.
"We need a commitment from every guy when he gets into the lineup to play that way, to hit that way, to perform that way."
The Pirates got just that Monday, when their Nos. 4-8 hitters combined for 10 hits. And they got it again Tuesday, when everyone in their starting lineup -- yes, including starter Jeff Locke -- got on base within the first five innings.
Jung Ho Kang drove in the Bucs' first run with a two-out single in the first. Josh Harrison came up in the second with a man on first and doubled him in, then Walker homered to left to make it 4-0.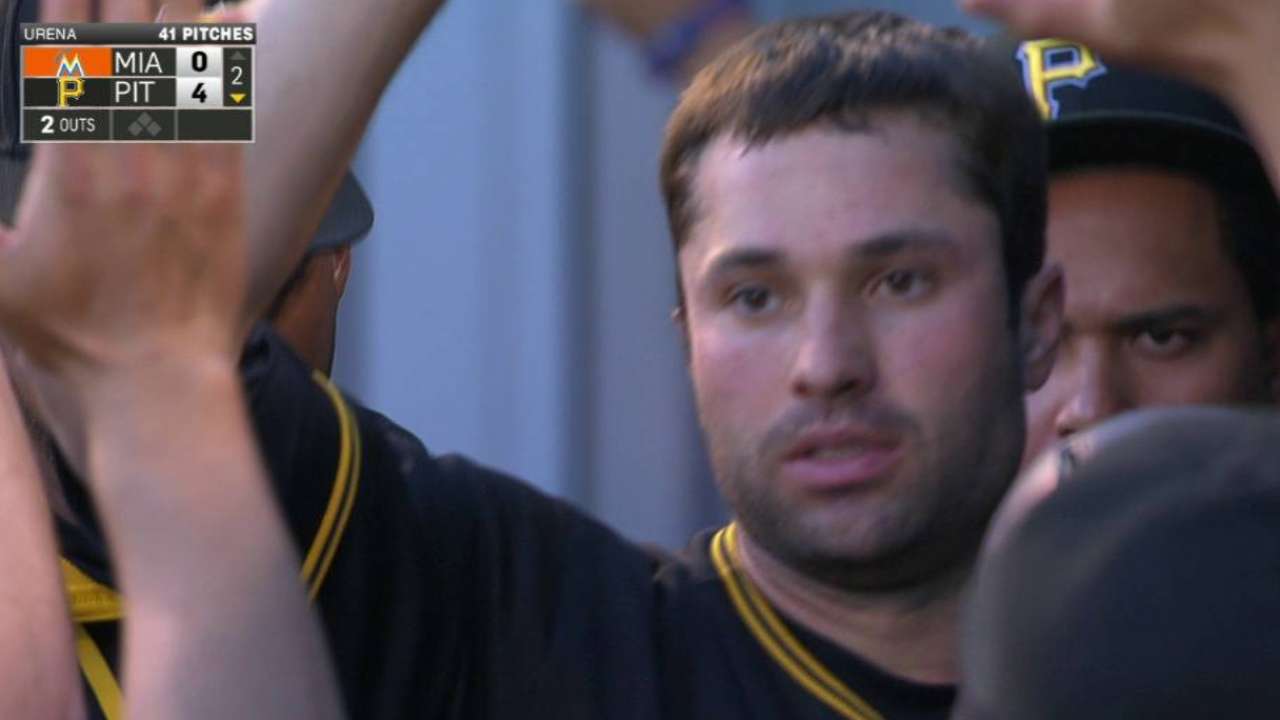 The Pirates completed their offensive attack in the fifth, when Alvarez smacked the shift-beating single into left field -- another two-out run in a game full of opportunities the Pirates didn't miss.
"We always love it. We've definitely had our share where we weren't having them," Hurdle said. "That's where everybody gets the biggest bang for your swing. It makes the biggest difference."
Adam Berry is a reporter for MLB.com. Follow him on Twitter at @adamdberry. This story was not subject to the approval of Major League Baseball or its clubs.