Bryant wows Wrigley with mammoth home run
Third baseman hits 477-foot blast to tie Tuesday's game vs. Nats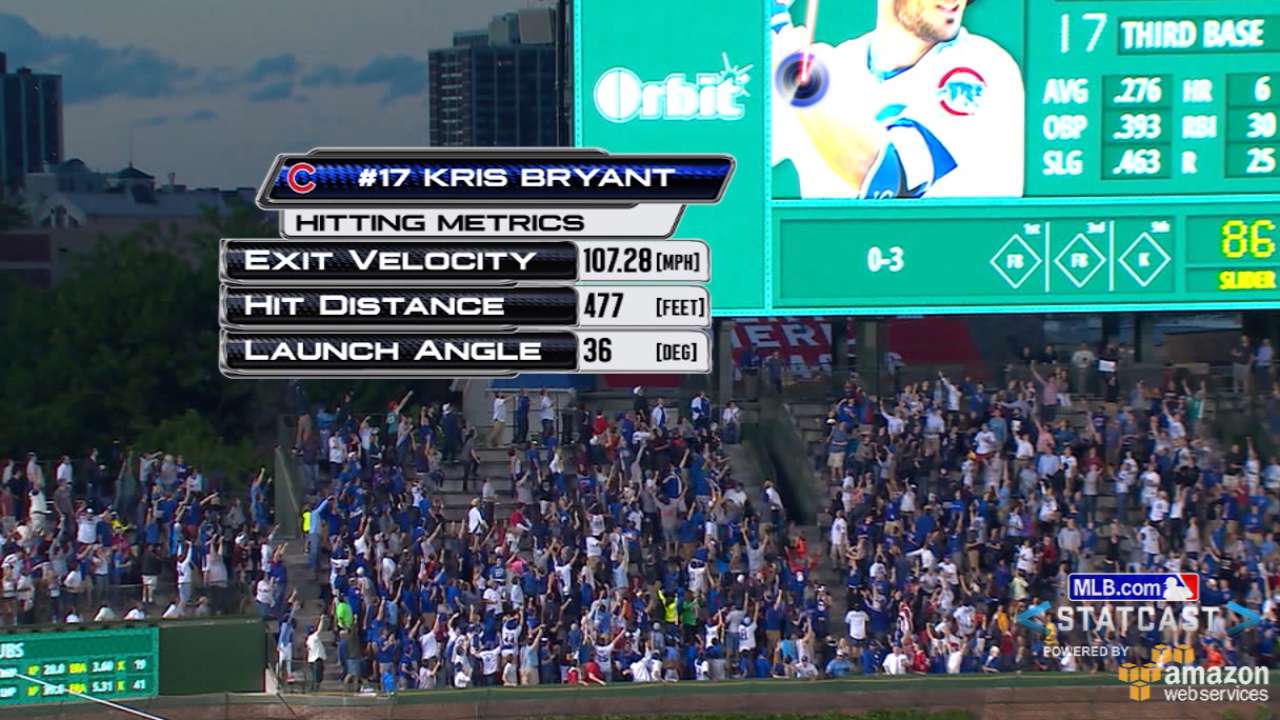 CHICAGO -- Kris Bryant hit some long home runs at Bonanza High School in Las Vegas and his father, Mike, will tell you that he launched one 600 feet over a light tower at Fowler Field in San Diego. On Tuesday, Bryant belted a game-tying home run that left the 30,440 at Wrigley Field stirring and may have dented the left-field video board.
Bryant hit a game-tying home run leading off the eighth inning, and Addison Russell delivered a walk-off RBI double with two outs in the ninth in the Cubs' 3-2 win over the Nationals.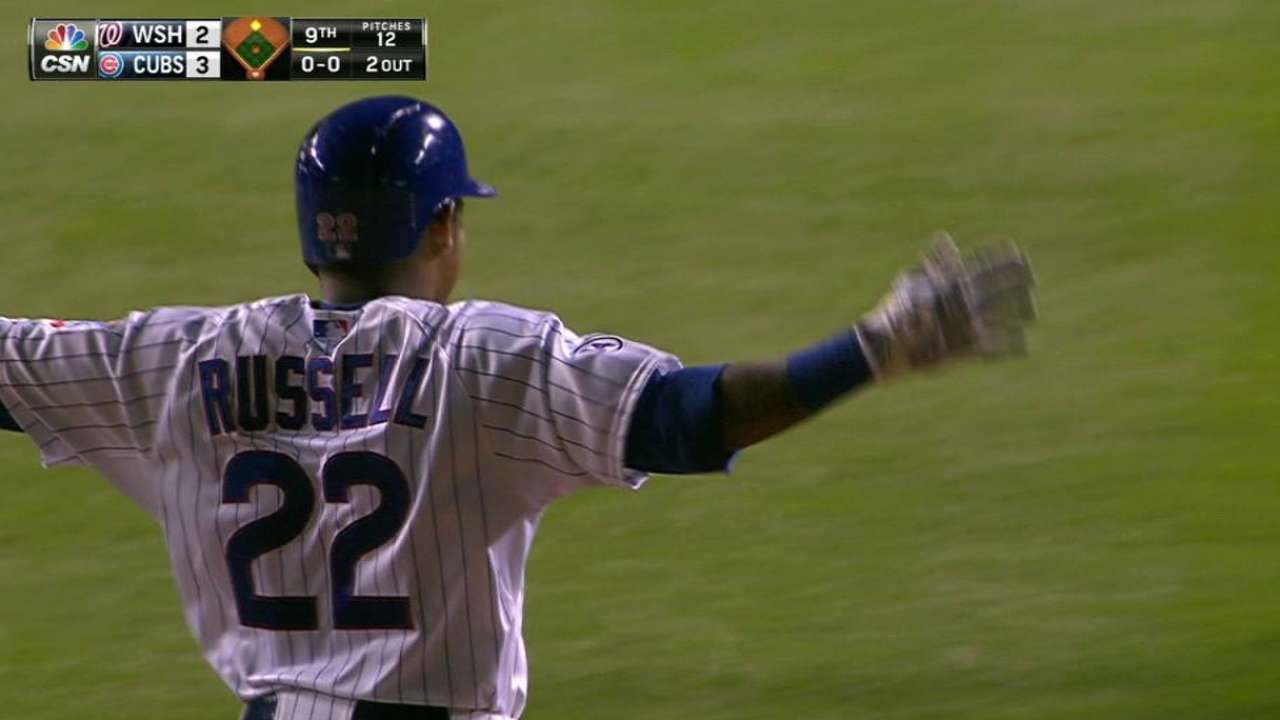 It wasn't clear whether Bryant's blast hit the new scoreboard in left, although Cubs manager Joe Maddon thought it did.
"I thought it was over the board," Maddon said. "It was really pummeled. That got everybody stirring a little bit."
According to Statcast™, Bryant's home run traveled 477 feet, which would be fourth-longest home run this year that Statcast™ has measured. Only Seattle's Nelson Cruz (483), Toronto's Josh Donaldson (481) and Miami's Giancarlo Stanton (478) have gone further.
Bryant's home runs can do that. He now has hit seven in his last 17 games, and has 21 RBIs in his last 21 games. And his teammates have picked up on the nickname that Bryce Harper gave him when the two were growing up in Las Vegas. A handwritten card with "Silk" was next to Bryant's name plate at his locker.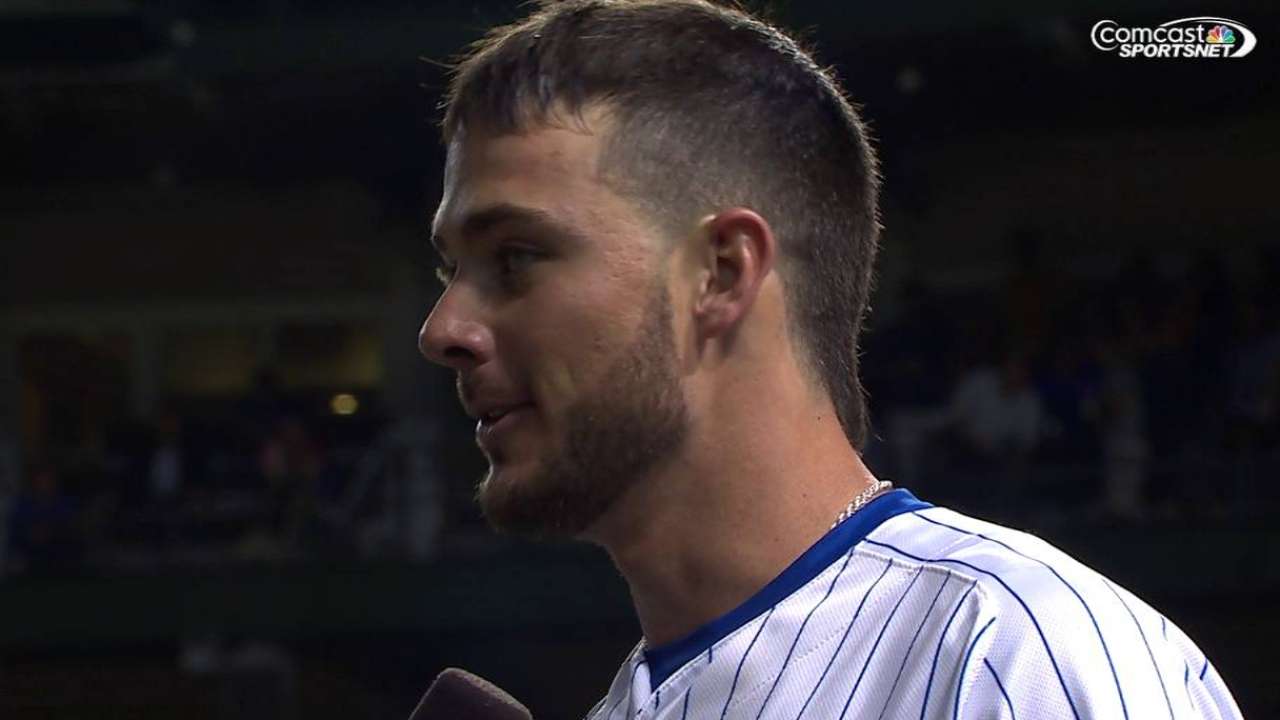 "Credit Bryce with that one," Bryant said. "Justin Grimm came up to me the other day and said, 'Silk.' I was like, 'Oh my gosh.' That just rang a bell. That was pretty cool."
How did he get the moniker?
"I just did things nonchalantly and kind of smooth," Bryant said. "That's the way I played the game. I guess that's a good nickname."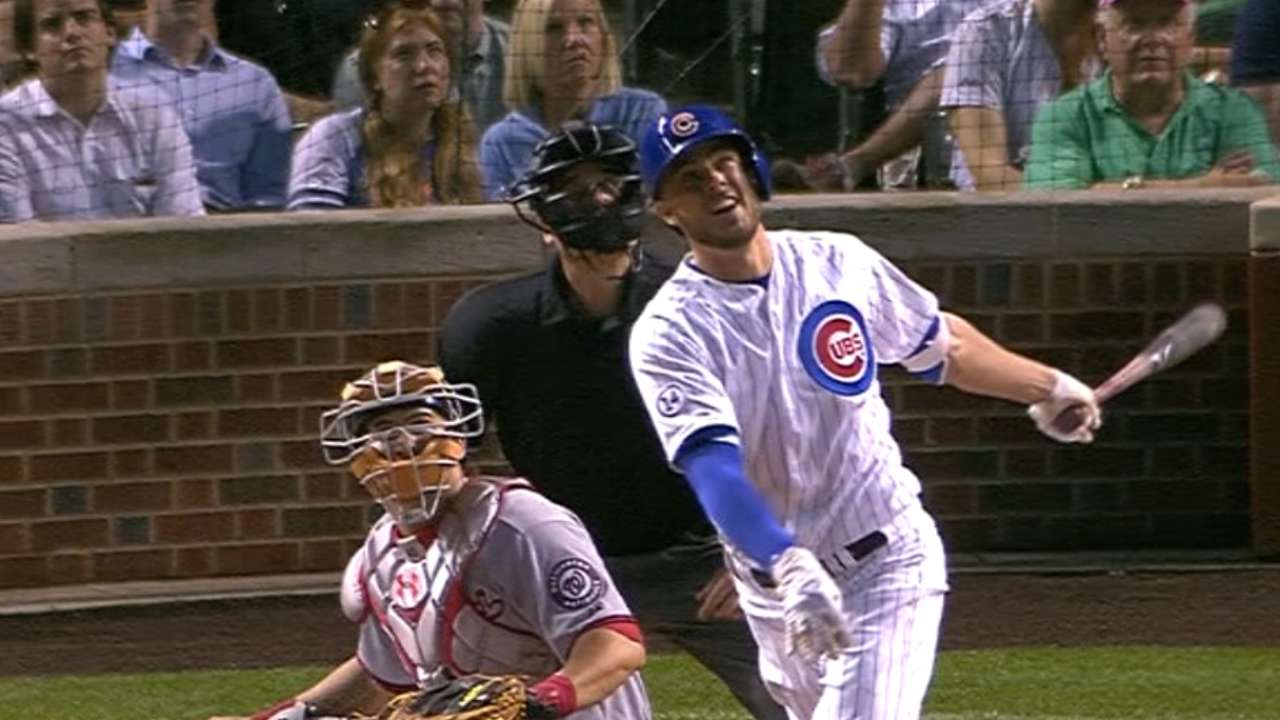 He didn't watch the flight of the ball.
"I don't like to watch the home runs," Bryant said. "It was probably one of my furthest ones, I guess."
He had to battle after the Nationals' Aaron Barrett got ahead 0-2 in the count.
"That first pitch was a good one for me to hit, two-seamer coming back over the plate -- I love hitting those," Bryant said. "I figured I'd take one and he threw me a slider. I was down 0-2 and told myself I had to battle here. ... I fouled off a couple good pitches and got one I could handle."
Everyone in the dugout watched.
"When he hits balls, he hits them far," Russell said. "As a team, we're used to seeing it, but it's just a cool feeling the world gets to see what he has to offer."
• Starlin Castro has batted fourth, fifth and sixth this season, but lately Maddon is sticking with the shortstop in the No. 4 spot, although he's batting .233 there. Maddon said he looked at the alternatives and felt Castro was the best fit because of his ability to "move the baseball."
"It's all about putting the whole puzzle together," Maddon said. "I think he's doing better than people want to give him credit for."
• In what was a first, Cubs pitcher Jake Arrieta did his Pilates workout while Maddon held court with reporters in the interview room. There isn't enough space in the exercise room for the machine Arrieta was using. Maddon was happier on the podium than doing Pilates.
"I tried that years ago and felt like an absolute uncoordinated fool," Maddon said.
Carrie Muskat is a reporter for MLB.com. She writes a blog, Muskat Ramblings. You can follow her on Twitter @CarrieMuskat and listen to her podcast. This story was not subject to the approval of Major League Baseball or its clubs.