Sweeney dedicates Irish Baseball Hall induction to ailing father
McKeon, Wakamatsu, Mets' Forde, broadcaster O'Brien, Bill Murray also honored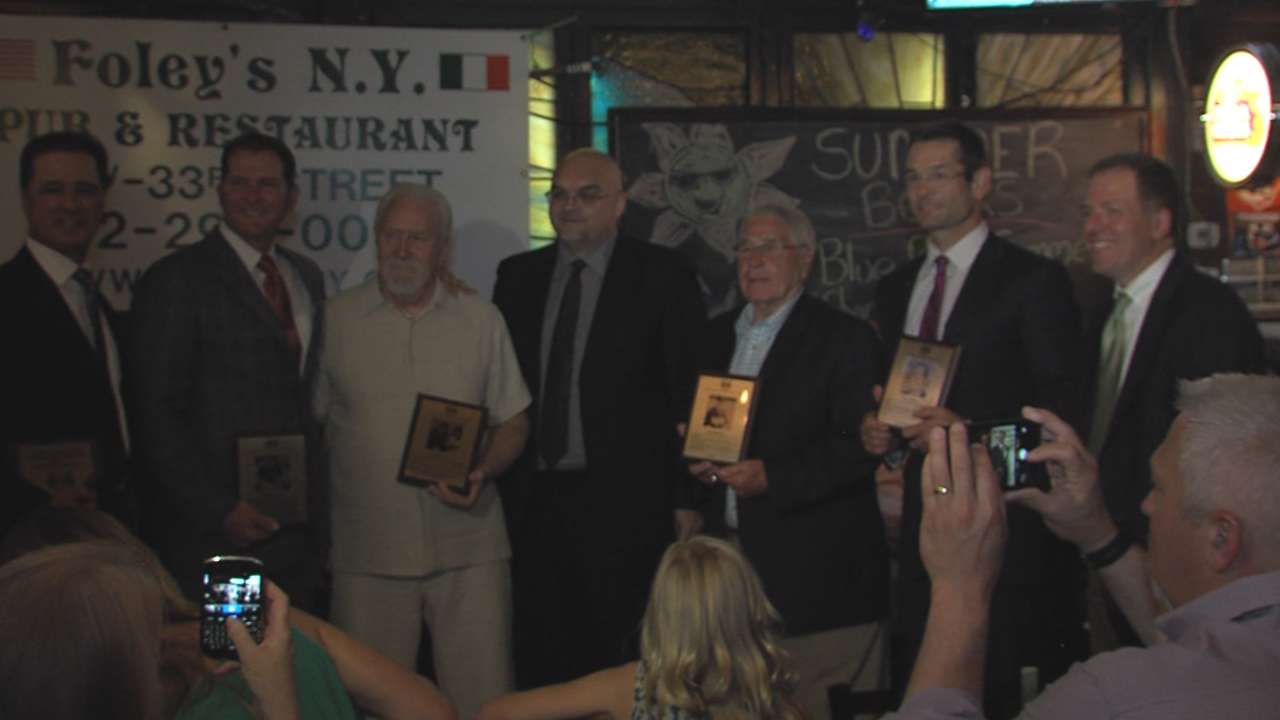 Former big leaguer Mike Sweeney believes there are four loves every Irish-American should share in life: faith, family, baseball and smiling.
Sweeney touched on all four Tuesday during his induction to the Irish American Baseball Hall of Fame at Foley's Pub in New York City. Sweeney was inducted alongside former big league manager Jack McKeon, Royals bench coach Don Wakamatsu, broadcaster Dave O'Brien, Mets executive Shannon Forde and legendary comedian/actor -- and part owner of five Minor League teams -- Bill Murray.
Sweeney revealed that his second Hall of Fame induction this year -- he was also inducted to the Royals Hall of Fame in February -- was thanks directly to his father, also named Mike. The elder Sweeney, also known as "Big Mike," wrote a letter to the Irish American Baseball Hall of Fame last year, detailing how proud he was of his son and his 16-year big league career that included five All-Star appearances and a Royals franchise record 144 RBIs in 2000.
"Well, my dad is my hero," Sweeney said, choking back tears. "And the last two weeks, my father has been fighting for his life. Like Mrs. Forde, he was diagnosed with cancer. As I stand here today -- he wanted to be here so badly -- but he's fighting for his life in the intensive care unit at the Mayo Clinic. I want to dedicate today to my father."
As Sweeney referenced in his passionate speech, Forde is also fighting a battle of her own and was unable to attend the ceremony. She was well-represented, however, as her parents and other family members, as well as some of her Mets colleagues, were in attendance.
Longtime Mets public relations guru Jay Horwitz accepted the honor on Forde's behalf, calling her a "trailblazer" for women in the public relations arena.
"The thing I admire most about Shannon is the way she gets along with people," Horwitz said. "From the 25th player on the team to the star players, Shannon had a way of getting things done. Today is really a testimony to how many people love Shannon."
As for the others who had their newest plaques unveiled on Tuesday, McKeon also discussed the importance of family in accepting his honor. The two-time Manager of the Year and 2003 World Series-winning skipper knows his latest honor would be one of the highlights for the generations that came before him.
"I was honored, really, being an old Irish man," McKeon said. "I know my family -- my grandfather, my father, my brothers -- they're all real strong Irishmen, who have visited Ireland a number of times in the past. And I know they'd be proud."
Wakamatsu, who was also named the "I Didn't Know He Was Irish" awardee, echoed a similar sentiment. The bench coach for the reigning American League champion Royals shared the story of his family tree, which includes one set each of Irish grandparents and Japanese grandparents.
"The one thing I learned from my grandfather was hard work," Wakamatsu said. "He worked in a packing house most of his life, served in World War II and passed away in 2003. I think about him a lot, so to come here and honor him for what he instilled in me and allowed me to do is truly a very special honor."
Paul Casella is a reporter for MLB.com. This story was not subject to the approval of Major League Baseball or its clubs.