Fish sticks go cold again in Pittsburgh
After seemingly breaking out vs. O's, Marlins have scored three runs total, strand 10 Tuesday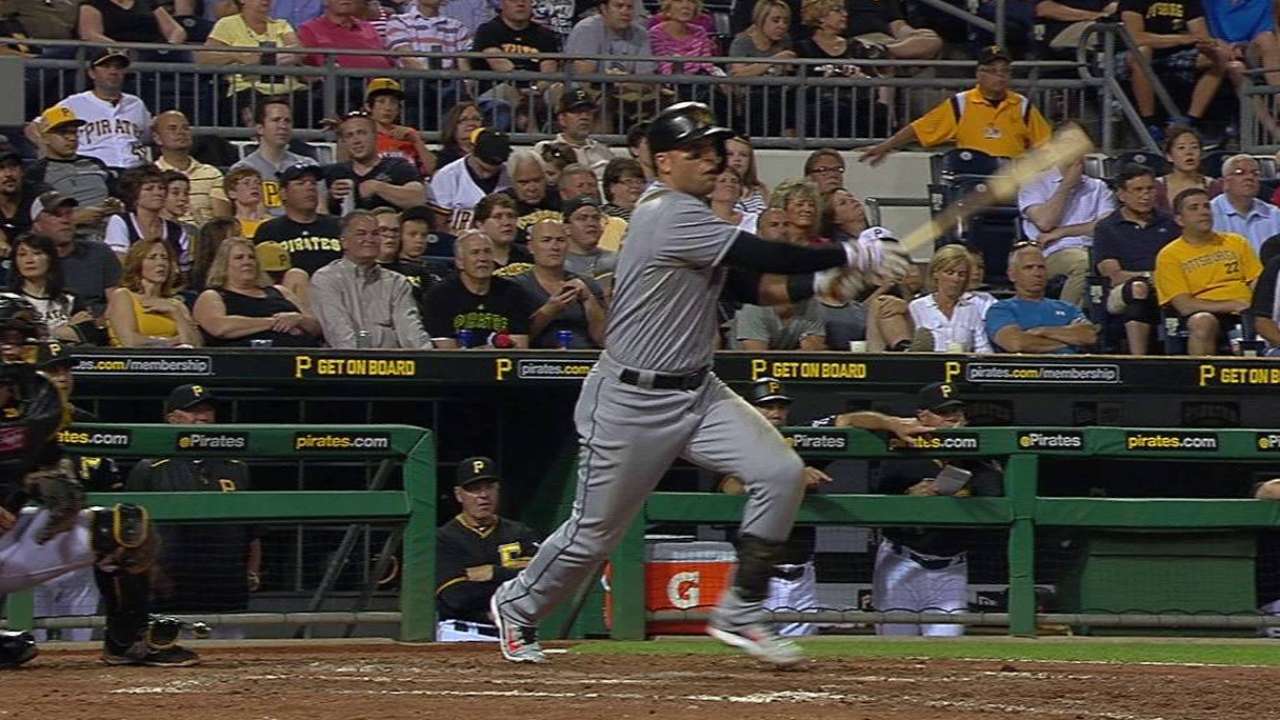 PITTSBURGH -- Fresh off a series-clinching victory over the Orioles in which they scored five runs, the Marlins fell flat offensively in Monday's series opener against the Pirates. And on Tuesday, Miami's lack of production at the plate was even worse in a 5-1 loss at PNC Park.
The Marlins managed just four hits off Pittsburgh starter Jeff Locke, who allowed fewer than three earned runs for the first time since April 18. The left-hander didn't blow Miami away, though. The Marlins simply could not convert -- again -- runners on base into runs.
The Marlins scored two runs or fewer in four of five games before their series against the Orioles. And on the heels of doing the same thing in the first two games in Pittsburgh, Miami manager Dan Jennings said a change in the lineup may be in order.
"We may switch it a little bit tomorrow to just look at some guys in some different spots and see if it gives them some opportunities to create to put the game in motion," Jennings said. "When you fall behind like that, it's hard to put the game in motion."
Miami was on the wrong end of some bad luck Tuesday night, Jennings believes, with four or five hard-hit line drives finding Pittsburgh gloves.
But in this case, the box score didn't lie.
Jennings' club left 10 runners on base, five of which were in scoring position. On the evening, Miami was 1-for-6 with runners in scoring position.
"We just have to keep going out and having good at-bats, working the counts and understanding situations better," star outfielder Giancarlo Stanton said.
Miami had a prosperous chance to get back into it in the top of the third inning. Just after the Pirates used a three-run second frame to push their lead to 4-0, the Marlins had runners on first and second with one out and a streaking Martin Prado at the plate.
While Prado would later have an RBI double and extend his hitting streak to nine games, he couldn't come up with anything in that early chance. Instead, he grounded out, and Jeff Baker followed it up with a lineout to center field.
The empty performance frustrated Stanton. But to him, a switch in the lineup may not be the answer.
"Just keep working. Just have to keep going forward. You can't look for the quick fix every time you're not playing well," Stanton said.
Whether it's a quick fix or not, the Marlins know they need something to change at the plate.
John McGonigal is an associate reporter for MLB.com. This story was not subject to the approval of Major League Baseball or its clubs.