Late innings bring out best in Astros' offense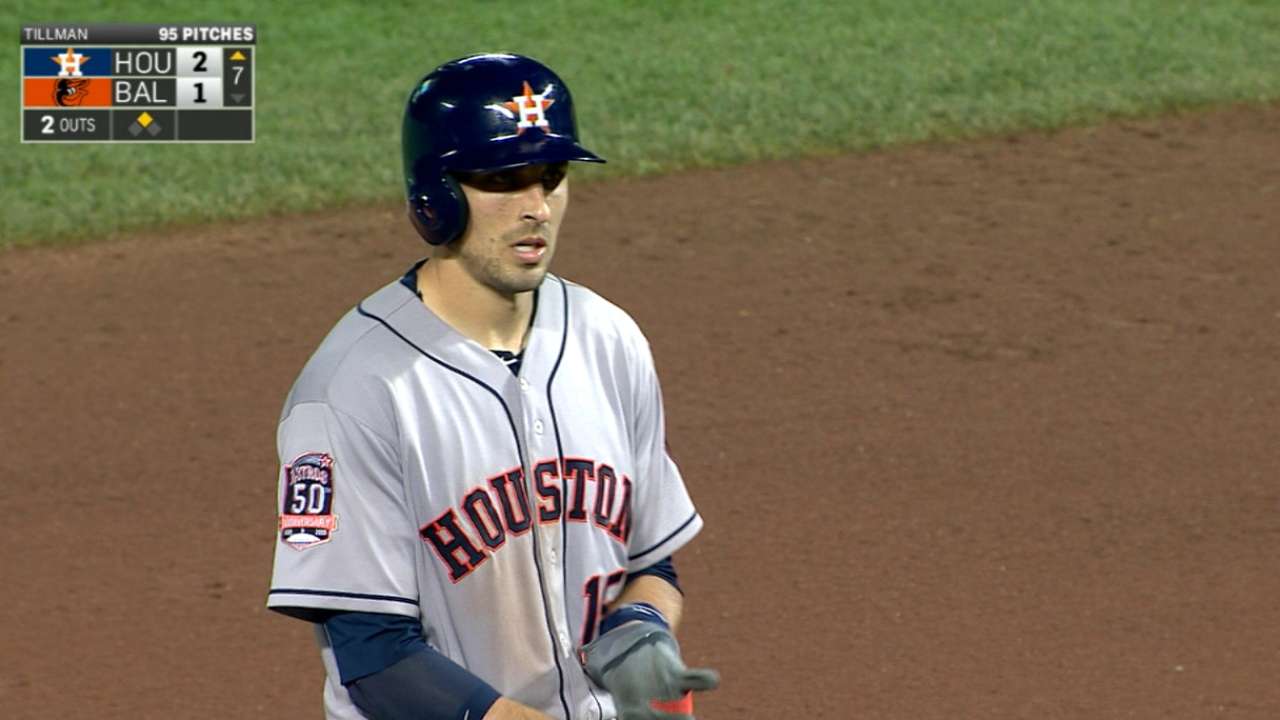 BALTIMORE -- When the game is on the line late, the Astros' offense has a habit for thriving under pressure. It's happened so much this year that there has to be something behind it, something tangible to explain why the late innings bring out the best.
Astros manager A.J. Hinch can't put his finger on exactly what causes his offense to come alive in the seventh inning and later, but he was happy to see his team ride that formula to a 4-1 win over the Orioles on Tuesday night at Oriole Park at Camden Yards.
"We tend to have better at-bats as the game goes along," Hinch said. "I don't really know why or don't have a reason, but we do. We lock in a little bit toward the end and, as we get runners on base, it shows up. I wish we could remedy the early parts of the game and we'll show flashes of that. Sometimes we come out of the gate pretty hot and score some early runs, but I love how we compete at the end."
The Astros scored twice in the seventh and added to more in the eighth after falling behind, 1-0, in the sixth to become the first American League team to reach 30 wins. They've scored a Major League-best 85 runs in the seventh inning or later this year.
"Everybody's focused because the game is close," said third baseman Luis Valbuena, who had a two-run single in the eighth.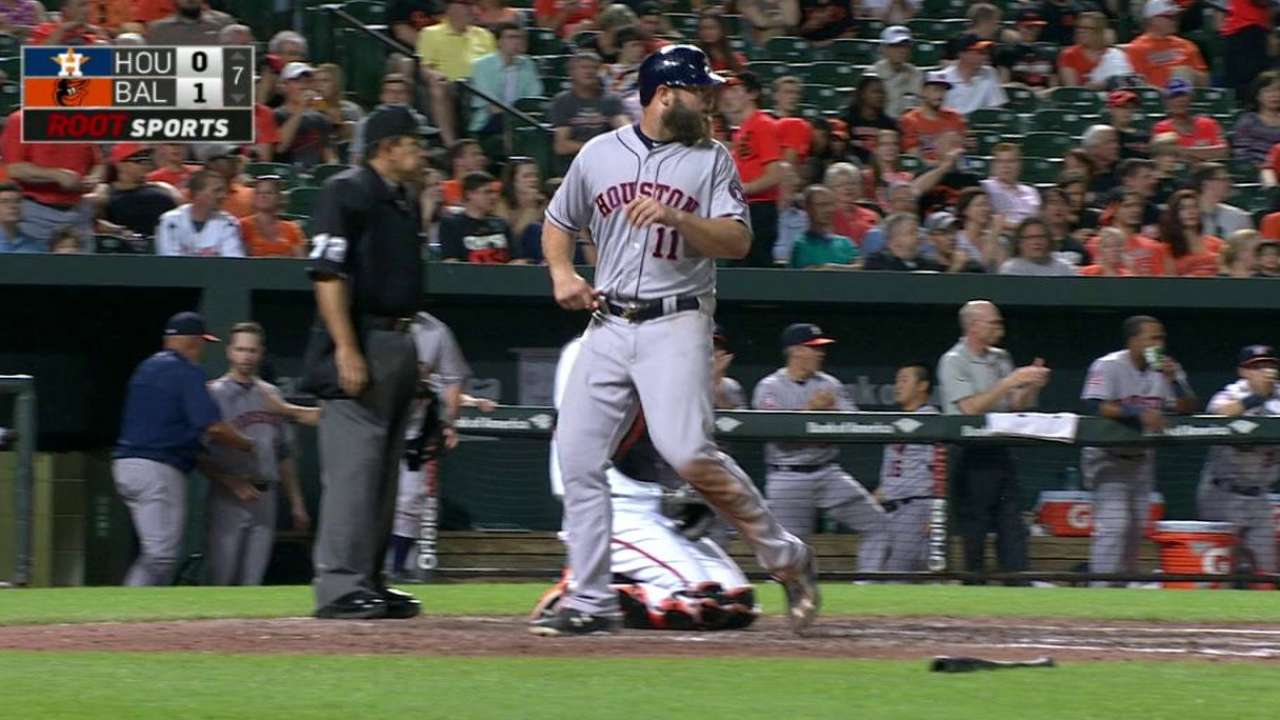 The Astros were 3-for-9 with runners in scoring position, with all three hits coming with two outs. Chris Carter tied the game in the seventh with an RBI single, and then scored all the way from first base on a double off the bat of Jason Castro.
In the eighth, George Springer and Jose Altuve sparked a rally, with Colby Rasmus drawing a key walk to load the bases with two outs. Valbuena ripped a pitch off the right-field wall to score a pair and push the lead to 4-1.
"Castro's come up with really big hits," Hinch said. "It's nice when you get that kind of production out of the bottom part of the order. … That's a really difference maker at the bottom when you get a big hit with two outs."
Despite being last in the American League in batting average, the Astros are so dangerous because the lineup is deep with power throughout. Houston typically has relied on homers (22-10 when hitting a home run) to win this year, but clutch hitting late in games has proven to work, too.
"When we're right, we have a complete offense that offers a challenge to the opponent all the way through," Hinch said. "Obviously, we've mixed and matched in different ways, trying to find the right guys in different pockets of the order to contribute and we've found it a lot. It's been a different guy a lot of different nights and guys have come in and out with a little bit of streakiness offensively, but we usually find the right guy on the right night."
Brian McTaggart is a reporter for MLB.com and writes an MLBlog, Tag's Lines. Follow @brianmctaggart on Twitter and listen to his podcast. This story was not subject to the approval of Major League Baseball or its clubs.