MLB.com Columnist
Phil Rogers
Scherzer, Lester provide early return on deals
Ace hurlers face off Wednesday in meeting of big free-agent signings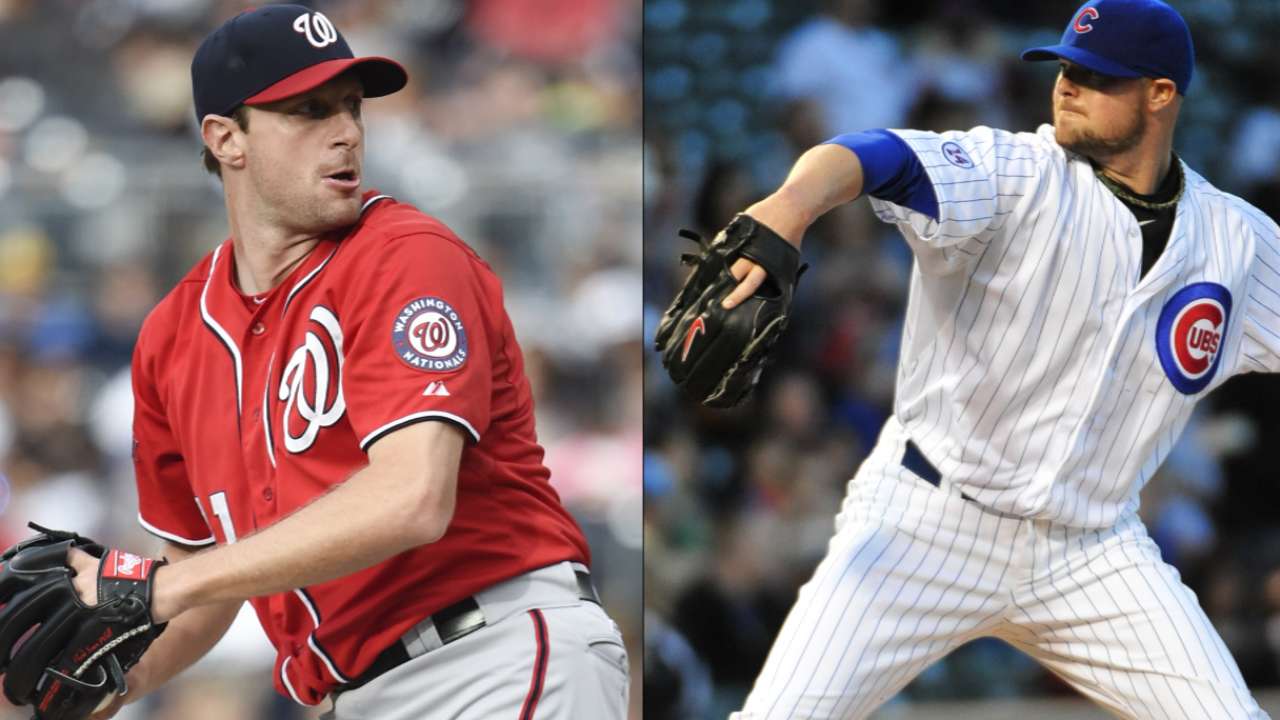 CHICAGO -- They were the two must-have starting pitchers in last winter's free-agent crop, signing contracts that accounted for almost 56 percent of the money going to the 10 starters who got multiyear deals.
It's going to be a while before economists and baseball historians figure whether Max Scherzer and Jon Lester were worth the investment. But before they meet on Wednesday night, we can draw some early conclusions:
1. Both have been huge assets in helping their teams enjoy strong starts.
Some rolled their eyes when the Nationals added Scherzer for seven years, $210 million, given that they already returned Stephen Strasburg, Jordan Zimmermann and the rest of the rotation that had gone 70-49 with a Majors-best 3.04 ERA last year. But without Scherzer, the Nats would have been in trouble out of the gate.
With Strasburg and Gio Gonzalez getting hit hard and Doug Fister on the disabled list, the Nationals rank seventh in the National League in rotation ERA. Take Scherzer out of the mix and they'd have a rotation ERA of 4.60.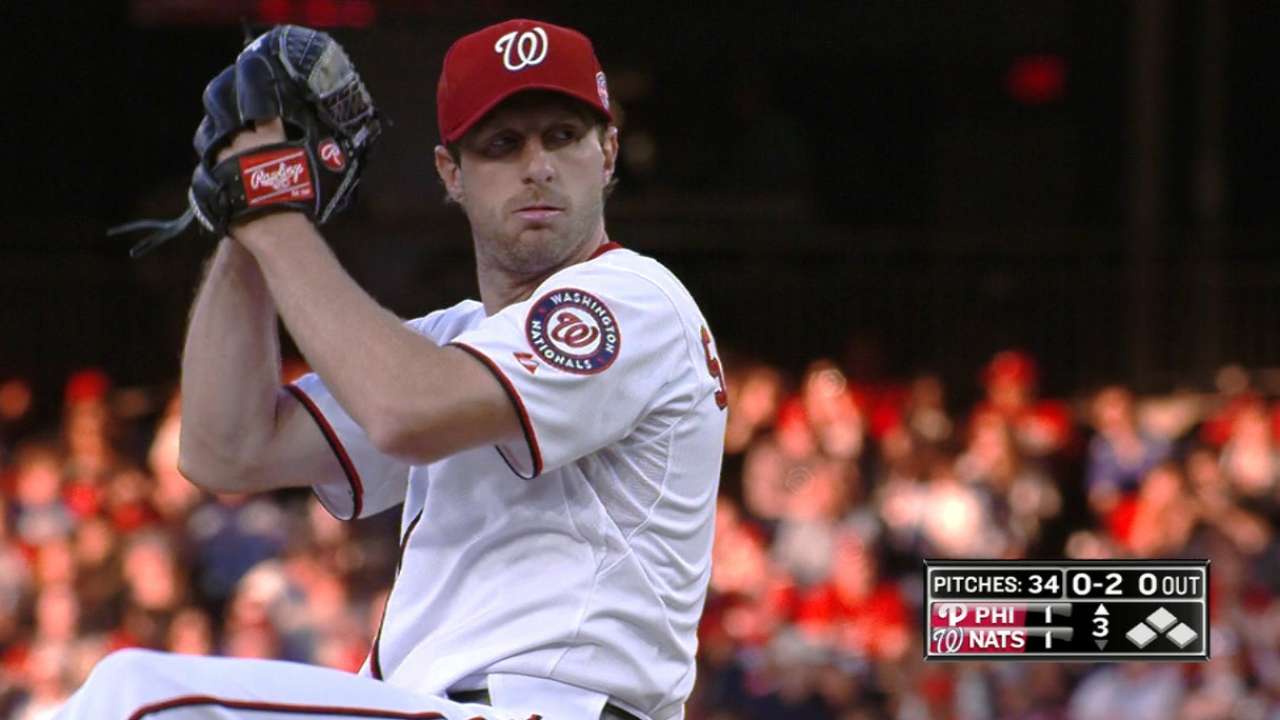 Lester wasn't as effective as usual in his first three starts, creating some anxiety among Cubs fans, but he turned a corner with a 10-strikeout, one-walk outing in Cincinnati on April 24. Since then, he's 4-0 with a 1.85 ERA in five starts. Lester accounted for three of the Cubs' four wins in a 12-game span from April 29 to May 11, and he has helped the Cubs go 6-3 in his starts.
2. Scherzer is a serious threat to take away Clayton Kershaw's hold on the NL Cy Young Award, not just this season but in years to come. He's 5-3 with a 1.67 ERA in his first nine starts for the Nats, continuing the transformation he made working under Jim Leyland and pitching coach Jeff Jones in Detroit.
"He's really good and he's going to continue to be good,'' Cubs manager Joe Maddon said. "His stuff is as good as it gets.''
Maddon's Rays were 2-0 against Scherzer in 2010, but that wasn't especially unusual then. Despite his good stuff, he was relatively beatable his first three seasons as a Major League starter. But the worm turned during 2012.
In Scherzer's last 93 starts, he's gone 55-14 with a 2.79 ERA. But before then, he was 41-39 with a 4.11 ERA over almost 700 innings.
"He's more of a pitcher,'' Maddon said. "There was a time he was classified as a thrower. He knows more about what he's doing now. It's not unlike a hitter commanding his strike zone; a pitcher understanding how to command his. It isn't about throwing 97, it's about 93, 94 placed properly, more of an effective velocity type thought. Believe me, 91, 92, located is much more difficult [to hit] than 94-96 center-cut. It's two different pitches.''
3. Lester is incredibly hard on himself. He was pitching better than his ERA in April but couldn't catch a break.
Lester had a 6.23 ERA through four starts, yet his Fielding Independent Pitching was 2.22, easily within the top 10 of Major League starters. But last weekend in Phoenix, Lester told reporters, "You definitely don't want to be one of those guys where at the end of [a contract] you look at it as a bust.''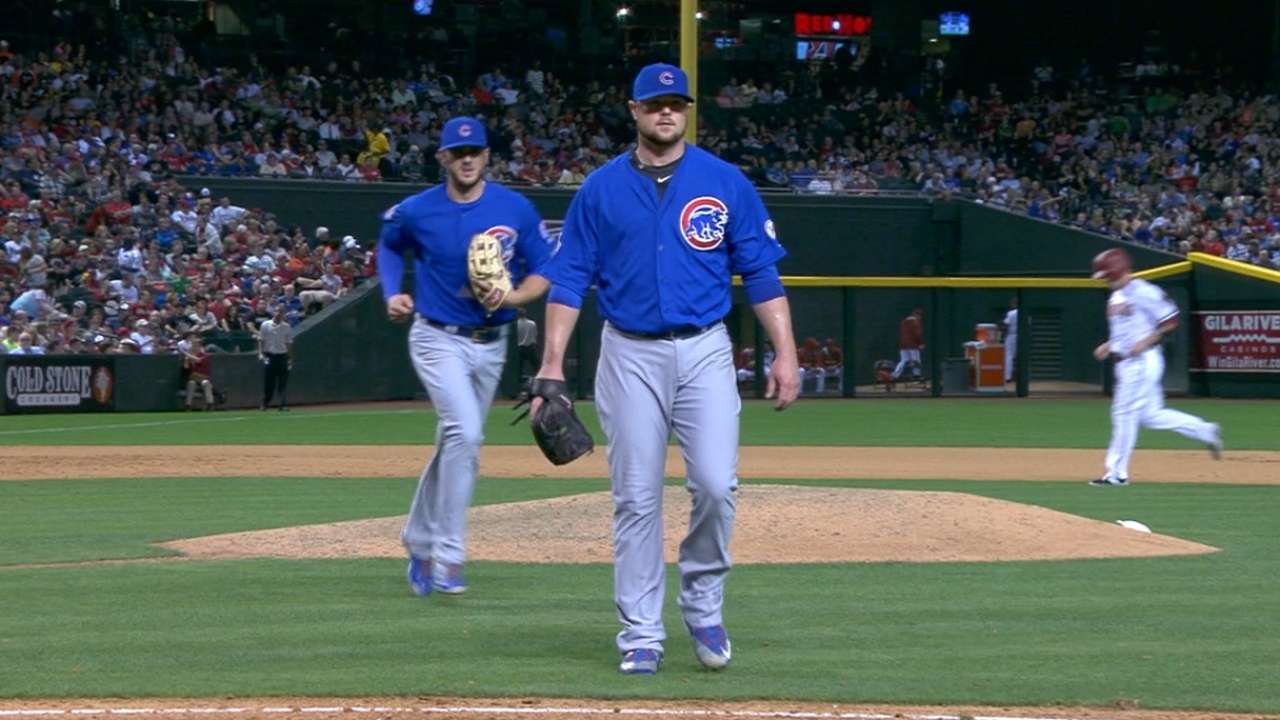 Lester, signed to a six-year, $155 million deal, missed a start late in Spring Training and was rushing to get ready for an Opening Night assignment against Adam Wainwright and the Cardinals. He's not the sort to make excuses, however, saying only that he'll "just keep trying to figure things out as we go.''
4. You can run on Lester. He's allowed 15 stolen bases, second only to Tyson Ross (18) among Major Leaguers.
But Lester appears to have quieted things down after an April stretch that coincided with the revelation he never threw to first base last season, when runners stole 16 bases against him. Oddly, that was only three more stolen bases allowed than the total against Justin Verlander, who had the most throws holding men close to base.
5. Great things could happen with Scherzer matched against Lester in the deciding game of what has been an intriguing series. Addison Russell's ninth-inning double gave the Cubs a 3-2 win on Tuesday night, answering Washington's 2-1 victory in the opener. This will be only the fourth time they've opposed each other, all in the past two years.
Most recently, Scherzer gutted out an 8-6 win last June, when Lester didn't have it (12 hits, no strikeouts in 4 1/3 innings). But before that, Lester won a 2-1 game and Scherzer picked up a win in a 1-0 game in which the two aces battled a rain delay, in addition to each other.
It will be fascinating to watch them work to Bryce Harper and Kris Bryant. While Harper hit his 17th homer on Tuesday, it's Bryant who is really seizing the moment. He has homered in both games, including a monster shot that appeared to bang off the top of the new electronic scoreboard in left field.
Baseball in May doesn't get much better than this.
Phil Rogers is a columnist for MLB.com. This story was not subject to the approval of Major League Baseball or its clubs.