Warren becoming force in Yankees' rotation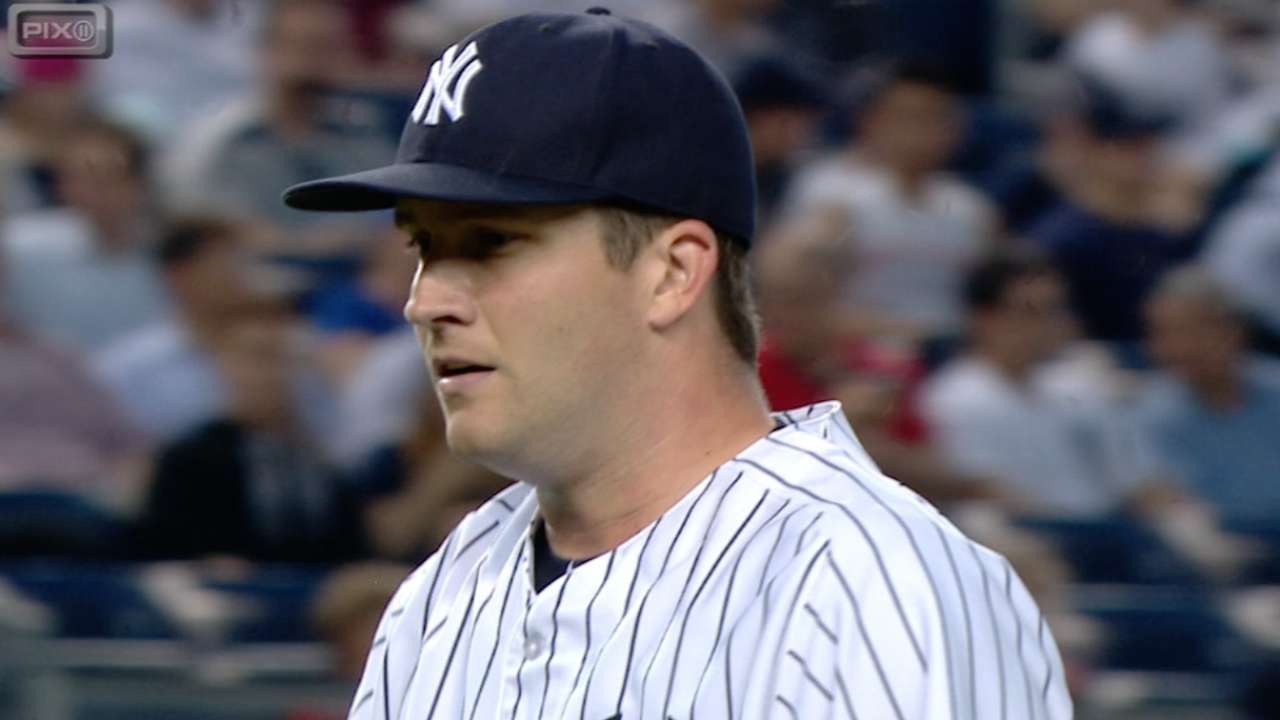 NEW YORK -- Adam Warren looked like he belonged.
The right-hander has before, but Warren has also left the Yankees wondering whether he belongs in the rotation or in the bullpen. Now, just when it's about time to ask it again, Warren may be answering that question.
Warren, 27, made his third straight strong start, allowing just two hits in 6 1/3 innings to help the Yankees earn a 5-1 win over the Royals on Tuesday night at Yankee Stadium. Warren didn't give up a hit until Mike Moustakas' infield single in the fourth, and he didn't allow a run until Paulo Orlando's one-out homer in the sixth.
"He's pitching as well as anyone in our rotation right now," manager Joe Girardi said. "The young man's getting the job done for us."
As to what that means for upcoming decisions, with Masahiro Tanaka due back as soon as next week (Tanaka makes his second and perhaps final rehab start on Wednesday), Girardi refused to speculate. But it's safe to say that Warren is on his way to proving he can succeed as a starter.
"I feel like I'm getting more comfortable in this role," said Warren, who was a starter in the Minors but had basically been a full-time reliever in his first two big league seasons. "I feel like I'm starting to get on a roll a little bit."
Warren still has to catch himself at times, and has to remind himself that he doesn't need to make perfect pitches the second and third times through batting orders. Warren has now pitched into the seventh inning in three consecutive starts, but each time Girardi has pulled him before the 100-pitch mark.
Warren was done after 88 pitches on Tuesday, with Girardi citing some longer counts in the sixth inning. Warren said he understood, and in any case couldn't argue with the idea of turning the game over to an ultra-strong bullpen. Justin Wilson got the final two outs of the seventh, and Dellin Betances and Andrew Miller were as good as usual in the eighth and ninth.
Betances, who hasn't allowed an earned run this season, hasn't even given up a hit in his last 9 2/3 innings.
"It's getting to the point of being ridiculous how good he is," Warren said.
It's not getting ridiculous yet, but Warren is looking good in his current role, too. His slider was harder (88-90 mph at times) and sharper, and he was able to mix all his pitches effectively.
Warren said he's not concerned about the decision the Yankees will need to make when Tanaka returns, but he also made clear what his preference is.
"I try not to think about it," Warren said. "For me, it's just about going out and proving I can start."
There was a time last season when Warren was so valuable in the bullpen that it seemed the Yanks couldn't afford to consider moving him. Then there was a time earlier this season when injuries had left the rotation so thin that they couldn't really consider dropping a then-struggling Warren out of it.
Now, Chris Capuano is back (although so far ineffective). Tanaka is on his way back, and Ivan Nova has progressed to throwing 70 pitches in starts in extended spring.
Danny Knobler is a contributor to MLB.com. This story was not subject to the approval of Major League Baseball or its clubs.