Explaining four incredibly fluky player stats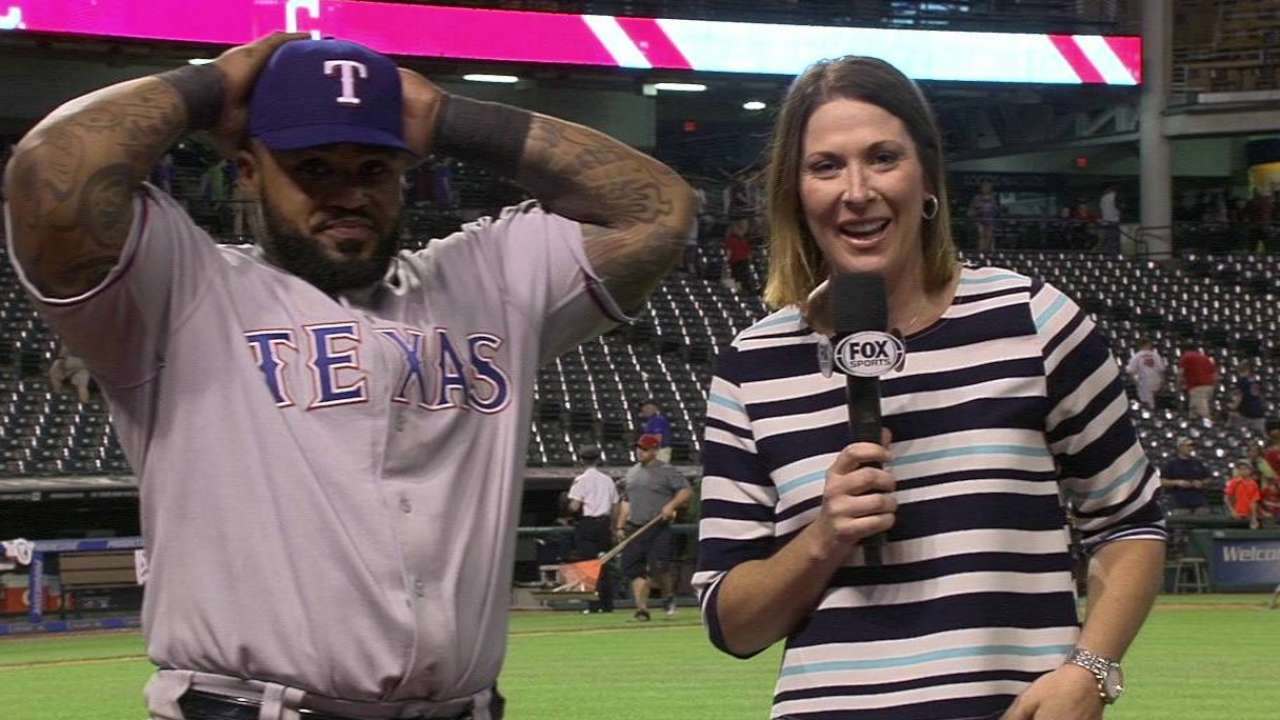 Nearly two months of the baseball season have been completed, and those early-season hot streaks have been sloughed off and the small-sample-size flukes have regressed back to the swamp of previously established career norms.
Adrian Gonzalez is no longer on pace to hit 270 home runs. Corey Kluber won't lose 20 games the season after his American League Cy Young Award-winning campaign of a year ago. And the New York Mets won't win 130 games.
But there are still quite a few statistical oddities popping up in the statlines of established Major Leaguers. Is there any reason why we should expect them to continue?
Note: All stats through Monday's games.
Ian Kinsler: 0 home runs
Since Kinsler made his debut in 2006, he has topped 30 home runs twice. In 205 plate appearances this year, Kinsler has yet to go deep.
It may all come down to a change in approach. While his batted-ball profile is about the same as last season, Kinsler has morphed into the stereotypical No. 2 hitter. Batting behind Anthony Gose, Kinsler is posting his highest walk rate since 2011, which happens to be his last 30-homer season. (This increased walk rate is somewhat strange, given that he also bats in front of Miguel Cabrera). He's hitting to the opposite field more than he has before, with an opposite-field rate of 26.1 percent through Memorial Day, as compared to a 21.1 percent career mark.
With only one opposite-field home run in the past two seasons combined, it's not surprising that Kinsler's homers have dried up -- even if we should expect a few more to fly over the fence in the near future.
James Shields: 2.2 HR per 9 innings pitched
While Kinsler has yet to leave the park, Shields is having the opposite problem. The veteran starter leads the Majors in home runs allowed, doubling his career average, despite the move to the pitcher-friendly Petco Park (though the Royals' Kauffman Stadium is also homer-suppressing). Of course, Shields also leads all starters in strikeouts per nine, making for a strange combination.
But it's not just Shields. His teammates Odrisamer Despaigne, Andrew Cashner and Ian Kennedy have all seen homer rates more than double their career mark, and the Padres have surrendered the most homers in the Majors.
The cause could be as simple as Derek Norris. The new San Diego catcher is second-to-last in the Majors in pitch framing, giving away minus-30.3 strikes already this year, according to Baseball Prospectus. While the team's 16.2 percent HR/FB rate will likely come down as it's the highest in at least the past decade (and likely all-time), it could be a long season for Padres pitching.
Prince Fielder: .365 average
While Dee Gordon's BABIP-influenced .373 start makes sense -- after all, he's a lightning-quick player who got off to a torrid start for the second year in a row -- Fielder's makes a little less sense. After all, here is a 31-year-old lumbering slugger who is coming off missing almost an entire season with a neck injury. Hardly the recipe for a batting title.
Fielder has followed the Ryan Howard model of success and is hammering away at pitches early in the count. The slugger is swinging at a higher percentage of first pitches (9.2 percent) than his career rate (7.2).
While the move has seen his walk rate cut in half, Fielder's strikeouts are also tied for the lowest rate of his career, without sacrificing his power. It's also a good sign going forward, as it bucks the trend of aging hitters who become more patient to hide a loss of bat speed.
Stephen Strasburg: 6.50 ERA
With a 3.03 career ERA coming into the year, Strasburg's performance has been among the most bewildering. The Nationals righty has seen his ERA climb above Jason Marquis' -- and the reasons for it are as mysterious as quantum mechanics and dark matter, making this one of those strange and fluky baseball things that make the sport so fun to watch and frustrating to predict.
Strasburg is still striking out over a batter per inning, though down to 9.1 from 10.3. His walks per nine are just slightly above his career average of 2.3. Strasburg's velocity is equal to last season's, and the percent that he's using his pitches is very similar as well. (Though he has been mixing fewer two-seamers into his fastball mix.)
Strasburg's 1.0 HR/9 rate is no reason for alarm, either.
Even Strasburg's command within the strike zone is largely similar to last year's, arguing against a flaw in mechanics that needs to be addressed.
Assuming just bad luck and not an injury, Strasburg will begin stranding more runners than his 57.8 percent strand rate -- the lowest among all pitchers with at least 40 innings, and that his .390 batting average on balls in play with come back a bit closer to his career .305 mark. With a FIP of 3.66, all signs point to Strasburg returning to be the ace-like pitcher we expect.
Michael Clair is a reporter for MLB.com. Follow @clairbearattack on Twitter. This story was not subject to the approval of Major League Baseball or its clubs.