Elmore picks up Rays in losing effort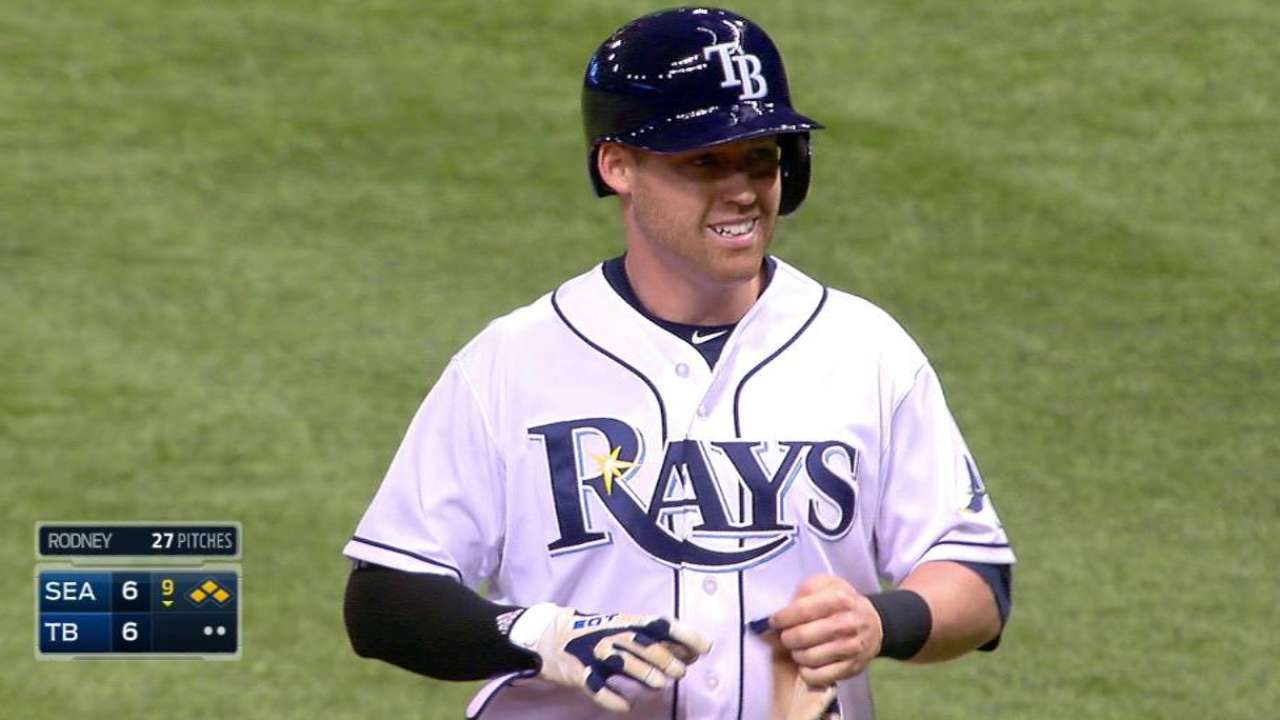 ST. PETERSBURG -- With his team trailing by a run in the bottom of the ninth inning on Tuesday, manager Kevin Cash called on Asdrubal Cabrera to pinch-hit for Tim Beckham, hoping he'd drive in one or both of the runners standing on second and third.
The Mariners had other ideas, intentionally walking Cabrera and electing instead to take their chances with Jake Elmore, who began the night with 15 at-bats on the season.
After two pitches, it seemed as if Seattle's plan would pay off, as Elmore fell behind, 0-2, but on the third pitch of the at-bat, he sent a weakly hit, broken-bat ground ball to third baseman Kyle Seager. Seager threw to second to retire Cabrera, but the throw from second baseman Robinson Cano pulled Logan Morrison off the bag, allowing Elmore to reach first safely and Joey Butler to score the tying run, forcing extras, though the Rays would ultimately lose, 7-6, in 10 innings.
"Once you get down in the count like that, you just have to battle and try to put the ball in play," Elmore said. "Rodney has great stuff, so I felt good about putting that one in play."
"It looked like he had a chance to sit down pretty quick after the first two pitches," said Cash, "but he battled enough to put a ball in play, and you never know what happens when you put a ball in play."
Elmore proved to be one of the biggest contributors in the lineup on Tuesday, going 2-for-5 and recording a career-high four RBIs.
"Any time I can help the team, it's always a good night from that perspective," Elmore said. "That one stung, but it is just one of those nights. But obviously I walked away encouraged from being able to drive some people in."
Elmore started his night by getting the Rays out of an early two-run hole, sending a two-out single to right field to score Butler and Logan Forsythe and quickly knot things up. Two innings later, he gave the Rays a one-run lead when he lined an RBI single into center.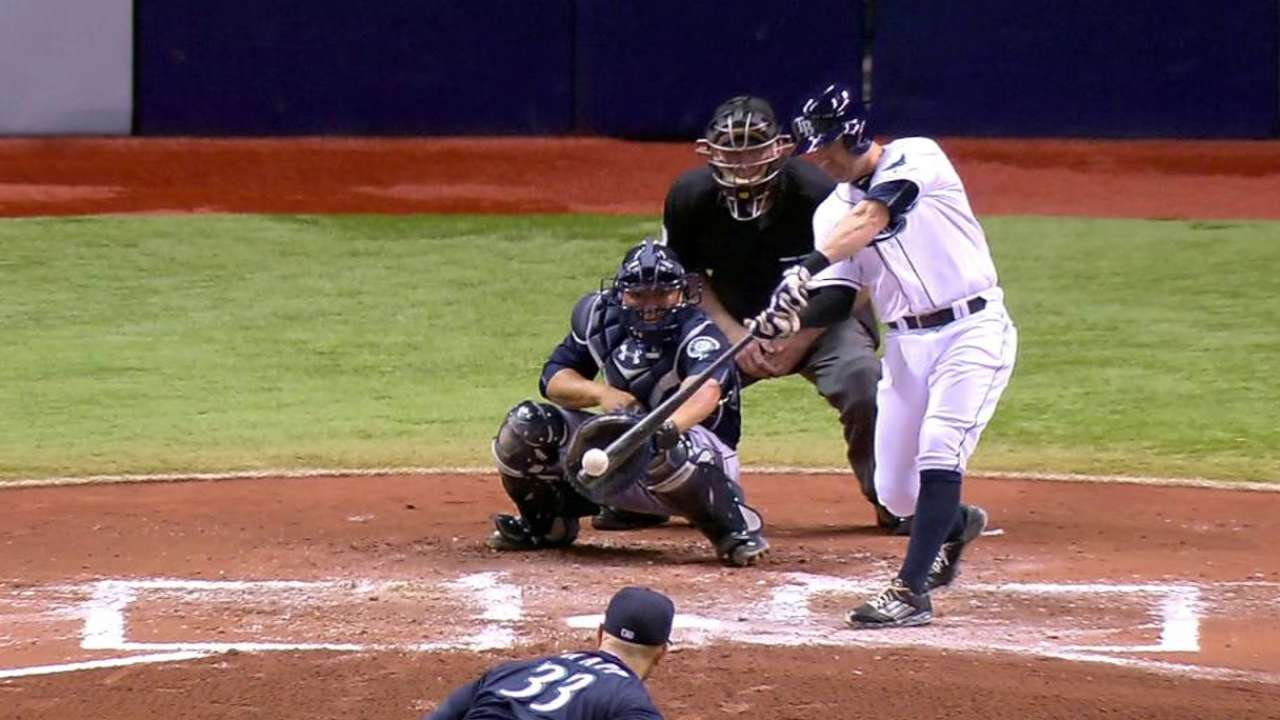 "Jake Elmore picked us up," Cash said. "We talked about getting the big hit, he provided two of them early. He's gotten some big hits. Obviously to get those big hits, you have to have guys on base, so you credit the guys that get on there for him, but he just puts together solid at-bats."
Between Triple-A Durham and the Rays, Elmore is on a 12-game hitting streak. In nine games for the Rays this season, he is batting .400 with seven RBIs, matching the season high he set in 2012 with the D-backs, and is 4-for-7 in his current two-game stint with the club.
"I feel good," he said. "I feel like I'm seeing the ball well, and when I swing at good quality pitches, I'm putting them in play hard, and that's all you can ask for. Luckily, the hits have been there."
Troy Provost-Heron is an associate reporter for MLB.com. This story was not subject to the approval of Major League Baseball or its clubs.