I'm Walking Trout, Too
Pujols much less a threat than Angels' top hitter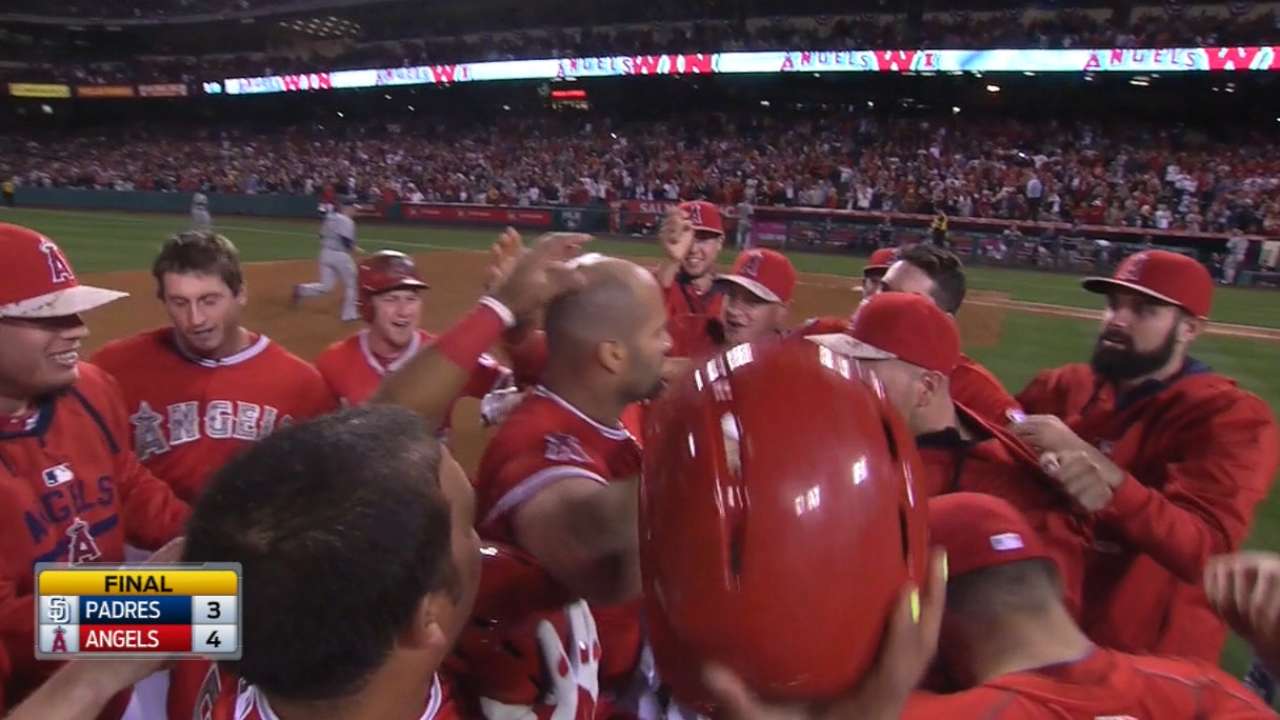 Bill Center, longtime sportswriter for U-T San Diego, is an employee of the Padres.
The Twitter world is filled today with "How could Bud Black intentionally walk Mike Trout to face Albert Pujols?" messages.
My response, how could he not!
Sorry, I'm also walking Trout in the bottom of the ninth to load the bases to get to Pujols. And, I promise you ... if Black had decided not to walk Trout and had Trout, one of the game's best players, singled to beat the Padres, the same Twitter vigilantes would have been upset that he pitched to him.
First of all, Trout is 23 and one of the most all-around gifted players in the Major Leagues. He not only is one of the league's top hitters, he can run. Pitching to him with runners on the corners also opened the door to an infield hit.
Pujols, on the other hand, is an aging veteran who never was known for his speed.
Trout's run didn't count. Neither did the run moving to second on the intentional walk. And walking Trout gave the Padres a forceout at any base with a much slower runner at the plate. Now, let's look at the numbers.
Since the start of the 2012 season, Trout is a .310 hitter with 104 homers and 316 RBIs in 498 games. Pujols over the same span has hit .269 with 83 homers and 291 RBIs in 454 games. All those totals are with the Angels.
Trout entered Monday's game hitting .302 this season with 11 homers and 24 RBIs. He also had a .357 batting average with runners in scoring position.
Pujols was hitting .235 going into Monday's game with eight homers and 16 RBIs. And with runners in scoring position, Pujols was 3-for-17.
I'm walking Trout, too.
Yes, I heard the argument that Pujols was 2-for-4 lifetime against Padres closer Craig Kimbrel while Trout had never faced him. Four at-bats is not a large enough sample size in my book to determine tactics.
I'm walking Trout.
FROM THE SCOREBOOK:
• Center fielder Will Venable is the Padres hottest hitter. Since May 8, Venable is hitting .400 (18-for-45) with two doubles, a triple and a home run for six RBIs and eight runs scored. He has also drawn seven walks with three steals for a .481 on-base percentage and a .556 on-base percentage for a 1.037 OPS over the past 15 games. He has raised his batting average from .133 to .293.
• Right-handed reliever Brandon Maurer worked an 11th straight scoreless appearance Monday with two strikeouts in a perfect inning. He has worked 12 straight scoreless innings, allowing four hits and two walks with nine strikeouts. His earned run average has come down from 4.50 on April 20 to 2.05.
• Maurer is setting himself up as the Padres' seventh-inning reliever ahead of right-handed setup man Joaquin Benoit and Kimbrel. Benoit has allowed only one run on two hits over his last eight, one-inning outings. During the run, he allowed two hits and three walks while striking out seven. The only run against Benoit during the run was the game-winning homer by Dodgers rookie center fielder Joc Pederson last Friday night. Benoit's ERA has dropped to 2.84 from 4.09.
• The Padres' rotation has had seven straight quality starts, matching the season high (April 10-17). The Padres lead the Major Leagues with 31 quality starts. Over the last seven games, Padres starting pitchers have a 2.73 ERA (17 earned runs in 56 innings). The club's record over those seven games, however, is 2-5.