Venable making most of increased playing time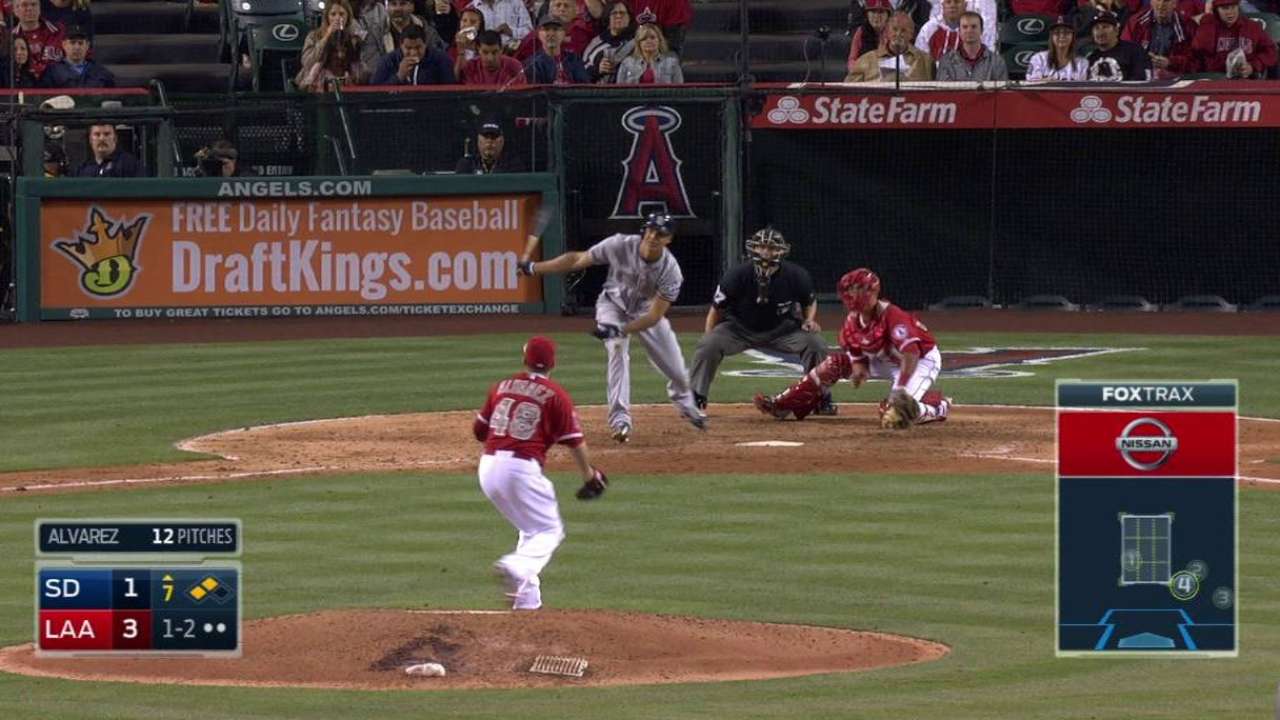 ANAHEIM -- Don't look now, but the Padres' hottest hitter of late isn't one of general manager A.J. Preller's prized offseason acquisitions.
Outfielder Will Venable, the longest-tenured Padre, is hitting .400 in his last 45 at-bats and has raised his batting average from .133 on May 7 to .293 entering Tuesday's game against the Angels.
Venable had four hits in Sunday's series finale against the Dodgers and then came up with the Padres' hit of the game in Monday's 4-3 loss to the Angels, a two-run single off a left-handed pitcher that knotted the game at 3.
"That was a big at-bat. Will's at-bats are good," said Padres manager Bud Black. "The first two swings [were] good pitches. Will sort of waved at them. But Will stayed on it. That was huge for us. That was a big momentum swing for us."
It was a hit that almost never was, as Venable fell behind Angels' left-handed reliever Jose Alvarez with two quick strikes.
"The first pitch was a slider, probably the best pitch I got to hit. In that situation, I'm thinking he was going to throw me a lot of sliders. Then he threw a curveball the next pitch, and I think I swung at it before it hit the dirt." Venable said. "From that point on, let the ball travel [deeper in the strike zone] and grind it out."
After taking a ball, to make it 1-2, Alvarez tried another curveball on Venable, though this one wasn't as sharp. Venable stayed on the pitch and poked it into center field to score two runs.
"I'm just trying to put a ball in play and hope something happened, and it did," Venable said. "It would have been great if we won the game. Those at-bats, for a lefty, are big, so it was nice to be able to extend the game."
After getting only 24 at-bats in April, Venable has received steady playing time since Yonder Alonso and Wil Myers went on the disabled list earlier this month. He's responded well to regular playing time.
"I'm in tune with myself and my swing, and [I'm] having the at-bats in a row to make the adjustments and settle into your approach and repeat," he said.
Venable got the start in center field on Tuesday in the second game of a three-game series at Angel Stadium.
Corey Brock is a reporter for MLB.com. Keep track of @FollowThePadres on Twitter and listen to his podcast. This story was not subject to the approval of Major League Baseball or its clubs.