Pujols still searching for his swing
Angels slugger senses a turnaround on the horizon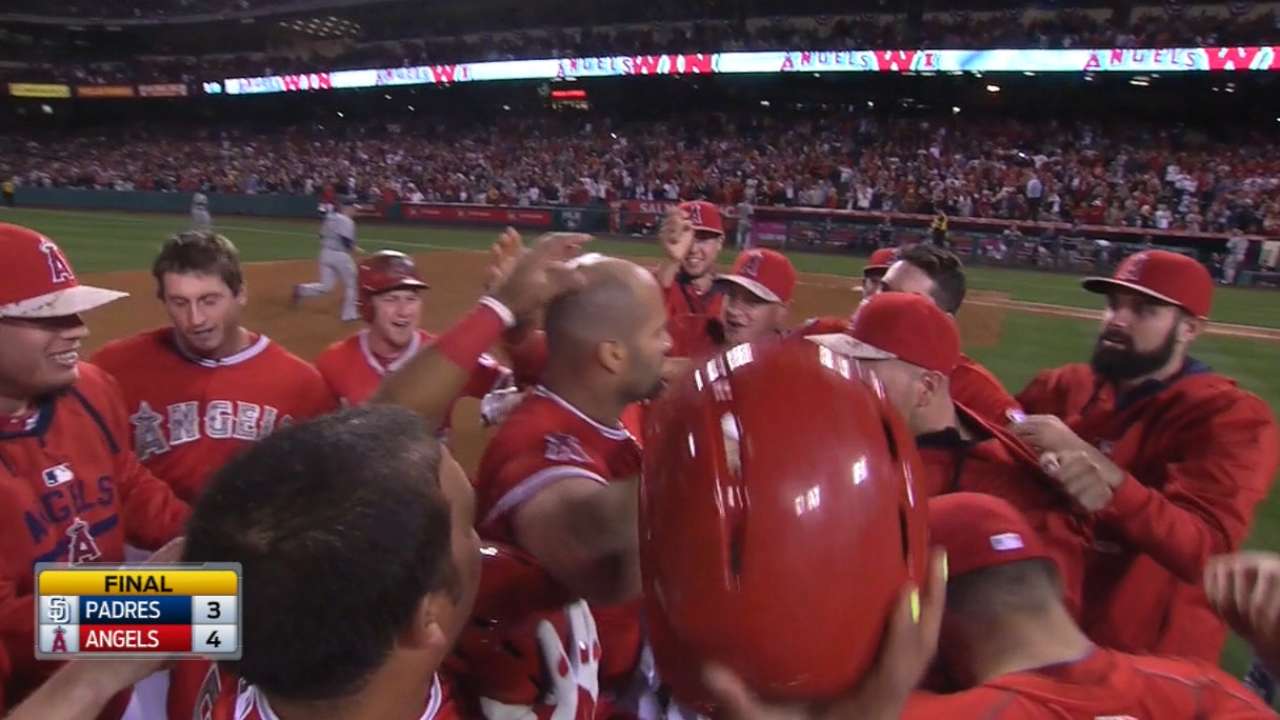 ANAHEIM -- Albert Pujols calls this "the hardest .230 I've ever hit in my life."
Problem is, it's still .230 -- or .228, to be exact. That was his batting average heading into Tuesday's game against the Padres, hours after his walk-off single against Craig Kimbrel on Monday night. The .228 average is 87 points below his career mark and the second-lowest clip of Pujols' career through his team's first 45 games.
"But what can I do?" Pujols said. "All I can do is just keep fighting, man, and continue to do my work."
The data is conflicting when it comes to how well Pujols is actually striking the baseball.
FanGraphs has his line-drive rate at 17 percent, which would tie for the second-lowest rate of his career. But Baseball-Reference has it at 24 percent, his highest since 2002. And baseballsavant.com ranks Pujols' batted-ball velocity (90.9 mph) 30th out of 130 players with at least 75 at-bats under the data.
Perhaps most telling: Pujols' batting average on balls in play is just .218, 83 points below his career average and 47 points below last year.
"As long as I'm putting good swings, I'm not concerned about it," Pujols said. "And I'm doing that."
Pujols -- slashing .228/.280/.420, with eight homers and 17 RBIs in 175 plate appearances -- prefers to focus on his strikeouts and the amount of times he's "rolling over," which constitutes being out in front on outside-corner pitches and hitting weak ground balls to the left side.
"If I'm rolling over and striking out, that's when you need to be concerned," said Pujols, who has struck out 12.6 percent of the time, higher than his career rate of 9.9 percent, but still relatively good.
"When I'm hitting line drives, hitting balls hard, putting good swings on the ball, there's nothing I can do," Pujols said.
The 35-year-old first baseman believes those balls will begin to fall in more frequently. And when they do, perhaps this Angels offense -- 23rd in the Majors in runs per game and 28th in OPS -- will finally start to trend upward.
"Not just me, man, everybody," Pujols said. "I don't think we're right where we want to be. We're getting hits here and there, but Kole [Calhoun] and [Mike] Trout are the two guys pretty much doing everything right now. I'm just looking forward to our whole ballclub going on a tear, and I'm pretty sure that's going to happen soon. It'll be exciting."
Alden Gonzalez is a reporter for MLB.com. Read his blog, Gonzo and "The Show", follow him on Twitter @Alden_Gonzalez and listen to his podcast. This story was not subject to the approval of Major League Baseball or its clubs.