Green gets callup, as Cron heads to Triple-A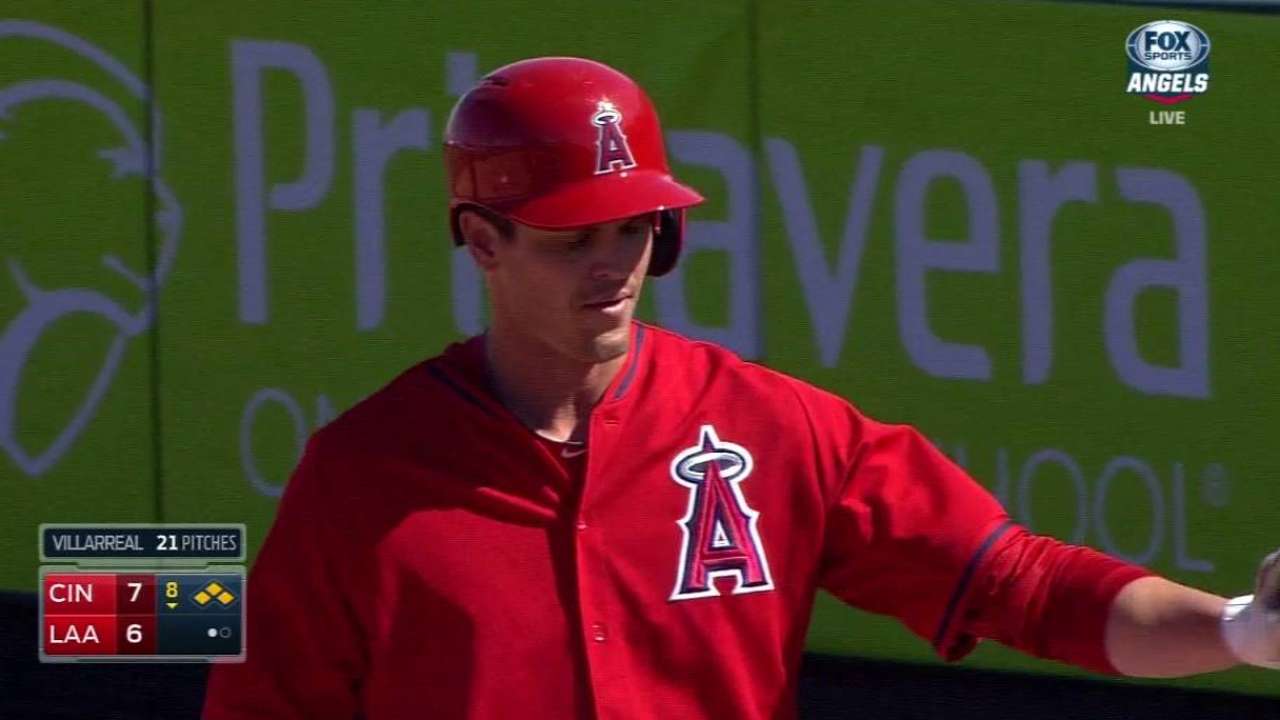 ANAHEIM -- The Angels recalled utility man Grant Green from Triple-A Salt Lake Tuesday afternoon, after optioning struggling designated hitter C.J. Cron to Triple-A following Monday's 4-3 win against the Padres.
The 27-year-old Green -- who plays all four infield positions as well as left field -- can provide the Angels with some versatility. Cron, who was expected to play significant time at DH this season, was batting just .204 in 98 at-bats.
"[Green] can give us a lot of coverage," manager Mike Scioscia said. "He can run, so he can be some speed off the bench and match up against some lefties."
Scioscia said Cron needs regular at-bats that he just wasn't getting at the Major League level.
"Well, C.J., first he just needs to get comfortable in the batter's box again, and the only way he's going to do that is to play every day," Scioscia said. "He's a guy we had high hopes for coming out of Spring Training and still have high hopes that he's going to get into his game and contribute and be part of what we consider, or we know, is our need for an offensive resurgence. And hopefully he'll get the at-bats and get there."
Green had a short stint with the big-league club in April, going 2-for-6 with a pair of strikeouts. He was hitting .329 in Triple-A.
"I've had success here," Green said. "Have I felt that my success here has earned me a stay here? Of course. But I don't make that decision. I have options left, and the business side is the reason why I've been down, especially this year and parts of last year. All I can do is what I do on the field."
Worth noting
• The Angels and Special Olympics Southern California will host the fifth annual "Gold Ball Mystery Bag" event at Angel Stadium on May 30, with the Angels' wives and Special Olympics athletes selling $40 mystery bags containing a baseball autographed by an Angels player or coach. Kristin Weaver, wife of Angels right-hander Jered Weaver, will lead the event, which will start at the Home Plate Gate at 6 p.m.
• The Angels honored longtime broadcaster Dick Enberg in a pregame ceremony on Tuesday. Enberg began his career as a Major League broadcaster with the Angels from 1969-78, and he now works as a broadcaster for the Padres.
Enberg -- who was named the 2015 Ford C. Frick Award winner, presented annually to a broadcaster who has made "major contributions to baseball" -- was presented with a customized engraved crystal and a pair of original Angels owner Gene Autry's cowboy boots.
David Adler is an associate reporter for MLB.com. Follow him on Twitter @_dadler. This story was not subject to the approval of Major League Baseball or its clubs.