MLB.com Columnist
Fred Zinkie
DraftKings picks: Kipnis, Votto, Scherzer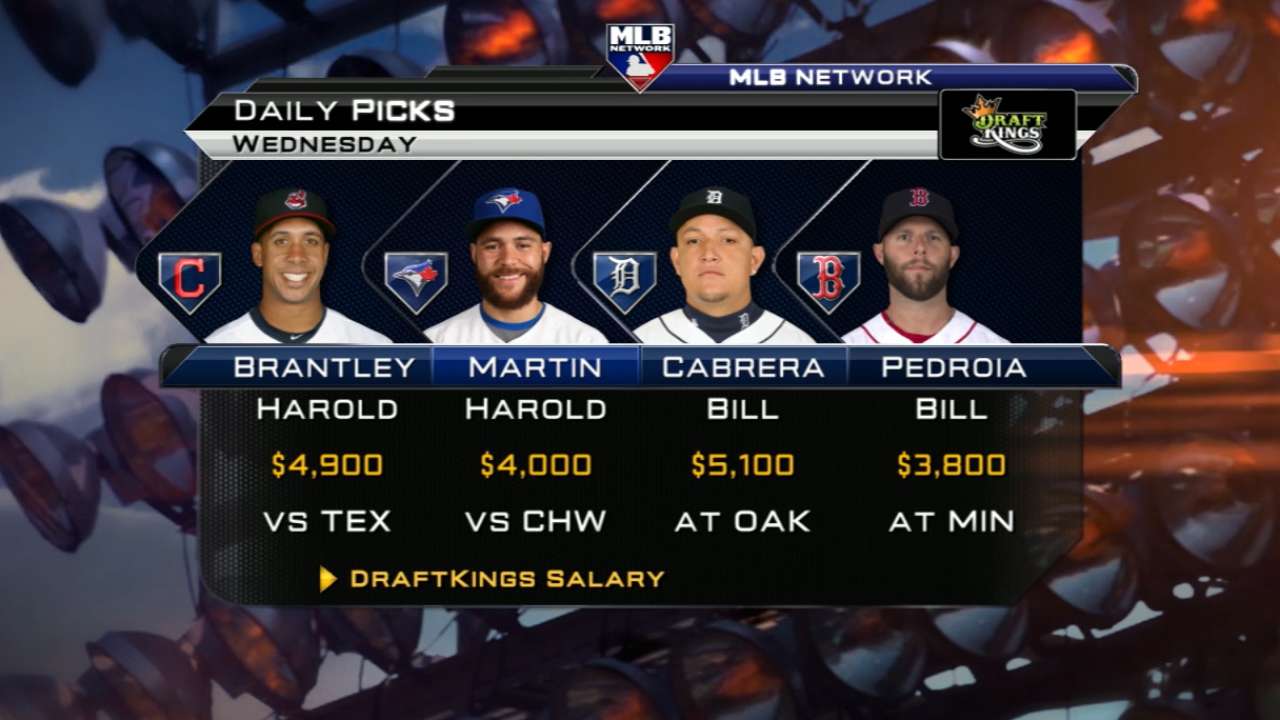 Welcome to DraftKings fantasy baseball, the Official Daily Fantasy Game of Major League Baseball.
The players listed below could provide difference-making stats for DraftKings participants on Wednesday.
Jason Kipnis (Indians): With a .337 average, four homers and five steals, the second baseman has already helped DraftKings participants many times this season. He could collect multiple hits and runs from the top of the lineup when he brings his lifetime .802 OPS vs. right-handers (.659 against lefties) into a matchup with Rangers righty Colby Lewis.
Michael Brantley (Indians): Since the outset of his 2014 breakout season, Brantley has posted an impressive .330/.387/.521 slash line against right-handers. The outfielder could thrive against Lewis, who in his career has allowed left-handed hitters such as Brantley to compile an .825 OPS (.723 OPS allowed to righty hitters).
Joey Votto (Reds): The first baseman could improve on his lifetime .975 OPS against right-handers (.883 vs. lefties) when he faces Rockies righty Kyle Kendrick, who has registered a 4.52 ERA and a 1.37 WHIP in his career. Votto could also benefit from hitting balls to a Rockies defense that ranks 28th in the Majors with a .664 defensive efficiency ratio.
Billy Hamilton (Reds): Because he is hitting .212, Hamilton could be an affordable outfield option for DraftKings participants when he brings his balanced career batting splits up against Kendrick, who has compiled a 6.58 ERA and a 1.48 WHIP this season. The speedster could also swipe his 18th base of the season, as Rockies catcher Nick Hundley sometimes struggles to control opposing baserunners.
Jay Bruce (Reds): Like Hamilton, Bruce could be an affordable DraftKings option due to his unimpressive 2015 production (.224 batting average, 19 RBIs). The outfielder -- who has compiled a lifetime .813 OPS vs. right-handers (.729 vs. lefties) -- could display his power at his hitter-friendly home park against Kendrick, the owner of career 4.70 FIP.
Adam LaRoche (White Sox): The first baseman has long fared best vs. right-handers, against whom he has posted a career .840 OPS (.713 vs. lefties). LaRoche could rip a roundtripper at homer-happy Rogers Centre when he faces righty Marco Estrada (lifetime 1.4 HR/9 rate).
Brian McCann (Yankees): McCann could supply power from the catcher position when he takes his .829 career OPS against right-handers (.749 vs. lefties) into a matchup with Royals fly-ball-prone righty Chris Young at hitter-friendly Yankee Stadium.
Chase Headley (Yankees): Having registered a career .768 OPS against right-handed hurlers (.725 vs. lefties), the third baseman is a candidate to put one of Young's offerings into the outfield seats at homer-happy Yankee Stadium. An extreme fly-ball hurler, Young has posted a career 1.1 HR/9 rate despite spending virtually all of his career on clubs with spacious home parks.
Curtis Granderson (Mets): Having produced 182 of his 242 career homers and 117 of his 133 lifetime steals against right-handers, the outfielder could help DraftKings participants in multiple ways when he faces Phillies righty Sean O'Sullivan (lifetime 5.66 ERA).
Lucas Duda (Mets): The first baseman has compiled pronounced career splits, with an .840 OPS against right-handers compared to a .664 mark vs. lefties. He could smack a homer or drive in a few runs against O'Sullivan, who has posted a 1.52 WHIP and a 1.6 HR/9 rate as a big leaguer.
Daniel Murphy (Mets): DraftKings participants could include Murphy in a Mets stack against O'Sullivan (5.43 FIP in 2015). For his part, the second baseman has produced a lifetime .776 OPS against right-handers, in comparison to a .671 mark vs. lefties.
Adam Lind (Brewers): Lind has long fared best vs. right-handers, tallying a career .861 OPS in those matchups (.587 vs. lefties). The first baseman could drive in multiple runs at his offense-inducing home park on Wednesday, when he faces Giants righty Ryan Vogelsong (career 4.43 ERA, 1.40 WHIP).
Brandon Crawford (Giants): With a .298 batting average, six homers and 31 RBIs across 151 at-bats this season, Crawford has been one of baseball's breakout performers at the shortstop position. He could thrive on Wednesday, when he vacates his spacious home venue and hits at offense-inducing Miller Park against a Brewers club that will have to dig into its pitching depth to cover the absence of Wily Peralta.
Max Scherzer (Nationals): The right-hander has thrived since his return to the Senior Circuit by posting a 1.67 ERA and a 0.88 WHIP across nine starts. Having notched 72 strikeouts across 64 2/3 innings, Scherzer could compile several whiffs during his Wednesday start against a Cubs lineup that leads the Majors with 432 K's.
Mike Leake (Reds): The normally consistent right-hander is coming off a pair of rough starts, but he could get back on track against a banged-up Rockies lineup that typically fares worse when away from Coors Field. Leake could also pick up a win in a seemingly advantageous matchup with Kendrick.
Gerrit Cole (Pirates): The right-hander has taken a major step forward this season, notching a 2.05 ERA, a 1.11 WHIP and 63 strikeouts across nine starts. He could compile whiffs and quality frames on Wednesday, when he works at his pitcher-friendly home park against a Marlins lineup that ranks 26th in the Majors with a .667 OPS against right-handers.
Noah Syndergaard (Mets): Syndergaard has not seemed overmatched during his initial three Major League starts, as he has posted a 16:5 strikeout-to-walk ratio across 17 1/3 innings. The right-hander could notch a quality start against a Phillies lineup that ranks last in the Majors with 3.2 runs per game, and he could earn a win if the Mets' lineup can have success against O'Sullivan.
All statistics are accurate through the completion of Monday's games.
Fred Zinkie is the lead fantasy baseball writer for MLB.com. Follow him on Twitter at @FredZinkieMLB. This story was not subject to the approval of Major League Baseball or its clubs.