Amaro apologizes for comments about Phils fans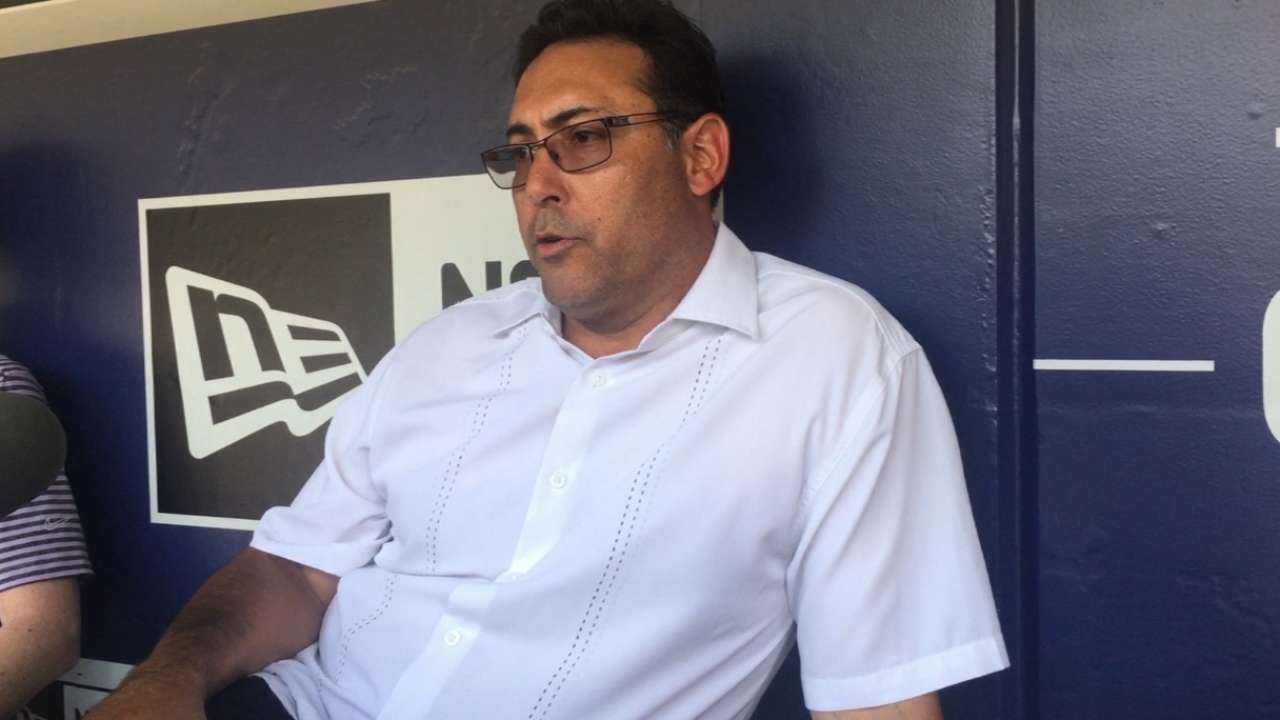 NEW YORK -- Phillies general manager Ruben Amaro Jr. acknowledged the firestorm he caused Tuesday in Philadelphia following comments he made about Phillies fans, saying they "don't understand the game" and "then they [gripe] and complain because we don't have a plan."
He apologized before Tuesday's game against the Mets at Citi Field.
"I'm a fan myself," Amaro said. "I understand the passion and the knowledge that our fans have for our game and the other major sports, all the other sports in Philly. The comments weren't meant to disparage our fans by any stretch of the imagination. I probably used my words incorrectly or poorly. I want to apologize for that."
The crux of the comments in a CSNPhilly.com story centered on some fans' desire to see the team's top prospects promoted to the big leagues on a rebuilding team. Amaro has said repeatedly those prospects will not be rushed.
Amaro's harsh comments resonated loudly among a frustrated fan base. The Phillies have been losing more and more since they won a franchise-record 102 games in 2011, despite remaining among the top spenders in baseball. They finished 81-81 in 2012 and 73-89 the next two seasons.
They entered Tuesday 19-28, which is the fourth-worst record in baseball.
The organization initiated a rebuilding plan once Pat Gillick became team president last August, but that has not removed Amaro from the hot seat.
Gillick has publicly supported Amaro, but Amaro's contract expires at the end of this season and Gillick has said Amaro's status will not be addressed before then.
It is not a stretch to think Amaro's comments this week could come back to haunt him.
"The biggest thing that bothers me about it is how the organization is perceived -- not me personally," Amaro said. "We've always been one of those organizations, at least as long as I've been in the front office, to understand the fan and understand that the fans are the people who pay our salaries and support us. Am I worried about it for me? No. I'm worried about it for the organization, because they shouldn't have to suffer because I made a bad quote."
Amaro spoke with Gillick on Tuesday.
"We had a discussion about it, and he said it was unfortunate and thought it was taken out of context," Amaro said. "If you look at the breadth of the story ... our job is to make sure the fans love this club for a long time, and we have to do what we can to put the team in a position for the fans to enjoy it. Sadly, that point gets lost because of my quote."
Amaro said the Phillies will continue to develop their prospects at what the organization considers the appropriate speed. Right-hander and Phillies No. 2 prospect Aaron Nola, who many fans are clamoring to see, has made 20 Minor League starts. That is fewer than Max Scherzer (30), Cole Hamels (36), Clayton Kershaw (44), Matt Harvey (46), Sonny Gray (53) and Shelby Miller (78) made before their big league promotions.
"We have to build these guys in a way that prepares them to be Major Leaguers," Amaro said.
That part of the message makes sense, but can fans get past the other part?
"I think the thing that bothers me the most about this stuff that happened today and the quotes I made is that I don't want to detract from the fact that there are some really positive things happening here in a way that the fans can focus on those," Amaro said. "Hopefully they can focus on the progress as opposed to my misguided quotes."
Todd Zolecki is a reporter for MLB.com. Read his Phillies blog The Zo Zone, follow him on Twitter and listen to his podcast. This story was not subject to the approval of Major League Baseball or its clubs.