Morse on DL; sim game on tap for Fernandez
Extended spring outings likely for Cosart, Latos; 'no-throw status' for Alvarez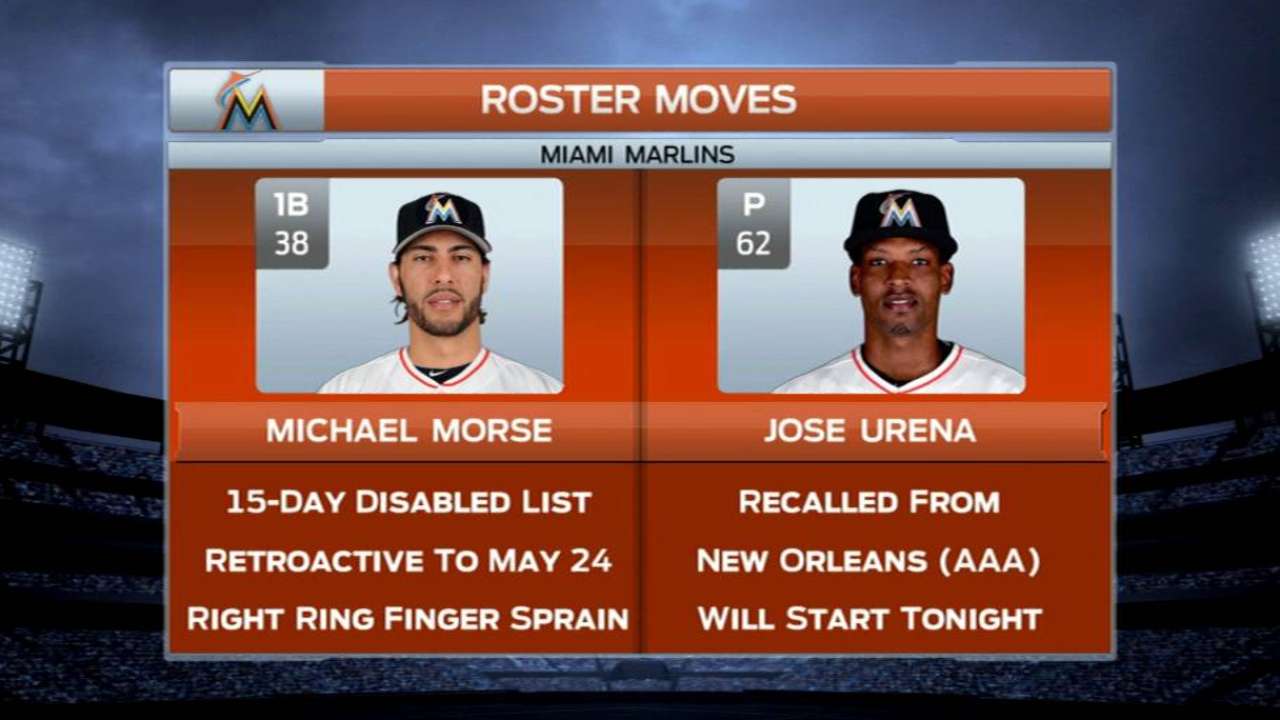 PITTSBURGH -- The Marlins are closer to a healthy roster as each day passes by. But in the meantime, a bulk of Miami's potential production is on the mend.
Marlins manager Dan Jennings announced before Tuesday's 5-1 loss to the Pirates that first baseman Michael Morse has hit the 15-day disabled list with a right finger ligament strain, while several pitchers have mound sessions on the horizon.
Morse, hitting .211 with two home runs in 128 at-bats this season, flew back to Miami on Tuesday afternoon to see a hand specialist, Jennings said.
"He battled through it, but we felt that we needed to get him healthy so that in every swing, he wasn't feeling the pain in it," Jennings said. "Hopefully that two-week window to get him back and healthy, he'll feel comfortable and confident in being able to swing the bat and not feel that in his hand."
As for the Marlins' pitching, 2013 National League Rookie of the Year and All-Star right-hander Jose Fernandez will throw a simulated game on Wednesday and an extended throwing session on Monday. Fernandez was moved to the 60-day disabled list on April 18 as he recovers from Tommy John surgery.
Jarred Cosart, who was placed on the DL a week ago with vertigo, will throw off the mound on Wednesday and Friday and pitch an extended session on Monday, as well. Jennings also expects Mat Latos (left knee inflammation) to throw a mound session Saturday and Monday, and be extended on Thursday.
Finally, Jennings said Henderson Alvarez is focusing on strictly strengthening his right shoulder and is at a "no-throw status."
"We've got a pretty good rotation going on down in extended spring," Jennings said. "I think they're going to do pretty well."
John McGonigal is an associate reporter for MLB.com. This story was not subject to the approval of Major League Baseball or its clubs.