Cubs being patient with hot-hitting Baez
Infielder batting .321 in 23 games at Triple-A Iowa in May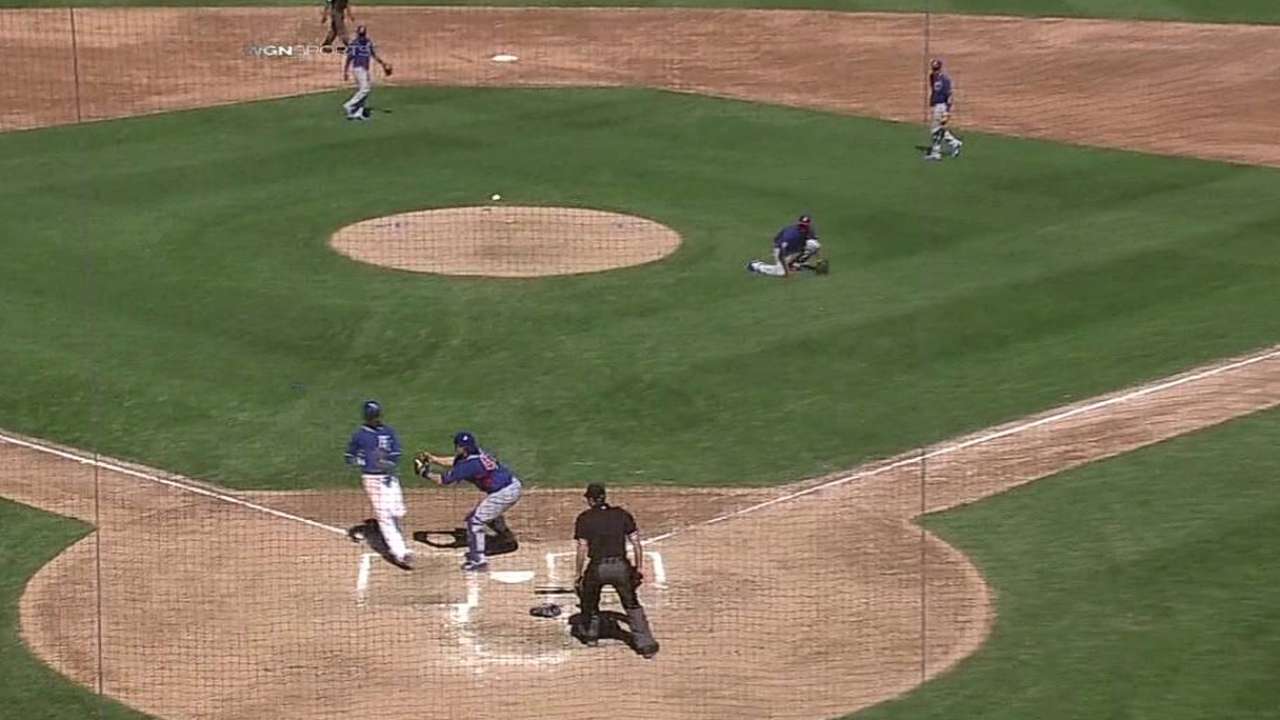 CHICAGO -- Javier Baez is on a roll, batting .321 in 23 games this month at Triple-A Iowa, but the infielder's success has not prompted the Cubs to want to promote him to the big league team right now.
"He's on a really good run right now," said Jason McLeod, Cubs senior vice president of scouting and player development. "The mindset is there. He had to deal with a lot in the offseason on a professional level and certainly with what took place with his family. He's in a good place right now."
Baez was a regular with the Cubs at the end of last season, but batted .169 in 52 games, striking out 95 times in 213 at-bats. He was projected as the starting second baseman, but the Cubs decided Baez needed more development, and he was assigned to Iowa. His sister, Noely, passed away in April, and Baez missed the first month of the season.
"All we're concerned about now is him maintaining this," McLeod said Tuesday of Baez. "He's someone who wants to come up here and help the team win. Those are conversations that take place every day."
The Cubs have emphasized to young players the need to be versatile, saying it could help them get to the big leagues quicker. Baez has played second and shortstop at Iowa, and there are no plans to move him to the outfield.
"He does kid around and will take fly balls in the outfield," McLeod said. "We might have him do some of those things. It wouldn't be predicated on what's happening here."
Why not have Baez play outfield?
"Who knows? It wouldn't be surprising if we did see him out there," McLeod said. "No plans are in the works to do that -- I want to make that clear. Because he does have the athleticism and the ability and he's a baseball player, I wouldn't be surprised to see him go out there and be pretty darn good."
• Manager Joe Maddon said Sunday that Kyle Schwarber, the Cubs' top pick in last year's First-Year Player Draft, could be the type of hitter they'd add in September. The left-handed hitting catcher, who is the Cubs' No. 3 prospect according to MLB.com, was batting .305 in 41 games at Double-A Tennessee with 10 home runs, six doubles and one triple.
"I think that's a conversation to take place," McLeod said. "A lot depends on what's happening with the Major League team. He's having a great year right now. We felt he was an impact bat last year and to step in at Double-A and what he's doing while he's catching and going into his first full season as a catcher behind the plate, we couldn't be more happy. He's controlling the zone, he's hitting for average, hitting for power.
"A lot of us believe in his ability," McLeod said. "If the need was there to come up here and help this team win later this year, I think he could do it."
• The Cubs have the ninth pick overall in the June 8 First-Year Player Draft, and McLeod said they have narrowed their list of players to four. The scouts will meet in Chicago on Sunday to begin a week of meetings prior to the Draft.
"You've heard us talk about it being our Super Bowl," McLeod said of the Draft. "It's the one day of the year we can choose the players who come in and hopefully impact the organization. We've never been a team that drafts on the need of the Major League team. We'll pick the best player we can for the organization, not the needs of the Major League club."
• Pierce Johnson, sidelined because of a lower back injury, was expected to join Tennessee the first week of June, McLeod said. Johnson has been rehabbing at the Cubs complex in Mesa, Ariz.
"It's been a longer process than we hoped," McLeod said.
• Yoervis Medina, whom the Cubs acquired from the Mariners for catcher Welington Castillo, has pitched in three games at Iowa, and given up two runs on six hits and three walks over three innings.
"The early reports are really big stuff, almost like Pedro Strop when Pedro was struggling a little in Baltimore," McLeod said. "You were wondering, 'Man, when's the light going to go off?' He's got the big fastball, the power slider. He reminds us of a younger version of Pedro before he became consistent."
Carrie Muskat is a reporter for MLB.com. She writes a blog, Muskat Ramblings. You can follow her on Twitter @CarrieMuskat and listen to her podcast. This story was not subject to the approval of Major League Baseball or its clubs.