O's lend helping hand at Maryland Food Bank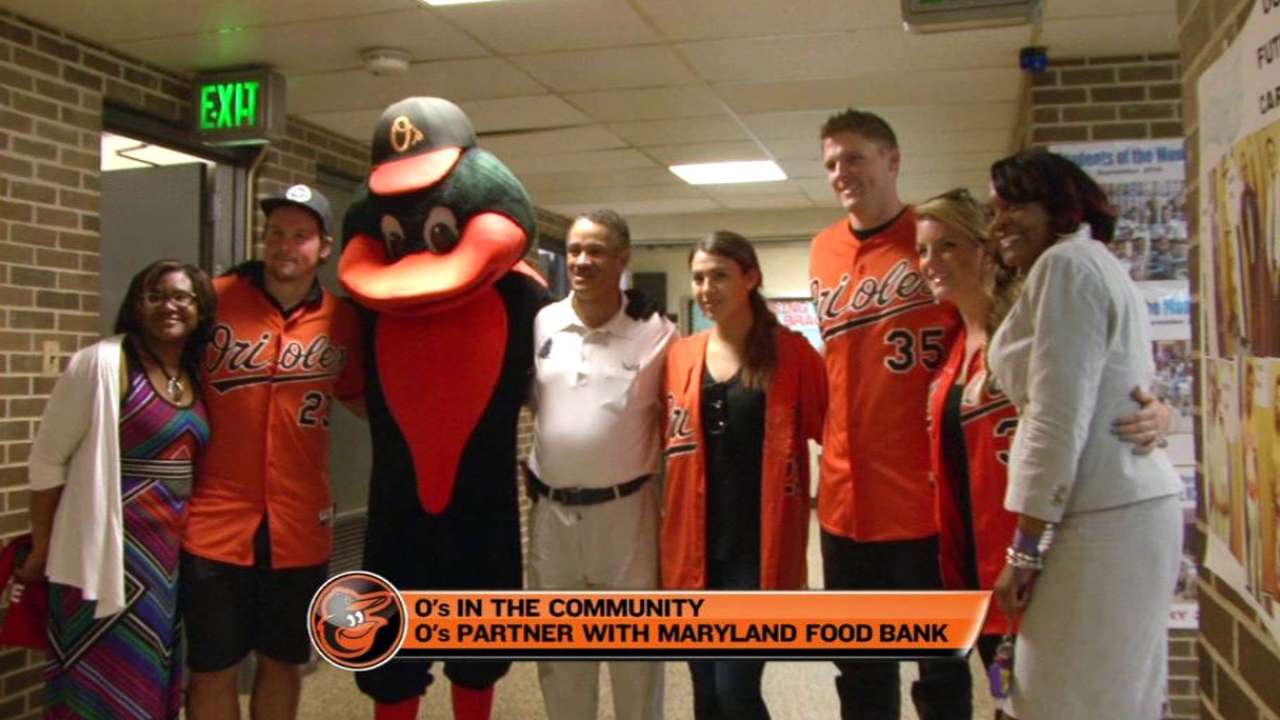 BALTIMORE -- When someone stops Brenda Scott on the sidewalk and asks for some money to get food, she generally provides them with it.
Scott, a local West Baltimore resident, has needed assistance in the past and received help from others, so she tries to reciprocate whenever possible. On Tuesday, it was the Orioles who were giving back when they paired with the Maryland Food Bank to host a food distribution event at William Pinderhughes Elementary in West Baltimore.
"I think [the food distribution] is beautiful because it's an example of all the human beings who are doing OK, helping those who are not doing so OK right now," Scott said.
Along with the players' wives, Orioles players Brad Brach, Miguel Gonzalez and Travis Snider participated in the event.
A line stretched down the street 20 minutes before the Orioles arrived, and a consistent crowd funneled through the food stations for the entire event. The Orioles and wives manned 10 tables and handed out different fruits, vegetables, canned goods and drinks to members of the community.
"These are folks who live in food deserts," said Meg Kimmel, vice president of marketing for the Maryland Food Bank. "They have uncertain access to food. That's not a very happy storyline. To have the Orioles come out, I think it just really helps rebuild the spirit in the city."
Members of the West Baltimore community have struggled to find access to food over the past weeks due to the civil unrest and rioting going on in Baltimore. Kimmel explained that corner stores have been destroyed, public transportation routes were disrupted and some people have literally gone without food.
"Baltimore has been through a rough patch the past couple of weeks and we are just thankful that we are here and we love to get back," said Yainee Machado, who is Manny's wife.
During the food distribution, Snider, Brach and their wives also visited the students of William Pinderhughes Elementary. Cheers exploded when the Orioles and their wives entered the cafeteria and every child was eager to talk with the players and take pictures with the Oriole Bird.
Connor Smolensky is an associate reporter for MLB.com. This story was not subject to the approval of Major League Baseball or its clubs.