Marlins tweak staff; Harris new 3B coach
Butler moves from hot corner, will continue to guide baserunners, outfielders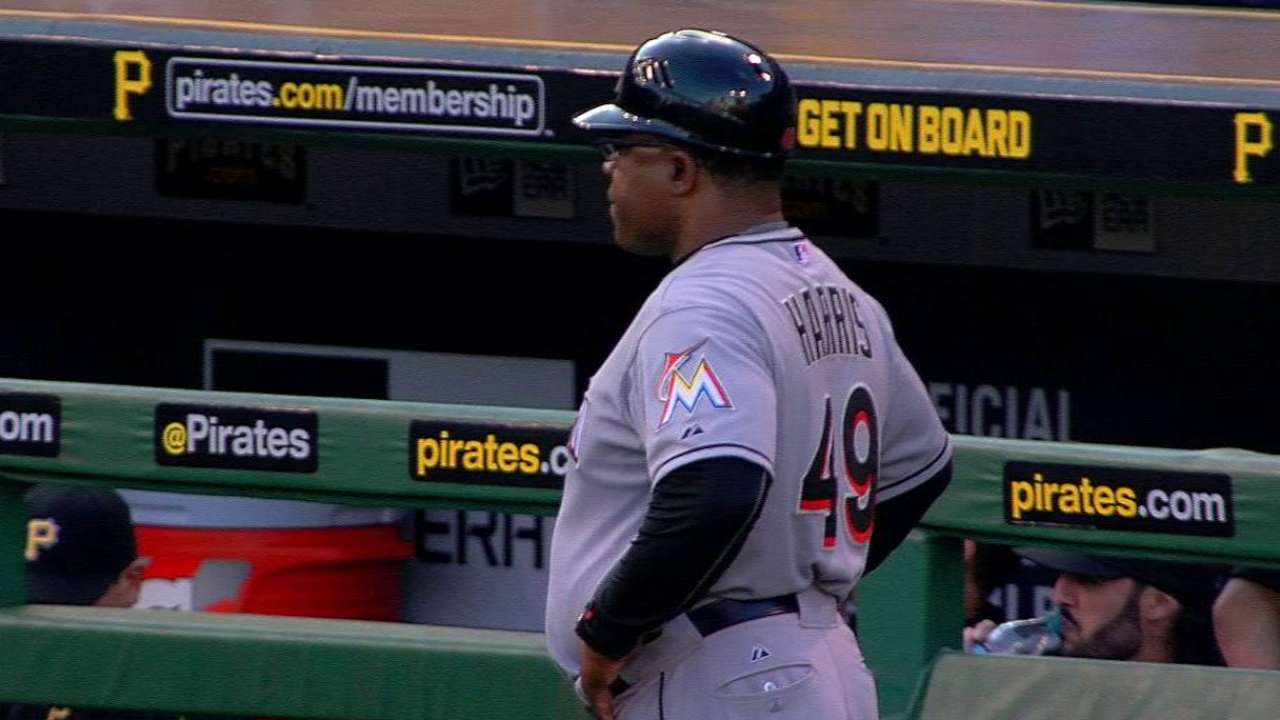 PITTSBURGH -- The Marlins announced before Tuesday's 5-1 loss to the Pirates that former third-base coach Brett Butler has been reassigned, with Lenny Harris taking over in that role.
Butler, in his second season with the Marlins, will continue to serve as outfield and baserunning coach, while Harris, who is in his fourth year with the organization and first with the big club, moves from his role as assistant hitting coach.
Marlins manager Dan Jennings believes the moves will be "beneficial for us as we move forward into the season."
Jennings said he wants the expertise of Butler, previously a five-year manager for the Diamondbacks' Triple-A affiliate and a 17-year Major League player, at work in the dugout.
"To allow him to work from here, he can see some things that'll help us put the game in motion, get some reads off pitchers and be able to utilize all the things he did when he played," Jennings said.
When asked if confusion on signs and a questionable hit-and-run call in Monday night's game factored into the moves, Jennings said, "it's an internal matter."
Jennings did say that Butler took the decision well, though.
"He was very much a pro," Jennings said. "We met for breakfast this morning, we talked it through, gave him the reasons behind it, and as he has said from day one when he came over here, all he wants to do is help in any way to help us win and help us get better."
Harris, who played 18 years in the Major Leagues, wasn't expecting the role change. But after Harris spent time as third-base coach in the Gulf Coast League, Jennings is confident in his decision-making abilities.
"I think it'll be a smooth transition where he's concerned," Jennings said. "I know he's very excited about the opportunity."
Jennings isn't foreign to making headlines. The Marlins sparked debate when Jennings, the club's general manager, assumed the role of manager after Miami dismissed Mike Redmond on May 17.
Now, just eight games into his tenure as leader of the clubhouse, there is more movement. But Jennings thinks it's best, not only for the coaching staff, but also the players, to have Butler and Harris produce from fresh perspectives.
"We're all in this together," Jennings said.
John McGonigal is an associate reporter for MLB.com. This story was not subject to the approval of Major League Baseball or its clubs.