Hall of Famers, legends top list of Draft reps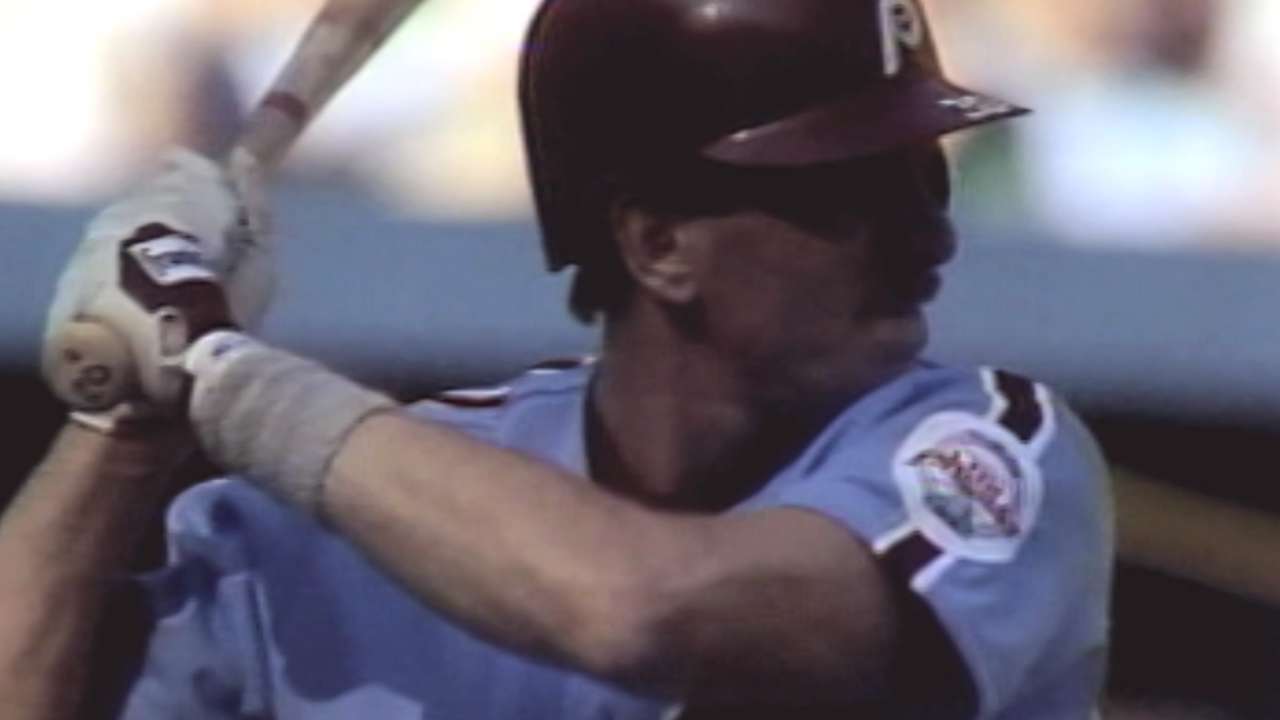 Two members of the 500 Home Run Club -- Ken Griffey Jr. and Mike Schmidt -- and 22 other former All-Stars will headline the list of team representatives on the floor at MLB Network's Studio 42 when the 2015 MLB Draft gets underway on June 8.
MLB announced the annual list of club reps on Tuesday and it is clear that the 50th anniversary of the event will be celebrated in style on that first night of selections in Secaucus, N.J. Griffey, a likely first-ballot inductee next summer, will sit at the Mariners table in a room that includes current Hall of Famers including, Schmidt (Phillies table), Tommy Lasorda (Dodgers), and Andre Dawson and Tony Perez (both Marlins).
Other former All-Stars who will represent the clubs include: Rick Aguilera (Twins), Bob Boone (Nationals), David Cone (Yankees), Johnny Damon (Royals), Ryan Dempster (Cubs), Gary DiSarcina (Angels), Steve Finley (Padres), Ryan Franklin (Cardinals), Ralph Garr (Braves), Luis Gonzalez and J.J. Putz (D-backs), Ben Sheets (Brewers), Lee Smith (Giants), Mario Soto (Reds), B.J. Surhoff (Orioles), Robby Thompson (Indians), Alan Trammell (Tigers), Tim Wakefield (Red Sox), Vernon Wells (Blue Jays) and Jack Wilson (Pirates).
Surhoff (Milwaukee in 1985) and Griffey (Seattle in '87) were each No. 1 overall Draft picks.
MLB Network and MLB.com will have live coverage of the first night at this Draft, covering the top 70 picks -- or through Round 2 -- starting at 7 p.m. ET. MLB.com will provide live pick-by-pick coverage of Rounds 3-10 on Day 2, starting at 1 p.m. ET. Then rounds 11-40 can be heard live on MLB.com on June 10, beginning at noon ET.
Prior to the start of the Draft, MLB Network and MLB.com will air a Draft preview show starting at 6 ET. Of course, the previewing already is well underway. Go to MLB.com/draft to see the Top 100 Prospects list, projected top picks from MLB.com analysts Jim Callis and Jonathan Mayo, the 2015 order of selection and more. Follow @MLBDraft now to see what Draft hopefuls, clubs and experts are saying.
Arizona has the top overall pick, so the first table to see action on that Monday will feature a pair of former All-Stars on the phone with the club's war room back in Phoenix. Gonzalez was a fourth-round Draft pick by Houston in 1988 and Putz a sixth-rounder by Seattle in '99.
Shortstops Dansby Swanson of Vanderbilt and Brendan Rodgers of Lake Mary (Fla.) High were 1-2 in Callis' mock draft last week.
Ten clubs each have two selections in the first round: Astros (2 and 5), Rockies (3 and 27), Braves (14 and 28), Yankees (16 and 30), Giants (18 and 31), Pirates (19 and 32), Royals (21 and 33), Tigers (22 and 34), Dodgers (24 and 35) and Orioles (25 and 36). The Braves have a Major League-high five selections within the first 75 picks.
MLB Network's live coverage will feature news, analysis, interviews with club front office personnel and representatives, footage from club draft rooms, and features and interviews with prospects and newly drafted players. MLB Network's Greg Amsinger, Peter Gammons, Dan O'Dowd, Harold Reynolds and Mayo will anchor the live coverage with contributions from MLB Network's Darryl Hamilton, Al Leiter, Pedro Martinez, Dan Plesac, Bill Ripken, Sam Ryan, John Smoltz, Tom Verducci, Heidi Watney and Matt Yallof, as well as Callis and John Manuel of Baseball America.
MLB.com will provide Draft Tracker, the always-popular live interactive app that includes a searchable database of more than 1,500 draft-eligible players with statistics, scouting reports and video highlights. In addition to @MLBDraft for live updates and commentary, follow @MLBDraftTracker for tweets of all picks as they are made.
The full list of Draft reps are:
ARI: Luis Gonzalez, J.J. Putz
ATL: Ralph Garr, Greg McMichael
BAL: B.J. Surhoff, Tripp Norton
BOS: Tim Wakefield, Chris Pritchett
CHC: Ryan Dempster, Steve McFarland
CWS: Michael Huff, Kevin Coe
CIN: Mario Soto, John Ceprini
CLE: Robby Thompson
COL: Ryan Spilborghs, Gary Lawrence
DET: Alan Trammell, Murray Cook
HOU: Enos Cabell, Paul Ricciarni
KC: Johnny Damon, Art Stewart
LAA: Gary DiSarcina, Ralph Reyes
LAD: Tommy Lasorda, Hank Jones
MIA: Andre Dawson and Tony Perez
MIL: Ben Sheets, Tom Flanagan
MIN: Rick Aguilera, John Wilson
NYM: Mookie Wilson, Jeffrey Lebow
NYY: David Cone, Troy Afenir
OAK: Travis Buck
PHI: Mike Schmidt, Dan Goroff
PIT: Omar Moreno, Jack Wilson
SD: Steve Finley
SF: Lee Smith, Tony Siegle
SEA: Ken Griffey Jr., Roger Hansen
STL: Ryan Franklin
TB: Andy Sonnanstine
TEX: Mark McLemore
TOR: Vernon Wells, Jay Stenhouse
WSH: Bob Boone, Johnny DiPuglia
Mark Newman is enterprise editor of MLB.com. Read and join other baseball fans on his MLB.com community blog. This story was not subject to the approval of Major League Baseball or its clubs.