Gallo among top Minors' performers Monday
Texas' No. 1 prospect hits eighth homer, fourth in past seven games, for Frisco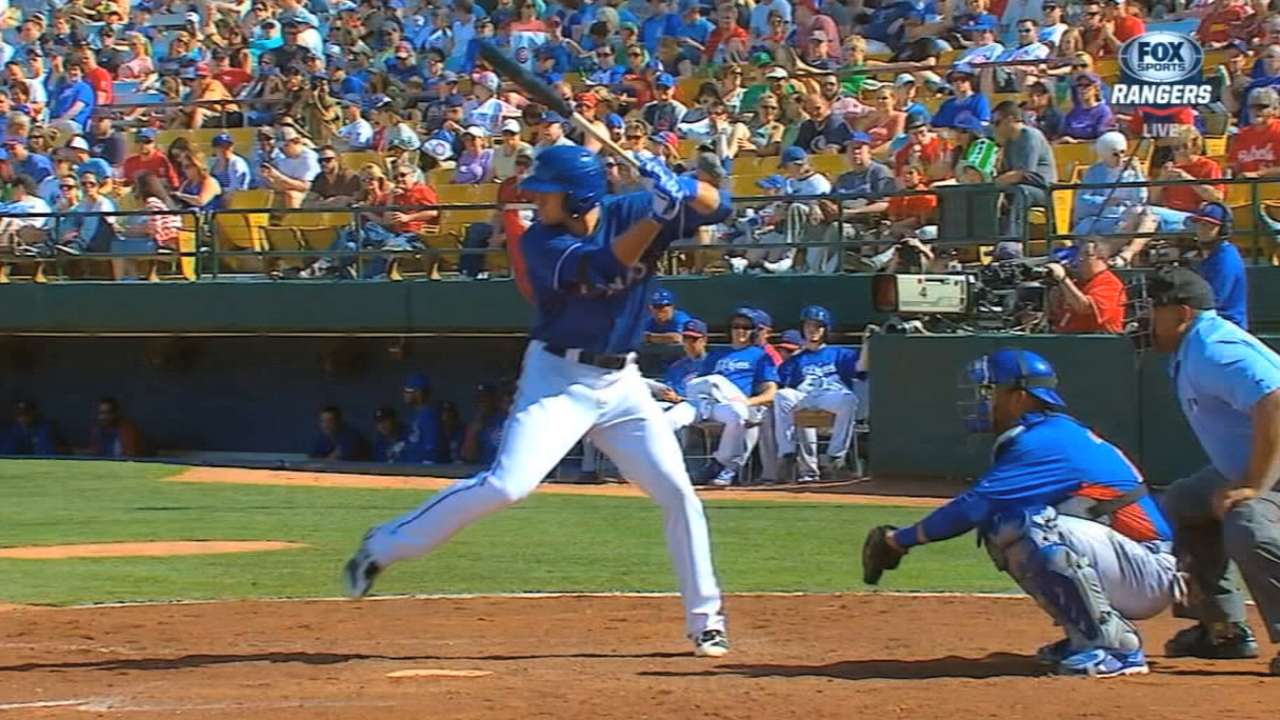 The Texas farm system was homer happy on Memorial Day.
Rangers No. 1 prospect (No. 10 overall) Joey Gallo continued his excellent month for Double-A Frisco with a two-run shot, and now has eight homers and 25 RBIs in 29 games since returning from foot surgery on April 25. The RoughRiders third baseman is currently hitting an even .330/.440./.680 and has hit four home runs in his past eight games.
Not to be outdone, No. 2 prospect (No. 41 overall) and Frisco teammate Jorge Alfaro was impressive Monday, going 3-for-7 with a homer, a double, three RBIs and a stolen base in a doubleheader with San Antonio. Alfaro's extra-base hits were his first since May 19, but he currently holds a .275/.344/.458 line on the season to go with a trio of homers and 15 RBIs.
Rangers No. 13 prospect Travis Demeritte ripped a three-run home run during a 3-for-5 performance for Class A Hickory. The second baseman improved his average from .236 to .248, and now has five homers and 19 RBIs this year. The 2013 first-rounder swatted 25 home runs and 66 RBIs for Hickory last season, and now has 34 dingers in his Minor League career.
More standout performances from Top 100 prospects on Monday
• Dodgers No. 1 prospect (No. 7 overall) Corey Seager hit his first and second home runs for Triple-A Oklahoma City. The shortstop collected three RBIs on Monday, going 2-for-4 in the Dodgers' 6-1 win over Salt Lake. The 21-year-old tore through Double-A pitching in April, with a .375/.407/.675 line with five homers and 15 RBIs in 20 games with Tulsa. He was promoted to Oklahoma City on May 1, but has struggled to continue his torrid pace, hitting .250/.290/.364 without any display of power until Memorial Day.
• Cardinals No. 1 prospect (No. 83 overall) Stephen Piscotty hit his sixth home run of the season and first since May 2. The Triple-A outfielder went 2-for-5 with the solo jack and now has 20 RBIs on the season.
• Tigers No. 1 prospect (No. 92 overall) Steven Moya swatted his second home run in the past three days for Triple-A Toledo. The outfielder went 4-for-5 -- his first four-hit game this year -- with two RBIs and three runs. He bumped his line from .216/.257/.343 to .243/.281/.393 in the process and now has three homers with 12 RBIs at the Triple-A level.
Other notable performances from around the Minor Leagues
• Astros No. 25 prospect Jacob Nottingham was perfect at the plate in the first game of a doubleheader for Class A Quad Cities on Monday, going 4-for-4 with a home run and two RBIs. He's now 10-for-16 with two homers, three doubles and six RBIs in his past four games. Over the past 15 games, Nottingham has raised his average more than 90 points, hitting .435 (27-for-62) in that time.
• Red Sox No. 20 prospect Teddy Stankiewicz tossed eight innings of shutout ball for Class A Advanced Salem. The right-hander gave up two hits and one walk against four strikeouts to pick up his first win of the season. He's now 1-5 with a 3.52 ERA on the season.
• Yankees No. 8 prospect Eric Jagielo went yard for the second day in a row. The Double-A Trenton slugger hit his ninth home run of season -- a solo shot -- as the Thunder beat Erie, 6-3. Jagielo is now hitting .303/.386/.579 with 31 RBIs this year.
• Astros No. 7 prospect Brett Phillips also hit a homer for the second straight day. The Class A Advanced Lancaster outfielder finished 4-for-5 with two doubles, a dinger and four RBIs on Monday. His hitting streak now sits at seven games, and he's 14-for-30 (.467) with two homers and 10 RBIs in that span. On the season, he sits at .339/.400/.582 with seven bombs and 29 RBIs.
• Padres No. 16 prospect Justin Hancock continues to deal for Double-A San Antonio. The 6-foot-4 righty gave up two hits in five scoreless innings on Monday, and has given up just two earned runs in his past four starts (23 total innings). Hancock still has not lost since his first start this year on April 9, and sports a 4-1 record with a 2.25 ERA.
• Red Sox No. 25 prospect Carlos Asuaje homered twice for Double-A Portland, going 2-for-4 with four RBIs in an 8-2 win over Reading. Asuaje is 6-for-12 over the past three games and sits at .287/.402/.447 with three homers and 24 RBIs this season.
• Athletics No. 27 prospect Bruce Maxwell hit his first home run of the season for Double-A Midland. The catcher had just one hit on Monday, but he made it count, bringing home three RockHounds with a grand slam and pushing his season RBI count to 17.
• Blue Jays No. 21 prospect Rowdy Tellez knocked in four runners on Monday and now has seven RBIs over the past two games for Class A Lansing. The first baseman went 2-for-5 with two doubles and four RBIs, and is now 11-for-23 with a homer and 11 RBIs during a six-game hitting streak. On the season, he sits at .297/.352/.486 with six home runs and 36 RBIs.
• Rays No. 28 prospect Johnny Field is back above .300 -- .304, to be exact -- for Double-A Montgomery after a 2-for-4 day that included a home run and two RBIs. He's been providing steady power all season and now has seven jacks along with 32 RBIs.
• Astros No. 11 prospect Derek Fisher hit his sixth home run of the season, and first since April 30. The left fielder had only brought in nine runs during his power slump, but Monday's performance -- 2-for-3 with a homer and three RBIs -- has him up to 23 RBIs on the season, with an impressive average (.317) and on-base percentage (.399), as well.
• Pirates No. 30 prospect Stetson Allie hit a two-run home run for Double-A Altoona, marking the third game in the past four he's knocked in a run. The outfielder's homer was his first since May 14, but fifth in May.
• Yankees No. 3 prospect Jorge Mateo hit a two-run homer for Class A Charleston, his second of the season. The shortstop last homered on May 7 and now has 16 RBIs on the year after his 3-for-5 day.
• Blue Jays No. 7 prospect Richard Urena is on fire for Class A Lansing. The 19-year-old shortstop went 3-for-4 with a homer and two RBIs on Monday, and now has 14 RBIs over the past seven games. He's batting .267/.282/.429 with seven homers and 29 RBIs this season.
• Indians No. 17 prospect Cody Anderson tossed six shutout innings for Double-A Akron, the third time this year he's blanked his opponent. The RubberDucks hurler picked up his third win of the year while giving up four hits and racking up four strikeouts against Binghamton. He sits at 3-2 with a 1.69 ERA this year.
Alex M. Smith is a reporter for MLB.com. This story was not subject to the approval of Major League Baseball or its clubs.