MLB.com Columnist
Barry M. Bloom
Pujols has never shied away from the big moment
Angels veteran delivers game-winner after Padres intentionally walk Trout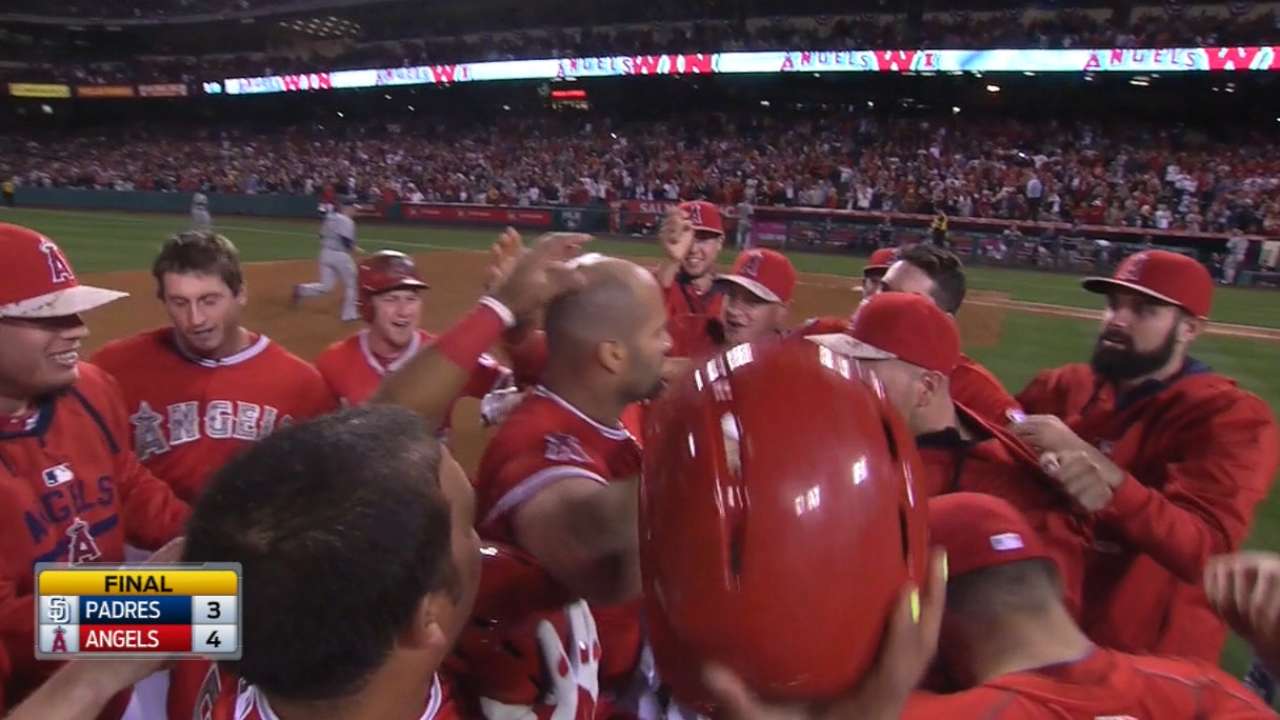 ANAHEIM -- There comes a point late in the career of a great player when he must take advantage of any opportunity that's presented. And that point came around for Albert Pujols in the ninth inning on Monday night at Angel Stadium.
Padres manager Bud Black decided to intentionally walk the wondrous Mike Trout and load the bases with two out to pitch to the great Pujols. It may come as no surprise that Pujols stroked a ground single to left field off Padres closer Craig Kimbrel to win the game, 4-3.
After all, it was the 18th time in his 15-year big league career that Pujols had won a game with a walk-off hit. He just hasn't done it much this year -- once previously, to be exact, and that on a sacrifice fly.
A certain Hall of Famer with a lifetime .315 batting average and 528 home runs, Pujols finished the game hitting .228 with only eight homers and 17 RBIs in 42 games.
"I think this is what I'm paid to do. I just haven't done it with great success this year," Pujols said after the big hit. "I'm glad that I came up there in that situation and came through. Obviously, as a player you always want to be in that situation. And myself, no matter what [I failed to do] in my first few at-bats, I always feel like I can come through. I'm not afraid of that situation. The numbers speak for themselves so I don't have to say anything about that."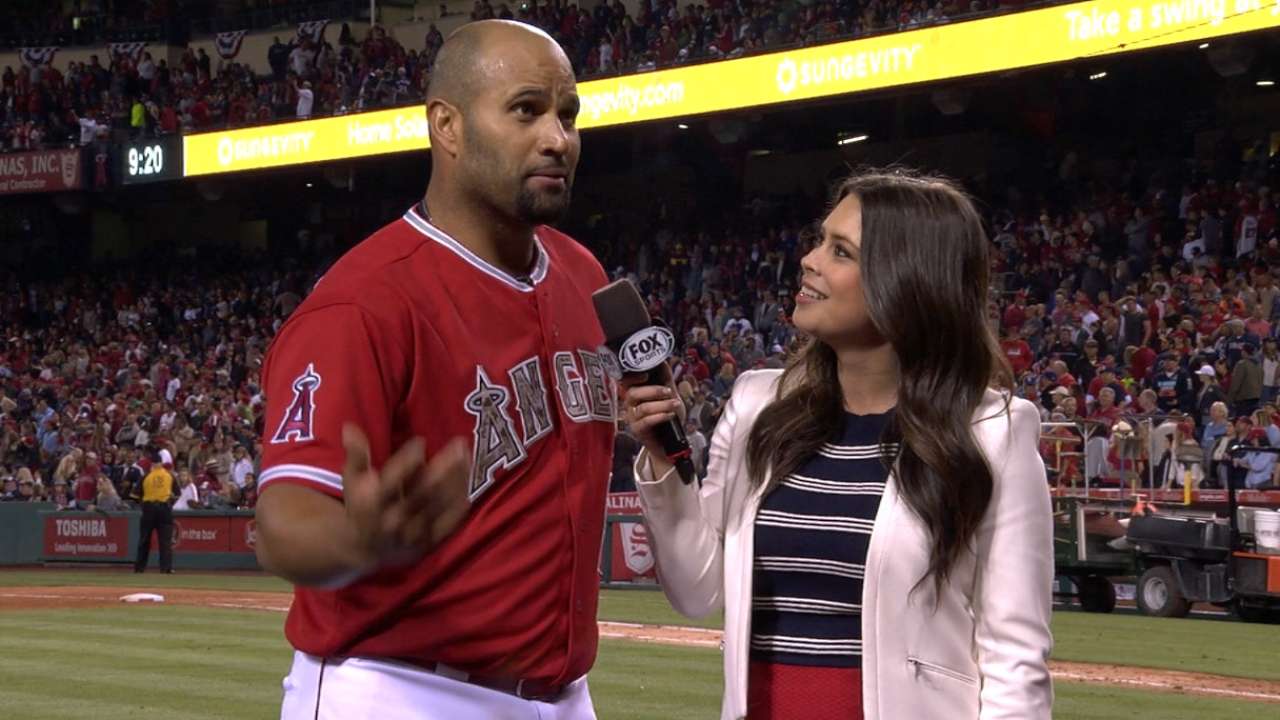 Time and age refuse to stand still for any man, particularly a 35-year-old athlete who has played at the peak of his profession for so many years, but now may be in the throes of inevitable decline.
Pujols tried to downplay Black's move to walk Trout and pitch to him, but he's as proud an athlete as there is these days in Major League Baseball. It was the 14th time overall Trout has been walked intentionally in front of Pujols, six of them alone already this year. Sometimes those things just get old.
"Hey, it's not rocket science," Pujols said. "If I was the manager I would have done the same thing."
Still, Pujols couldn't help glaring into the Padres dugout, perhaps looking for Black after the game-winning hit. Was he trying to send a message?
"No, it's just part of the game," he said. "It was an exciting moment."
But here were the facts on the ground: Trout is batting .299 with 11 homers and 25 RBIs and at 23 is considered one of the top, if not the top young player in the game.
When Black made the decision, he recognized that Trout had jolted a third-inning liner to right field that was snared by a sprinting Abraham Almonte and in the fifth he had barely missed hitting one out off Padres starter Tyson Ross. That ball thudded off the wall for a double, putting runners on second and third with none out.
Up stepped Pujols, who struck out swinging and then smashed his bat on the ground in frustration as he headed back to the dugout. The Angels failed to score that inning. Pujols was hitless in his first four at-bats and the Padres came back to wipe out a 3-0 deficit with three runs in the seventh.
It stood 3-3 in the ninth when Black made his first ill-fated decision: sending Kevin Quackenbush out to pitch the ninth instead of Kimbrel. Quackenbush set up the whole situation by walking the .156-hitting Marc Krauss on five pitches with one out. A batter later, there were runners on first and third and Kimbrel was in the game.
It's never a great idea to insert a closer accustomed to starting an inning with a clean slate into that kind of situation. Kimbrel responded nicely by striking out Erick Aybar to bring up Trout.
Here's Black's own analysis of the situation: "In a decision like that you go to what you think is the best matchup and that's what it was," he said. "Trout is a great young player and he swung the bat well tonight. Albert looked like he wasn't swinging the bat all that great. We thought this was the move to make, to load the bases and get a force at every bag.
"Albert is not ideal and neither is Trout against Kimbrel. Trout might have done the same thing. And then the question would have been, why did you pitch to Trout? Which would have been a fair question."
Pujols has seen it all before, of course. He's been walked intentionally 287 times in his career, but only once this season. With the Cardinals, Pujols said he had some pretty fair players hitting around him. Jim Edmonds, Larry Walker, to name a few. Trout is just another on the list.
"I had future Hall of Fame players hitting in front of me and behind me," Pujols said. "Trout is a pretty special player and done a lot great things in this game. But when you have guys who have done it consistently for 15 years you can't disrespect those guys. Trout is Trout. A player like him comes along every 50 years, maybe 25 years in this game."
Pujols' point was clear. Trout is in his fifth year. Let's see him keep doing it. But Black's move also made it clear. Win or lose, he doesn't think right now that Pujols is as dangerous as hitter as Trout. Pick your poison, Black was asked?
"It was a tough one, it really was," Black said. "You have arguably the best player in the game and a future Hall of Famer. So pick your poison is a good term and it didn't work out for us."
Barry M. Bloom is a national reporter for MLB.com and writes an MLBlog, Boomskie on Baseball. Follow @boomskie on Twitter. This story was not subject to the approval of Major League Baseball or its clubs.