Alvarez shows off deep opposite-field power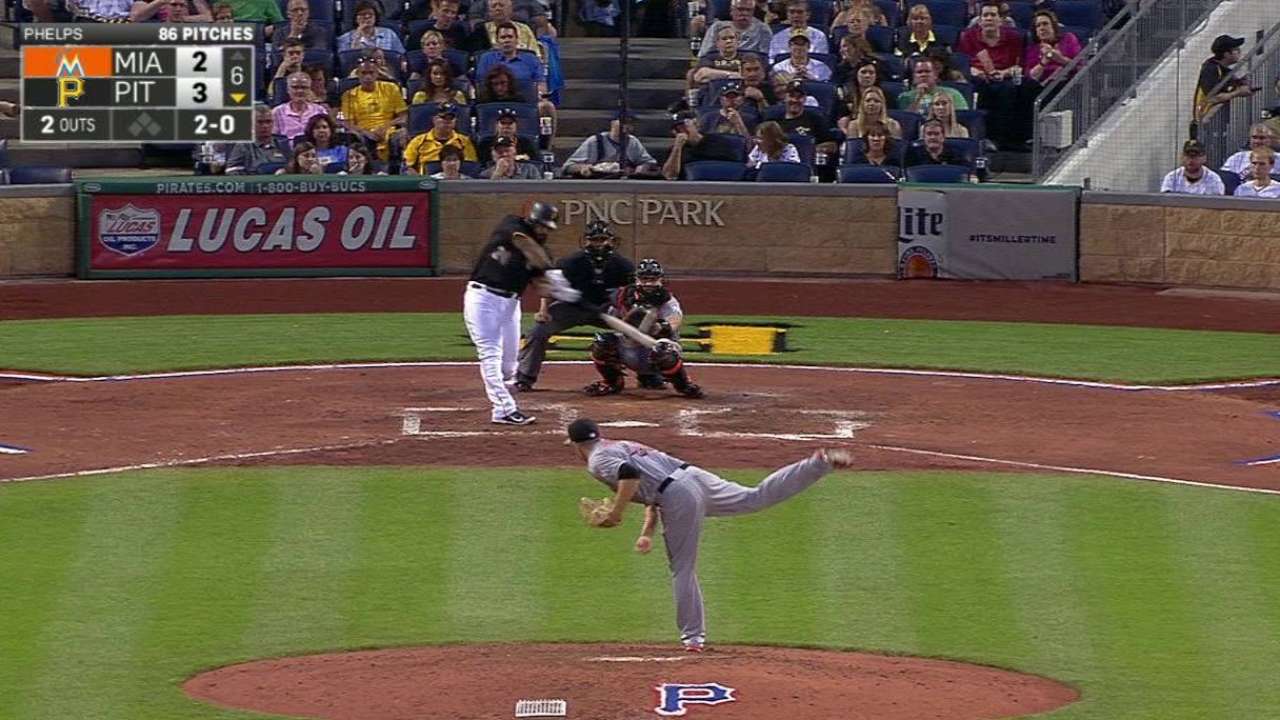 PITTSBURGH -- Pedro Alvarez stood in front of his locker after the Pirates' 4-2 win over the Marlins on Monday night and searched for the right words to describe the ball he crushed out of the deepest part of PNC Park.
A locker away, shortstop Jordy Mercer provided a more concise summary: "That ball was crushed!"
Facing Miami starter David Phelps in the sixth inning, Alvarez unloaded on a 2-0 fastball, ripping a solo shot on a line just to the left of the notch in left-center field.
It was Alvarez's ninth homer of the season, tied with Starling Marte for the team lead. It was also Alvarez's first homer to the opposite field since mid-April, after he hit each of his first four homers to left or center.
"It means I'm hitting the ball where it's pitched and I'm seeing the ball well," Alvarez said. "It's one of those things where you want to keep feeding off that and try to replicate that feeling and that swing."
Manager Clint Hurdle said he's only seen two other left-handed hitters hit a ball that hard -- it left Alvarez's bat at 112 mph, as tracked by Statcast™ -- to that part of the ballpark: Rockies slugger Carlos Gonzalez and Dodgers first baseman Adrian Gonzalez, back when he was with the Red Sox.
"You're not going to hit a ball any harder than that," Hurdle said. "There's only a few guys in the game that can do that."
Alvarez believe he's capable of being one of those players, so long as he's not trying too hard to do so.
"I can hit the ball deep to any part of the park. That's why I make such an effort to try to keep it as simple as possible, because I know I have that ability," Alvarez said. "Obviously when good swings are put into place, things like that can happen. It's what encourages me to come to the field every day and keep working."
Adam Berry is a reporter for MLB.com. Follow him on Twitter at @adamdberry. This story was not subject to the approval of Major League Baseball or its clubs.