No offense means no win for solid Odorizzi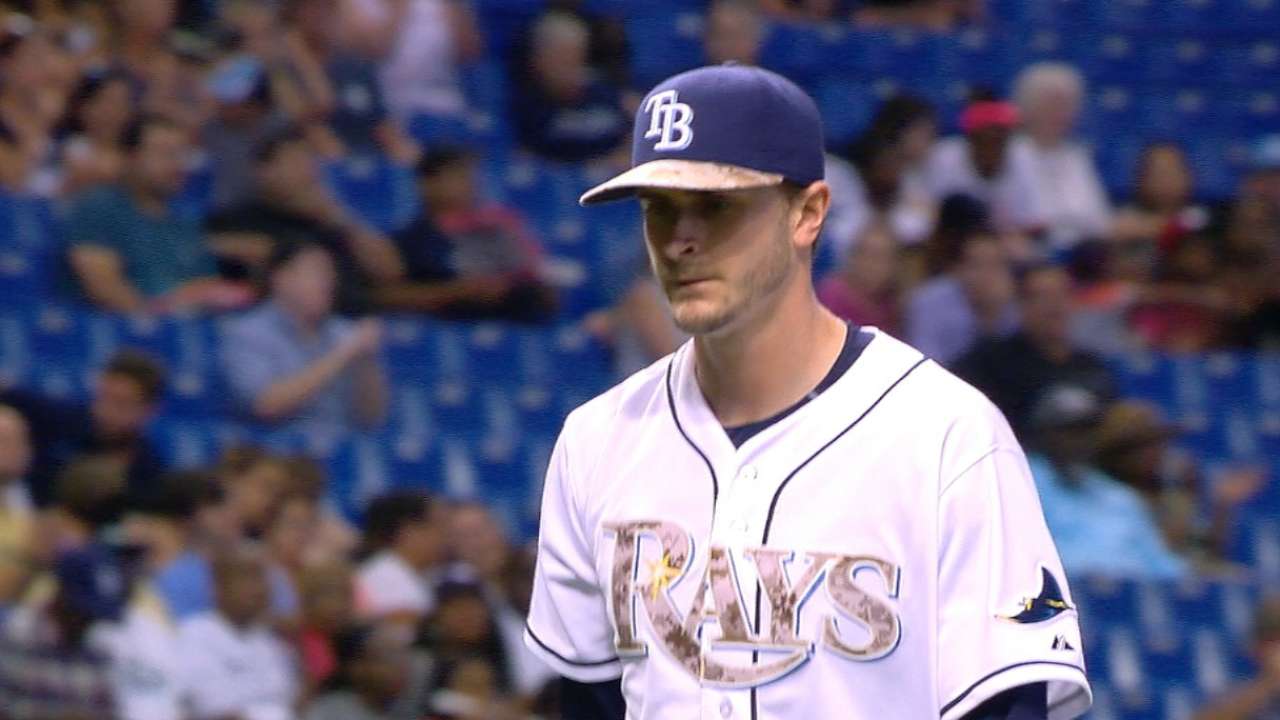 ST. PETERSBURG -- Jake Odorizzi's Memorial Day line read as follows: seven innings, one earned run, five hits, two walks, seven strikeouts.
It would be pretty easy to conclude that the right-hander was the winning pitcher on Monday night against the Mariners, only that's not the kind of season it's been for him. If ever a pitcher has found himself in the "bad slot," he's the guy.
Odorizzi took his fifth loss after the Rays fell to the Mariners, 4-1, despite delivering more than enough to earn a win.
"Odo was exactly consistent again with what he does," manager Kevin Cash said. "Goes out there and gives up two runs. Not ideal to do it in the first inning, but just completely shut them down after that. Just incredible how consistent he's been throughout the year."
Nine quality starts out of 10 have not been able to trump the fact that the Rays have scored just 16 runs for Odorizzi. That's 1.6 runs per start.
He got behind in the first inning on Monday when leadoff batter Seth Smith reached on Tim Beckham's fielding error, and he walked the next hitter, Brad Miller, on four pitches before Robinson Cano and Nelson Cruz came through with RBI singles.
But Odorizzi took the Mariners' best shots and found a way to survive.
"We had the error on the first play, and then the four-pitch walk, which was a little out of character for him," Cash said. "Then you face the big thumpers who come in and do what they do. Got him for two, but after that he keeps his composure so well. I'm sure he was frustrated by the first, but he doesn't let it affect anything."
Following Cruz's single, Odorizzi retired 10 straight before Justin Ruggiano drew a walk in the fourth.
"I just thought I needed to go out there and make some better pitches," Odorizzi said. "A lot of pitches in the first. ... I kind of had the mind-set to get some early-count outs and pitch as many innings as I could to save the bullpen. I know we've been kind of using them a little -- a lot -- but I was just trying to go inning by inning, to be honest with you."
In Odorizzi's five losses, the Rays have scored a total of six runs. In reality, Odorizzi has been the Rays' most consistent starter all season.
"I don't really know if I can pinpoint [why I've been so consistent] or not, it's just maturity, really," Odorizzi said. "I've been happy with the results this year.
"Just trying to stay out of habits, just throwing the same thing at the same point. I'm just kind of mixing my stuff and trying to be in the zone as best I can."
Bill Chastain is a reporter for MLB.com. This story was not subject to the approval of Major League Baseball or its clubs.