Texas 'pen answers call, holds Tribe in check
Four relievers combine for seven strong innings in Memorial Day win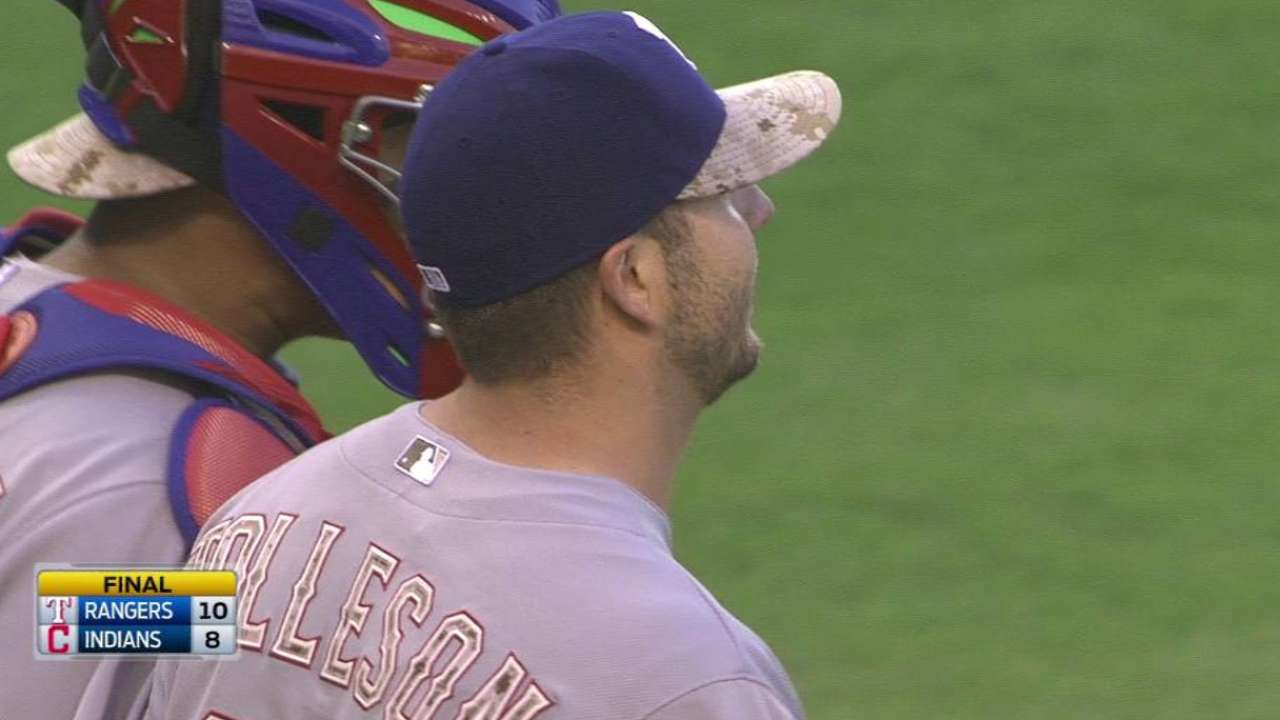 CLEVELAND -- When rookie starting pitcher Phil Klein was bounced in the third inning of Monday's eventual 10-8 Texas win after allowing seven runs, he handed the ball off to lefty Alex Claudio.
Claudio had never recorded more than five outs in a Major League relief appearance. He wound up throwing 3 1/3 innings, tossing 61 pitches in the process. If you would have asked Rangers manager Jeff Banister before the game, he'd have told you Claudio's pitch limit was around 30.
"Our offense played well today, but really it was the bullpen that stepped up big for us today," Banister said. "The job that Claudio did to give us the innings that we needed and keep the game in check -- what a gutsy performance by him. We extended him to the outer limits for him, really, and it was nice to see."
After Claudio held the Indians in check into the sixth inning, he got some help from his friends. Tanner Scheppers recorded a scoreless 1 1/3 innings. Sam Freeman did the same. Shawn Tolleson worked a scoreless ninth for his fourth save of the season.
For a bullpen in flux -- one operating in a closer-by-committee, one with a 4.52 ERA this season -- it was an impressive outing, especially given the tall task to which they were assigned after Klein's early exit.
"More than anything else it's an attitude," Banister said. "They've stepped up to a challenge that was given to all of them. They've taken it to heart. They want to hand the ball off to the next guy coming in clean. It's an effort to put a zero on the board. That's what they're trying to do."
Tolleson in particular was impressive, though it's nothing new for the 27-year-old righty this season. Tolleson owns a 2.95 ERA through 21 1/3 innings, striking out more than a third of all batters faced with a K-BB percentage that ranks fifth among all qualified relievers.
Though Banister is hesitant to officially name a closer, Tolleson has now earned four of the team's last five saves, and, title or not, if it looks like a closer and smells like a closer, it's probably a closer.
"He looks like it," Banister said. "The demeanor, the pitches, how he's getting quick outs. We didn't have [Ross] Ohlendorf today -- he was down -- so when it got down towards the end, Tolleson was the guy we were going to go with. Just another great job by him."
August Fagerstrom is an associate reporter for MLB.com. This story was not subject to the approval of Major League Baseball or its clubs.