Headley joins 'EWC' for Fleet Week special
Yanks third baseman 'jumped at the chance' to show support, tour USS San Antonio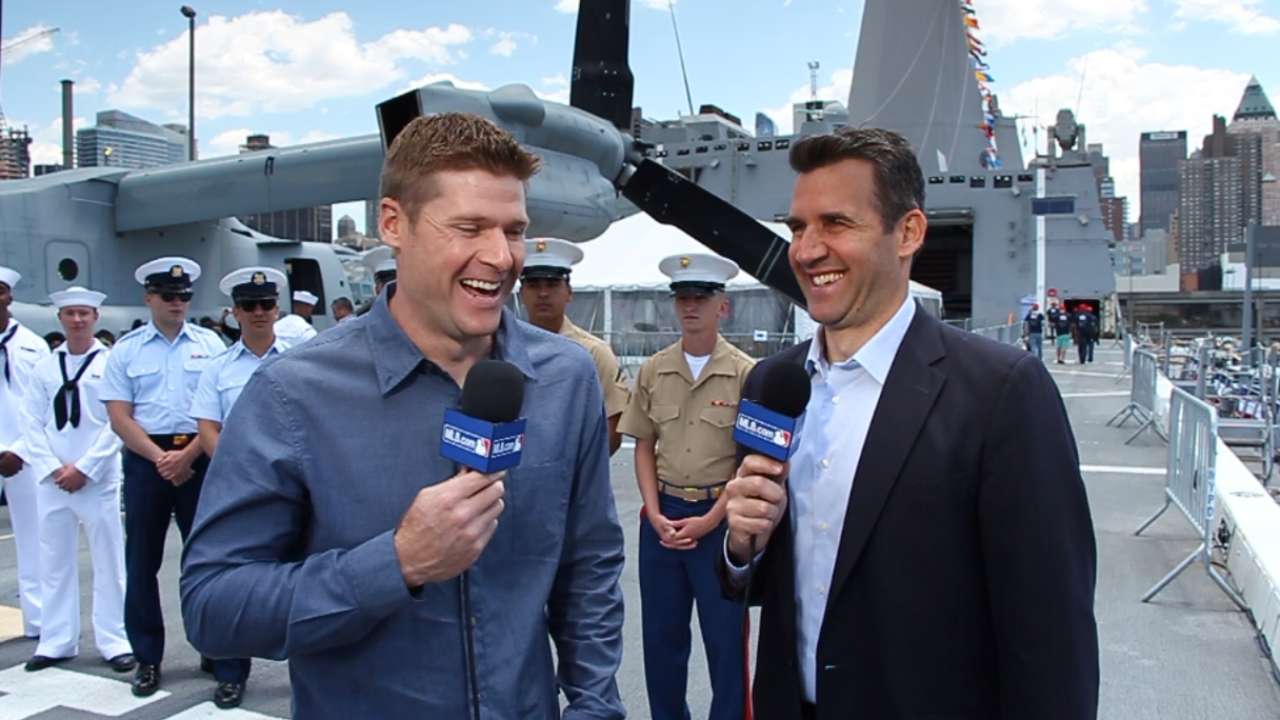 Taking photos with sailors has always been en vogue, but now, aided by a very cool hashtag, Fleet Week New York isn't only a fun city-wide event that is a staple of Memorial Day weekend. It's now also a viral sensation, thanks in small part to the super popular hashtag #SelfieWithASailor.
Among the (loosely estimated) thousands of civilians running around town taking selfies with our nation's bravest was Yankees third baseman Chase Headley, who was out and about in New York showing his appreciation for the sailors, Marines and Coast Guardsmen who have descended upon the Big Apple.
Headley, who grew up in an area with a large military population, said he didn't hesitate when offered a tour of the USS San Antonio, the first amphibious transport dock of the 12-ship San Antonio class.
The USS San Antonio, guided by its commanding officer, Captain Michael Patterson, is homeported at Naval Station Norfolk in Norfolk, Va.
"I jumped at the chance to be able to come on the ship," Headley said while filming a very special edition of "Express Written Consent" with host Jeremy Brisiel. "We're so fortunate to have so many great Americans that sacrificed for us. To be able to do what I do, I love it, but I know it means very little in the grand scheme of things. Anytime I have an opportunity to come out and spend some time with the military, I usually jump at the chance."
Headley plays in front of large crowds at the sprawling ballpark that is Yankee Stadium, but it's highly likely he was humbled by his surroundings while visiting the USS San Antonio. The ship, whose motto is "Never Retreat ... Never Surrender," is 684 feet in length with a beam that measures 105 feet. The crew consists of 360 sailors and three Marines.
Being somewhat new to New York -- Headley arrived just before the Trade Deadline last year -- the third baseman didn't quite realize the enormity of Fleet Week, or just how elaborate the celebration is. The special visit to a U.S. Navy ship surely helped provide some clarity.
"It's cool," he said. "I hadn't really heard a lot about it until a week before this. It's an awesome event. It's really neat to be able to interact with our military members and to be able to see some of the equipment that they use."
Headley spent the first several years of his career with the San Diego Padres, who drafted, developed and groomed him to become their starting third baseman for the better part of seven seasons. The Padres, neighbors to a large military base and a training facility for the Navy SEALs, actively incorporate military appreciation into their gamedays throughout the season.
Headley was impacted by that exposure through the years and was glad to add the New York military appreciation scene to his memory bank.
"I really appreciate the opportunity to come out here," he said. "I didn't want to pass it up."
Alyson Footer is a national correspondent for MLB.com. Follow her on Twitter @alysonfooter. This story was not subject to the approval of Major League Baseball or its clubs.