Stanton guards wall in right, hits one over it
Slugger slams into fence on run-saving grab in second, then hits opposite-field shot in third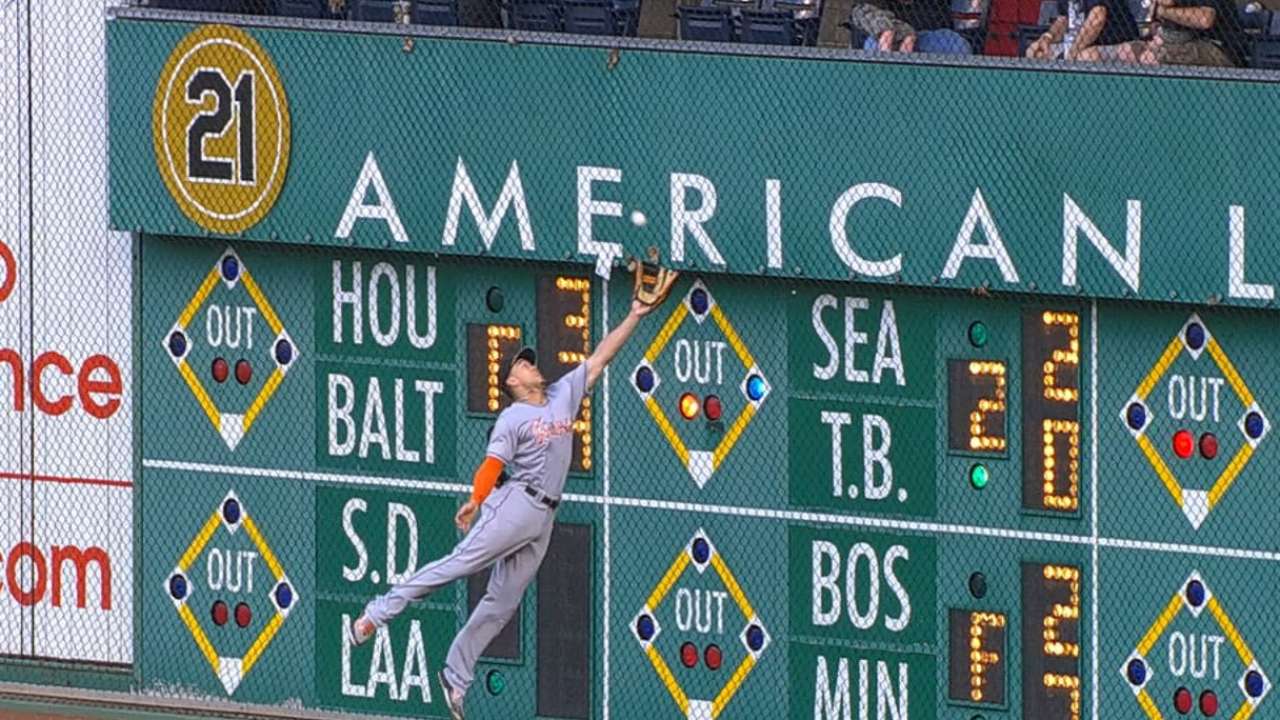 PITTSBURGH -- In the bottom of the second inning Monday night, Marlins right fielder Giancarlo Stanton found himself crashing into the Clemente Wall.
A frame later, he crushed a ball over it.
Stanton entered Monday night's game against the Pirates as an obvious player to watch -- and he made it hard for those at PNC Park to ignore him in the Marlins' 4-2 loss to the Pirates.
"It's great to see him relaxed and do the things he's capable of doing," Marlins manager Dan Jennings said. "He can also put a team on his back and carry us for a while."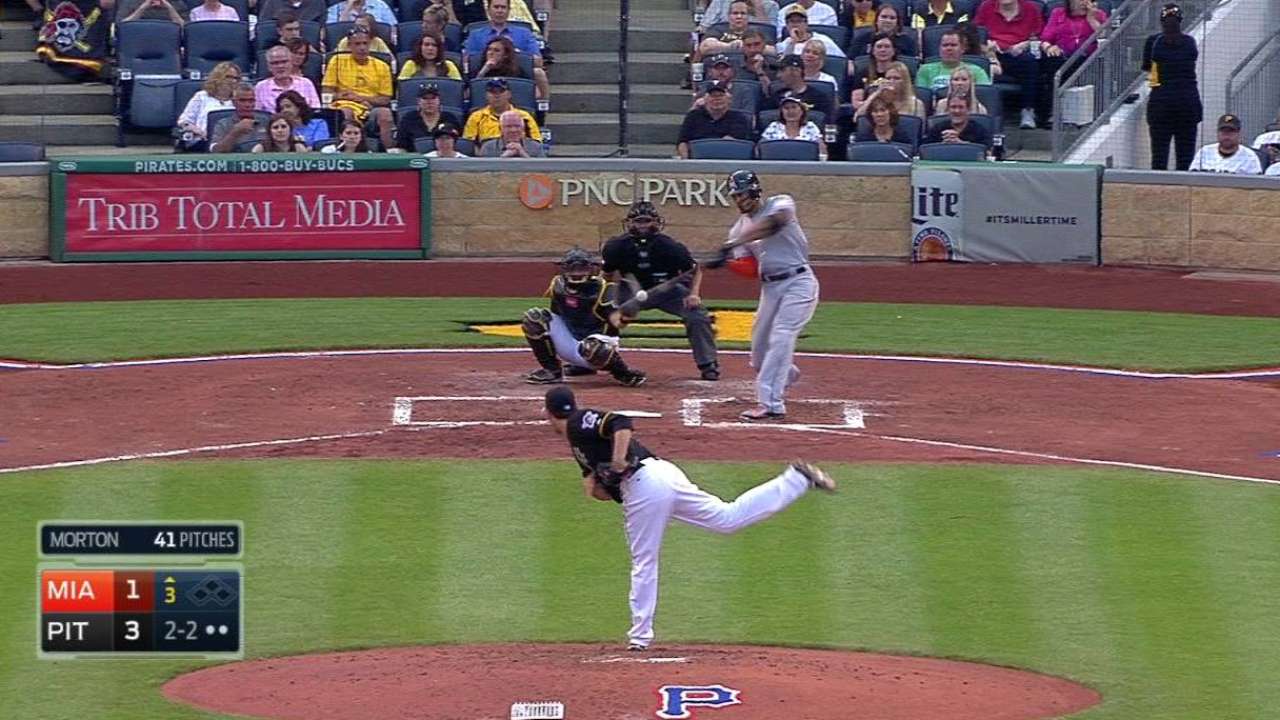 Stanton, who boasted a .467 batting average (7-of-15) against Pirates starting pitcher Charlie Morton before Monday, took advantage of the 31-year-old righty once again.
Stanton sparked the evening's scoring in the first inning with an RBI single that scored Dee Gordon. Swinging at the first pitch, Stanton ripped the base hit past the outstretched glove of Pirates shortstop Jordy Mercer.
Not that Mercer had much of a chance. The ball shot off Stanton's bat at 114 mph, as tracked by Statcast™.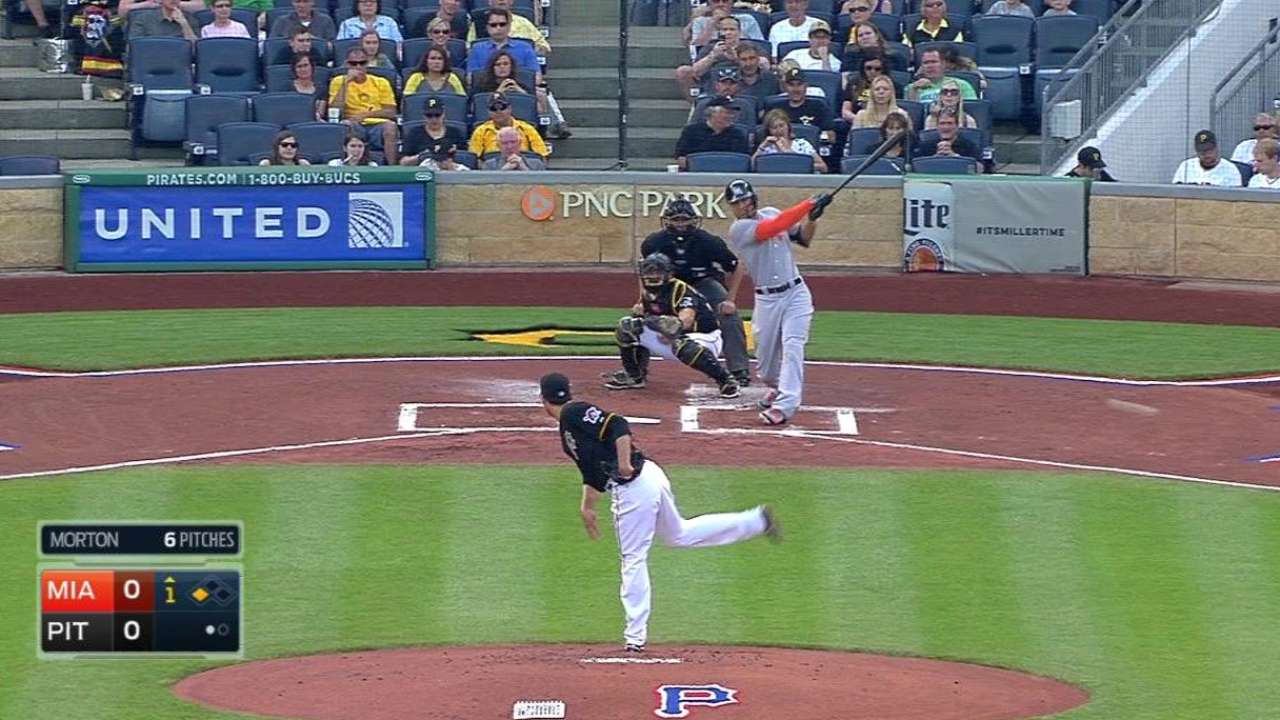 Then, Stanton got to work with his mitt.
Pittsburgh had already plated three runs in the second on Francisco Cervelli's homer, and with a runner on second, the club looked poised to break it open. Pirates leadoff man Josh Harrison drilled a line drive to the right-field wall, but Stanton leaped, extended his body and hauled in an acrobatic catch to put a damper on Pittsburgh's rally.
And a few batters later, it was Stanton's turn again at the plate.
The 6-foot-4 superstar faced a 2-2 count and connected on a 93-mph fastball, grooving it into the stands for his 13th home run of the season.
Before Monday, things weren't necessarily clicking for the 2014 National League home run champion. He had three hits in his last 27 at-bats.
But after seeing the impact he made in Monday's tilt, it was hard to tell Stanton was slumping.
"The things that he can do and how he does them, he has 'wow' moments pretty much every game or every other game," Jennings said. "He's a special player."
John McGonigal is an associate reporter for MLB.com. This story was not subject to the approval of Major League Baseball or its clubs.