Braves land Uribe, power arm in Callaspo trade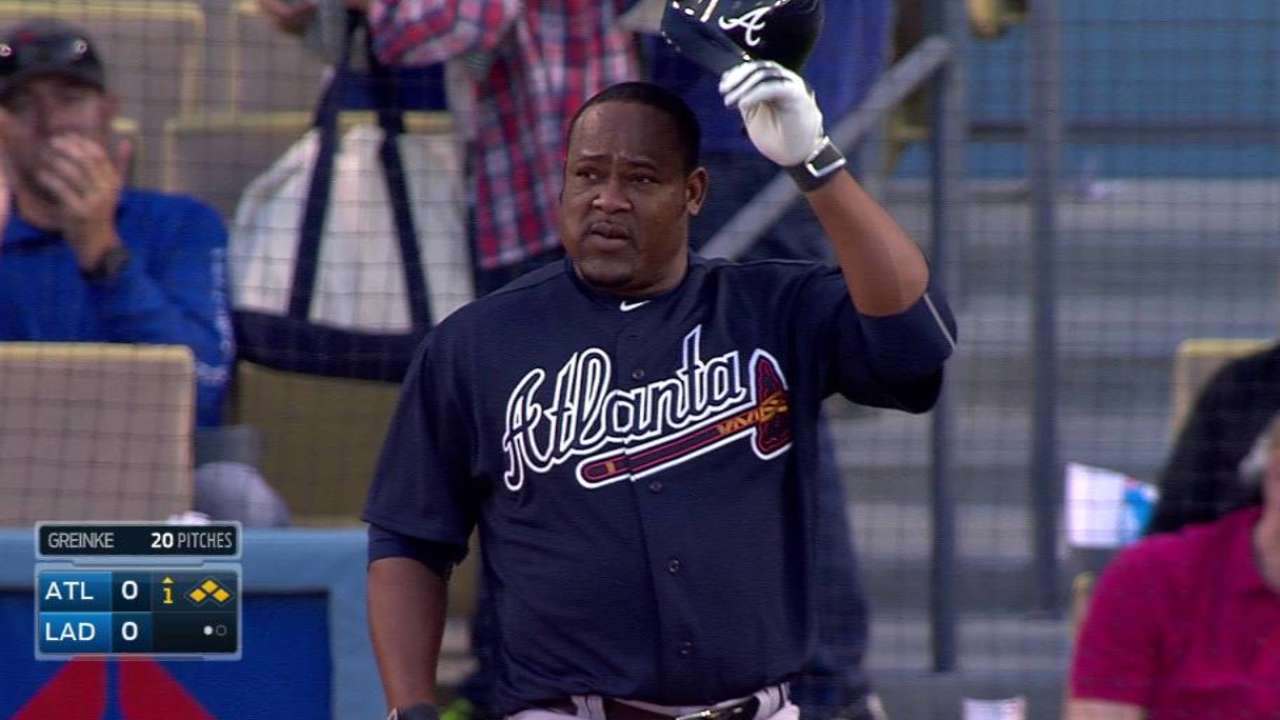 LOS ANGELES -- Once Alberto Callaspo reversed his decision by agreeing to be traded to the Dodgers, the Braves took advantage of an opportunity to acquire a high-upside reliever and a highly respected veteran infielder in exchange for four players who did not fit into their current or future plans.
The Braves received right-hander Chris Withrow and third baseman Juan Uribe in exchange for Callaspo, Eric Stults, Ian Thomas and Juan Jaime, the clubs announced on Wednesday afternoon.
"We feel like this is a trade that will help us short term as well as long term," Braves assistant general manager John Coppolella said.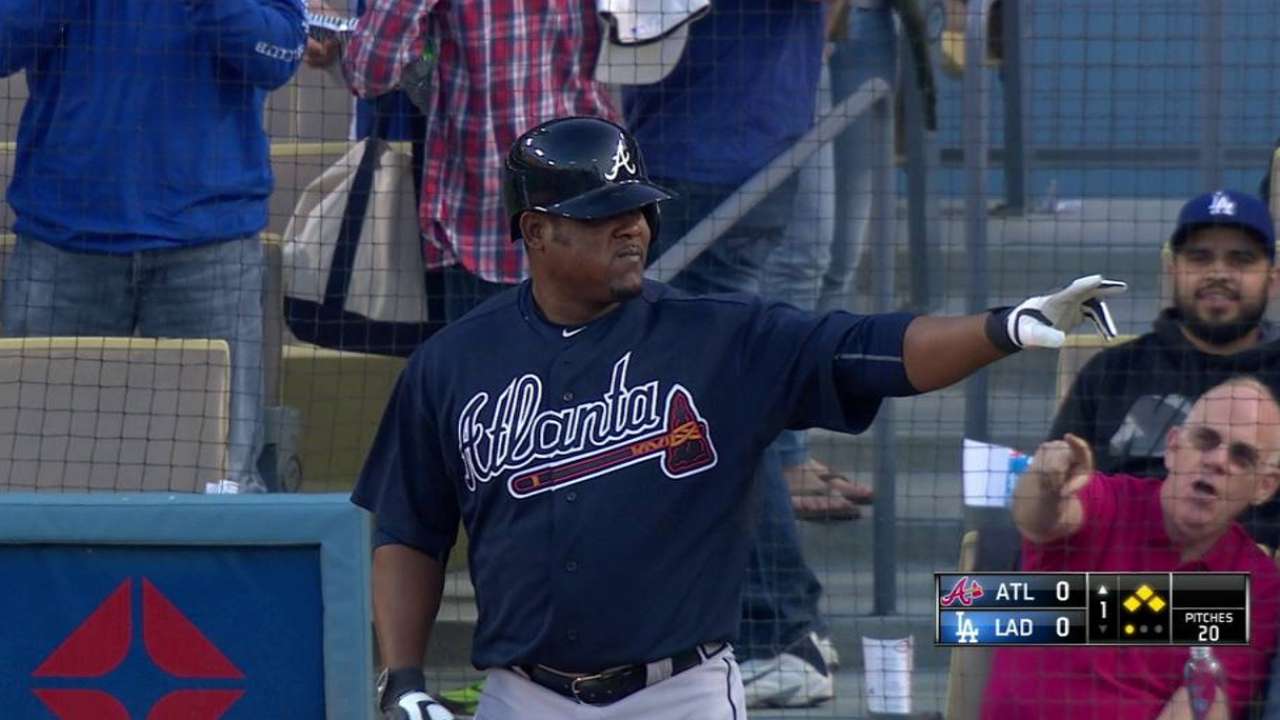 Though the two teams reached an agreement on Tuesday, the trade was not finalized until Major League Baseball reviewed luxury-tax ramifications and the stipend Callaspo received to persuade him to waive the trade veto privilege he held until June 15, because he was in the first-year of a free-agent contract.
Callaspo rejected the trade when it was originally agreed upon on Monday, but he changed his mind after receiving the unknown financial benefit on Tuesday.
"We felt like [Uribe] would help us more right now than Callaspo," Coppolella said.
Uribe switched clubhouses Wednesday afternoon and went 0-for-3 with a walk in Wednesday night's 3-2 Braves win in the series finale at Dodger Stadium. The 36-year-old veteran will have the opportunity to make an immediate impact as he will likely see a lot of time at third base, or at least a lot more than he had with the Dodgers after falling behind Justin Turner and Alex Guerrero on the depth chart.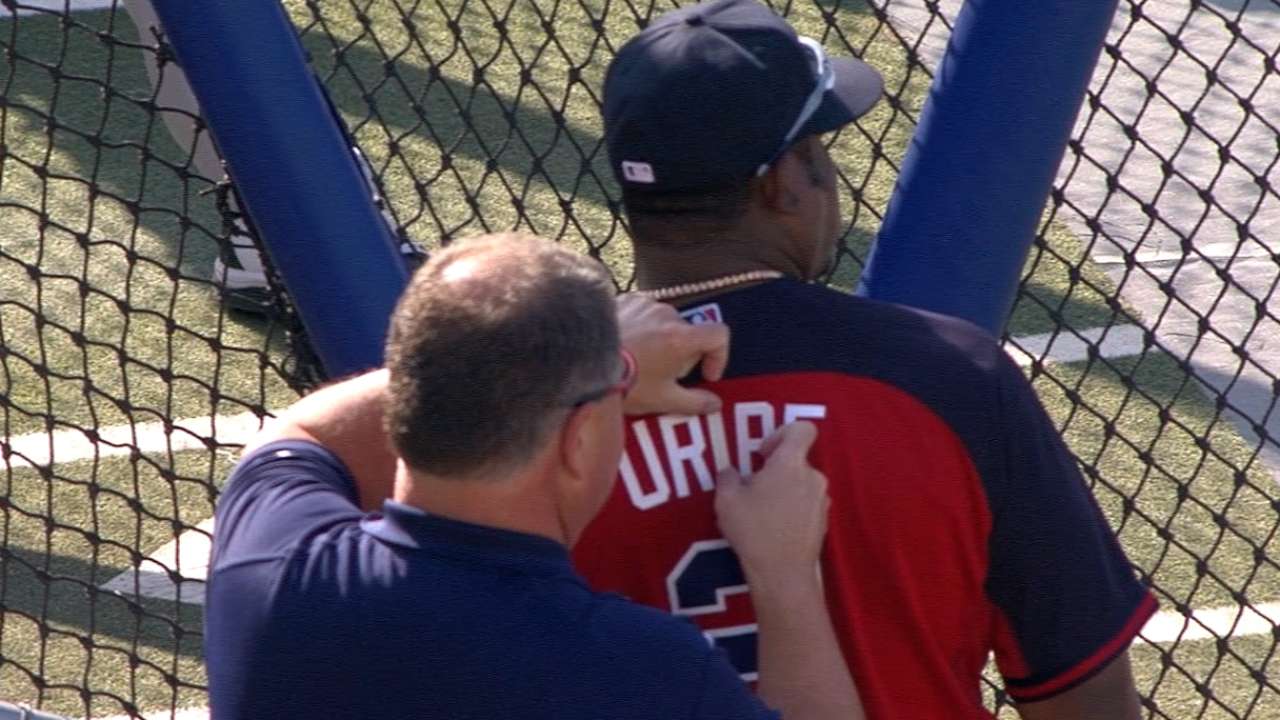 Still, the centerpiece of this return for the Braves was Withrow. The 26-year-old might reach Atlanta by the end of this year if he makes a clean recovery from the Tommy John elbow surgery he underwent nearly 12 months ago, but he was primarily targeted to serve as a valuable piece of the 2016 Braves bullpen.
Withrow has been likened to former Braves reliever Jordan Walden. He features a fastball that has been clocked between 93-98 mph and a plus-plus slider. He posted a 2.73 ERA and totaled 71 strikeouts over the 56 innings he completed for Los Angeles during the 2013 and '14 seasons.
"We feel like he has a chance to pitch real late in games," Coppolella said. "He has the stuff where at some point he could close. It's a really good arm."
Uribe has batted .247 with a .596 OPS through his first 29 games this season for the Dodgers. But the skilled defender batted .311 with nine homers and a .777 OPS in 103 games last year. He stands a definite upgrade in comparison to Callaspo, who proved to be a disappointment after signing a one-year, $3 million contract with Atlanta in December.
Callaspo, who batted .203 with Atlanta, and Stults were in danger of losing roster spots with Atlanta. Stults was removed from the Braves rotation earlier this month and the Dodgers designated him for assignment as soon as the trade was completed on Wednesday. The move proved he stood as simply an element that leveled the salaries exchanged in this deal.
Thomas, who has already been optioned to Triple-A Oklahoma City, was likely going to be the odd man out when the Braves needed to create a roster spot for Chris Johnson, who was activated from the disabled list on Wednesday.
Jaime has proven to be a power reliever who has struggled with his control throughout his professional career. He began this season in Atlanta's bullpen, but was recently demoted to Double-A Mississippi. Jamie was assigned to extended Spring Training in Arizona, the Dodgers announced.
Mark Bowman is a reporter for MLB.com. This story was not subject to the approval of Major League Baseball or its clubs.