MLB.com Columnist
Phil Rogers
In Nats, Cubs catch glimpse of own future
Following path blazed by childhood friend Harper, Bryant has hopes high in Chicago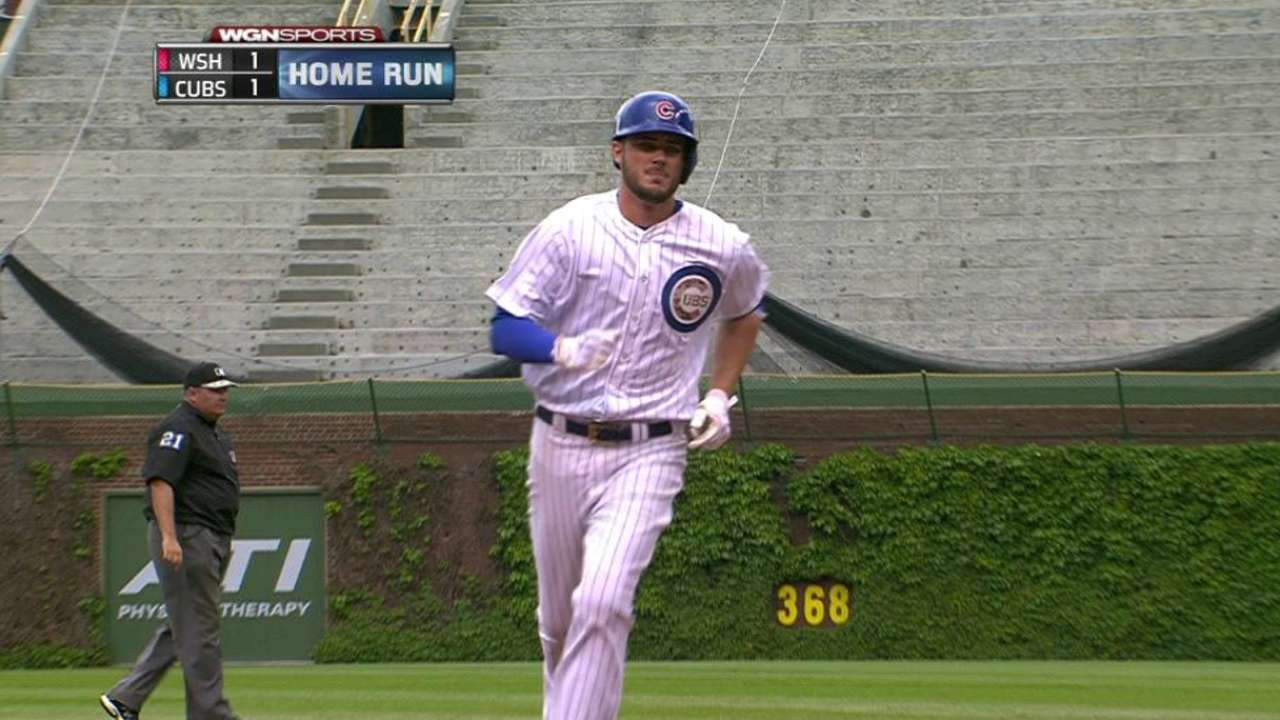 CHICAGO -- Monday was a special day for baseball fans, especially those in Chicago. Despite a 2-1 loss to the Nationals, it marked the first Memorial Day game at Wrigley Field since 2009 that the ballpark was a gathering place for fans looking toward the summer with genuine excitement about their team for both this season and those ahead.
Washington fans had to know the feeling. It happened at Nationals Park in 2012, with Bryce Harper and Stephen Strasburg on the roster for the first time. And as the schedule makers had it, the Nationals were at Wrigley on Monday to start a stretch in which the Cubs will play 12 of 15 games against the Royals, Tigers and Nats (including four games in Washington).
While Joe Maddon rolled into the press bunker at Wrigley Field running short of sleep after a Sunday night flight home from Phoenix -- "I hope my players feel better than I do,'' the Cubs' manager said -- he is as excited about the next stretch of road as he's been since leaving Mesa, Ariz. His team is four games over .500 and on track for 88 wins and a possible National League Wild Card spot.
"I love the fact we're playing such a good team,'' Maddon said about the first-place Nationals. "I like when you play good teams. It should bring out the best in the group. This next couple of weeks should be rather entertaining and fun. ... That's when you grow up -- playing good teams.''
In a battle of solo home runs, the Nationals prevailed on Monday, leaving the crowd of 38,463 to exit chanting "Go Blackhawks!'' Kris Bryant was on base representing the tying run when Drew Storen nailed down his National League-leading 15th save.
"Both sides pitched really, really well today,'' Maddon said. "That's what I've been talking about. ... Both sides pitched really well. It was a great baseball game. Outstanding. Entertaining. We just have to figure out how to win those games. I will take our effort, take our performance, and also my takeaway is we're as good as anybody we've played so far. I'm also enjoying that about it.''
No game is ever really a battle between two hitters, including this one. But the first meeting between old friends Bryant and Harper seemed as significant as the meeting of Harper and Mike Trout in the 2012 All-Star Game in Kansas City.
While Trout and Harper have been linked only by their ages, talent and having arrived in the Major Leagues at roughly the same time, Bryant and Harper have known each other since they were in elementary school in Las Vegas.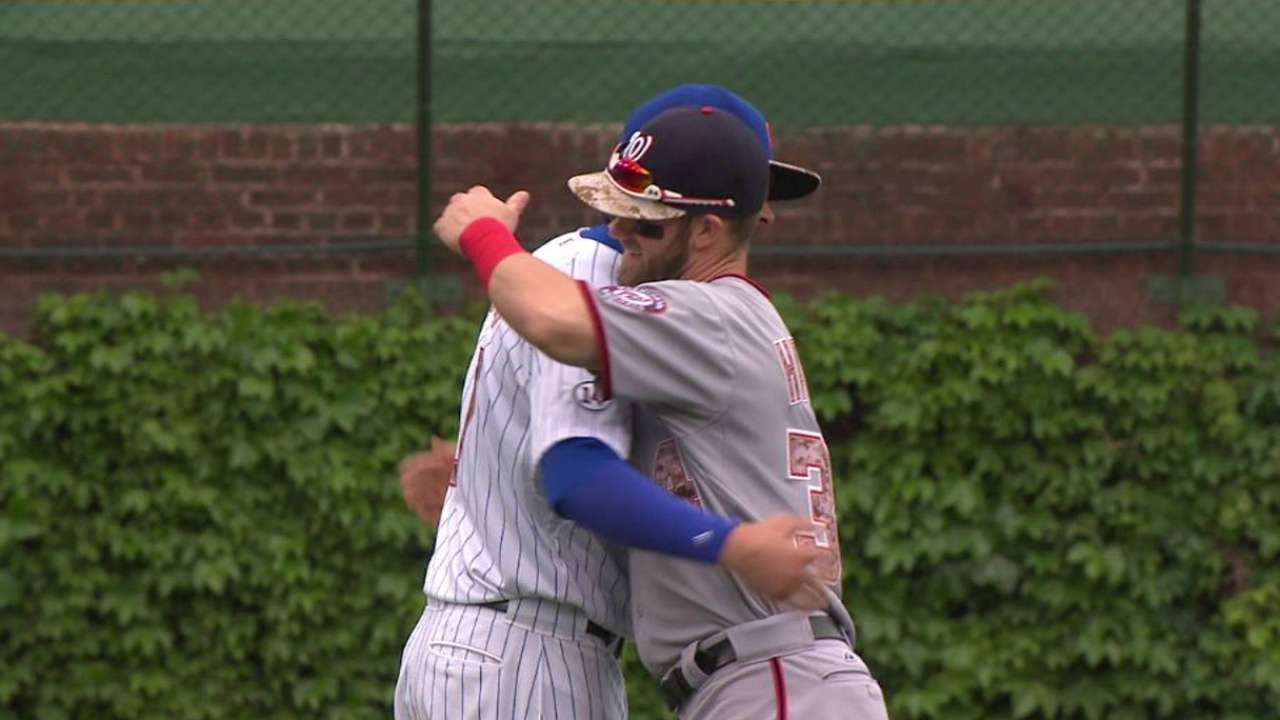 They traveled in similar circles but usually apart, in different youth programs and on different teams until high school, when Bryant went to Bonanza High School and Harper to Las Vegas High. Bryant, 23, was actually a year ahead of Harper, with Rangers super prospect Joey Gallo (a third baseman MLB.com ranked as the No. 10 overall prospect in Spring Training) one year behind Harper.
While Harper's father, Ron, a steel worker who had him swinging rebar to get stronger, coached Bryce, Bryant and Gallo were on a team run by their fathers, Mike and Tony, respectively. There must have been something in the water supply because the three of them are among the best under-25 hitters in the world not named Trout.
The common denominator between Harper, Bryant and Gallo is that they have always prided themselves in doing everything better than any of the other kids, including hitting the ball farther. Bryant and Harper are both complete players who excel in every part of the game, but it was their ability to hit the ball a mile that caused scouts to devote attention to them.
Mike Bryant, Kris' father, is a Ted Williams devotee who helped instill a swing-for-the-fences instinct in Bryant. He taught him and Gallo to swing at the ball with an uppercut, as Williams preached in his book, "The Science of Hitting.''
"Every kid that plays this game -- from the time they're bright-eyed and pick up the bat for the first time -- they all dream about hitting home runs,'' Mike Bryant told Tyler Maun of MiLB.com in Spring Training. "If you're teaching them anything else, you're crushing their dreams. You know what it's like when you're a 6-year-old kid: Hit it over the fence? How do you do that? It comes back to the old Ted Williams approach to hitting which is -- hit it hard and hit it in the air.''
Bryant did that in the first inning on Monday, lifting an 85-mph slider from Tanner Roark into the front row of the bleachers in left-center. It was his sixth home run since joining the Cubs on April 17, and ninth in 159 at-bats overall this season.
But his value as the Cubs' No. 2 or 3 hitter has come as much from his hustle and his resourcefulness as his power, as he showed when he worked a 2-2 count and took an inside pitch off his elbow -- he and Maddon had to institute a challenge to get strike three changed to an HBP -- leading off the ninth against Storen.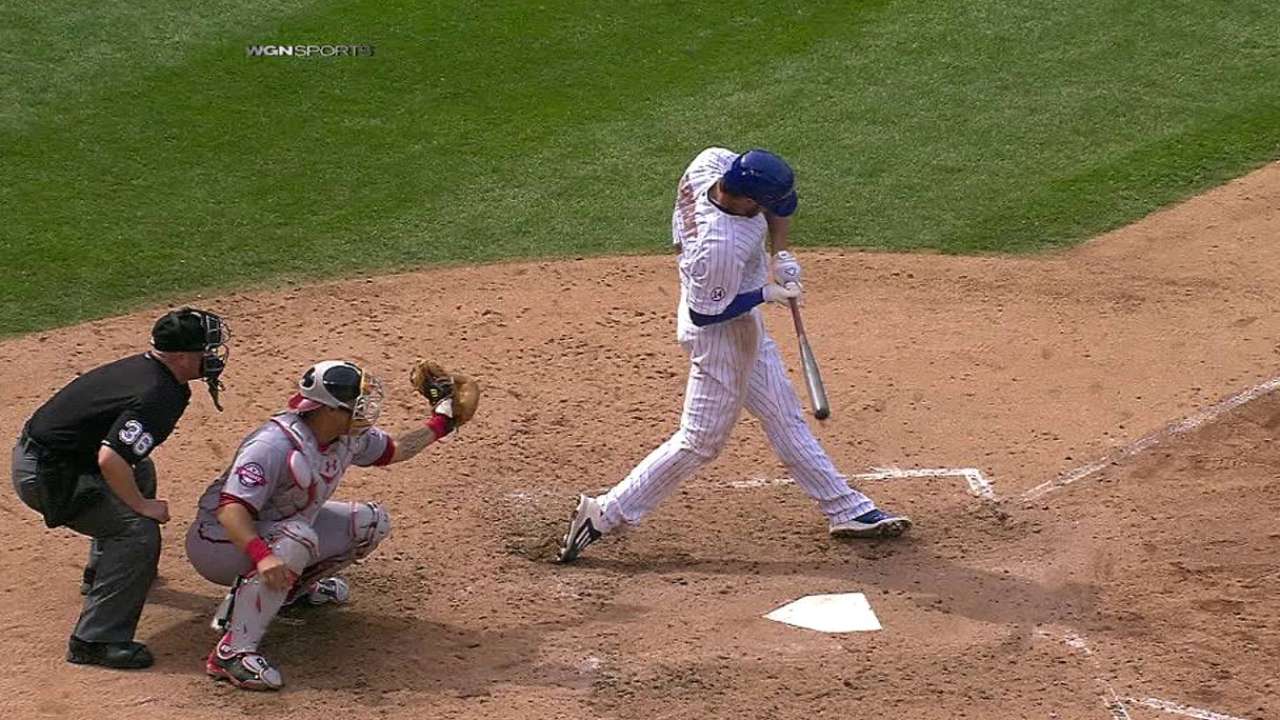 "When we were younger, we used to call him 'Silk,' " Harper said about Bryant. "He was so smooth with everything he did. He played third. Played short. Played a little outfield when we were younger. Pitched of course. He always hit very well. He's a great talent. I'm excited for him.''
Speaking of talents, did we mention Harper is younger than Bryant? He hooked a double into the right-field corner off Tsuyoshi Wada on Monday -- said Wada: "If I hold him to a single, it's a win for me'' -- and for the season has a 1.198 OPS to go with 16 homers and 41 RBIs. That projects to 58 home runs and 148 RBIs over 162 games.
During Spring Training, I asked Harper about never having hit against a pitcher younger than him. He essentially dismissed that as a non-factor in his development, but there's got to be a tipping point when experience pays off for a hitter.
"At this level, everybody that's at this level plays the game the right way, plays hard, so age really doesn't matter when you get up here,'' Harper said. "I don't think about it when I go up there. You've got so many young guys who are really, really good. You've got older, veteran guys who are good also. So when you're at this level, it really doesn't matter.''
No? Then why's Harper's OPS 342 points above .856, his career total?
Imagine the Cubs when they have the experience of Harper to go with the young talent that is so obvious -- looking at the likes of Bryant, Jorge Soler, Addison Russell, Javier Baez and Kyle Schwarber.
That's a milepost that Maddon will want to get beyond, with many years ahead to enjoy.
Phil Rogers is a columnist for MLB.com. This story was not subject to the approval of Major League Baseball or its clubs.