Wada escapes jams, lifted due to matchups
Cubs starter limits Nationals in second start of season; Grimm serves up decisive blast in relief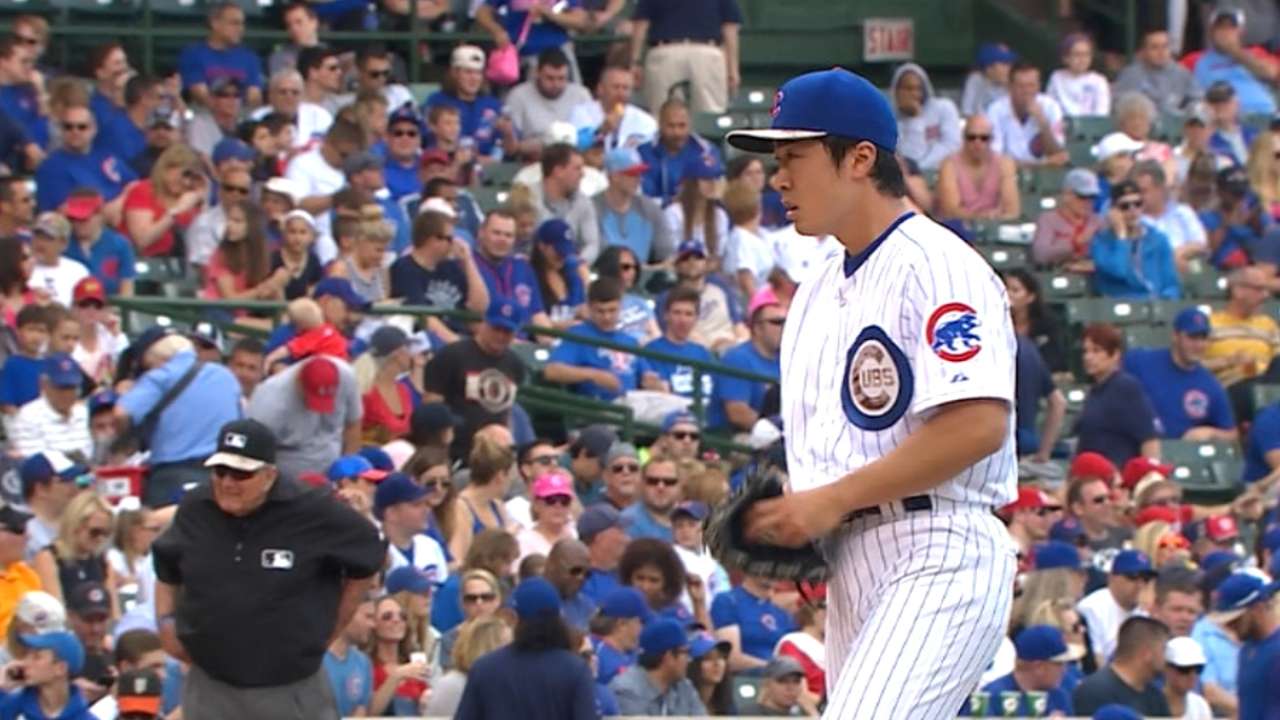 CHICAGO -- Tsuyoshi Wada threw just 5 1/3 innings in his second start of the season, but he was able to limit the damage after allowing a leadoff home run in the Cubs' 2-1 loss to the Nationals on Monday afternoon.
The left-hander exited after getting Bryce Harper to pop out to start the sixth inning. Manager Joe Maddon went with right-handed reliever Justin Grimm, who got Ryan Zimmerman to ground out before Wilson Ramos hit a go-ahead home run.
Maddon said the pitching change was "based on their batting order."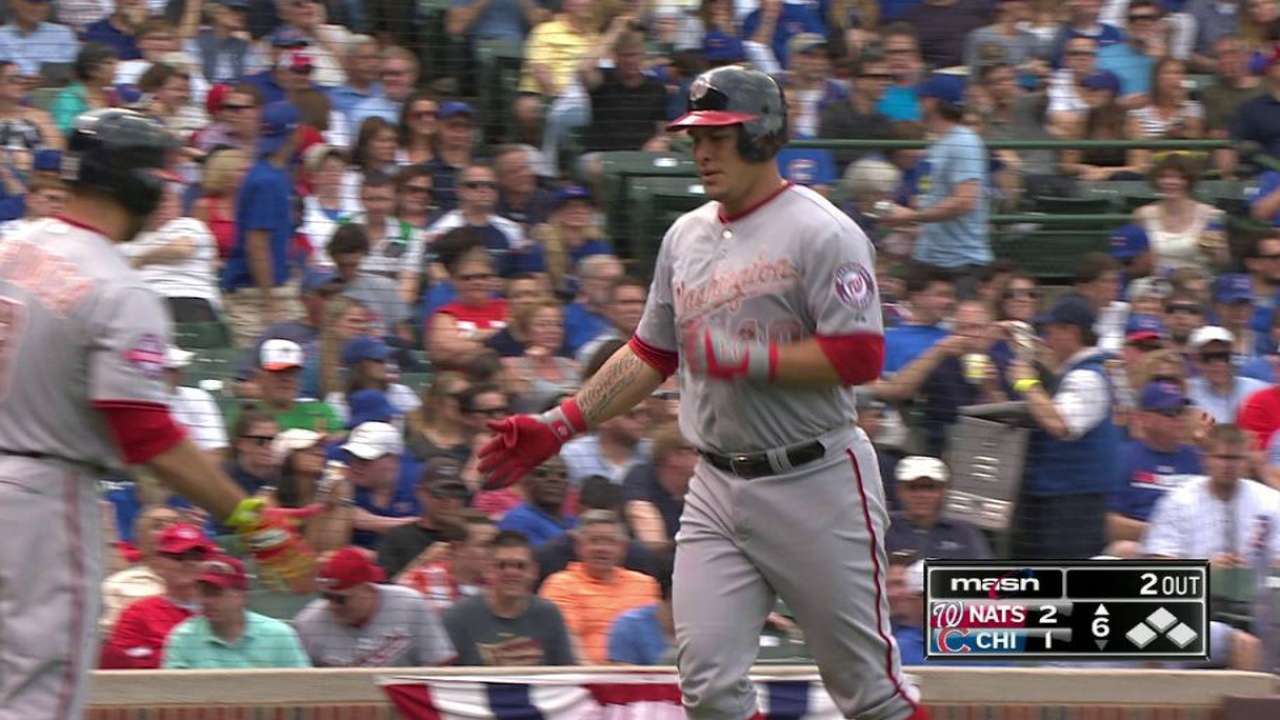 "I liked the way it set up for us a lot," he added. "I wanted him to pitch to the lefty one more time, which was Harper. I really liked how we had it stacked after that. One pitch, and that's how this game is played sometimes. Our bullpen was outstanding again, too."
Wada threw 83 pitches, 51 for strikes. He made his season debut on Wednesday, allowing two runs and four hits in 4 2/3 innings against the Padres. He began the season on the disabled list due to a mild left groin strain.
"It just depends," Maddon said about extending Wada's pitch total. "It's not a 100-pitch exercise."
Wada said he was focused on his location against the National League East-leading Nationals. He struck out Harper looking in the first inning after allowing a leadoff home run to Denard Span and a single to Ian Desmond.
Harper doubled off Wada in the fourth, but after Wada loaded the bases with a pair of walks, he struck out Michael Taylor to end the threat.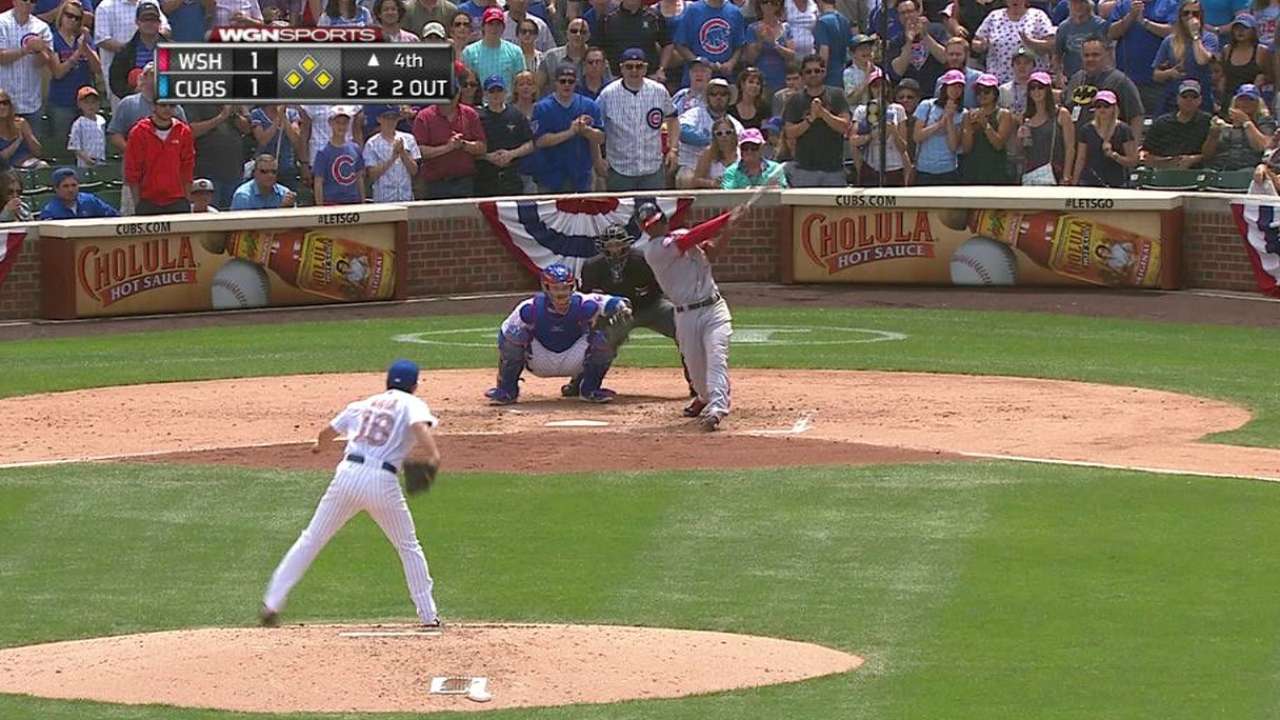 Wada got out of another jam in the fifth. After allowing a leadoff single to Nats starter Tanner Roark, who was sacrificed to second, Wada threw a wild pitch to move Roark to third. But he got out of the inning with a strikeout and a flyout.
"They're pretty good hitters. I was very focused on pitching down and away," Wada said through an interpreter.
"I was working on down, away," Wada said about facing Harper. "If it's a single, it's a win for me."
Sarah Trotto is a contributor to MLB.com. This story was not subject to the approval of Major League Baseball or its clubs.