MLB.com Columnist
Anthony Castrovince
Hamilton's return marks new chapter
Outfielder focused on both baseball and life beyond the game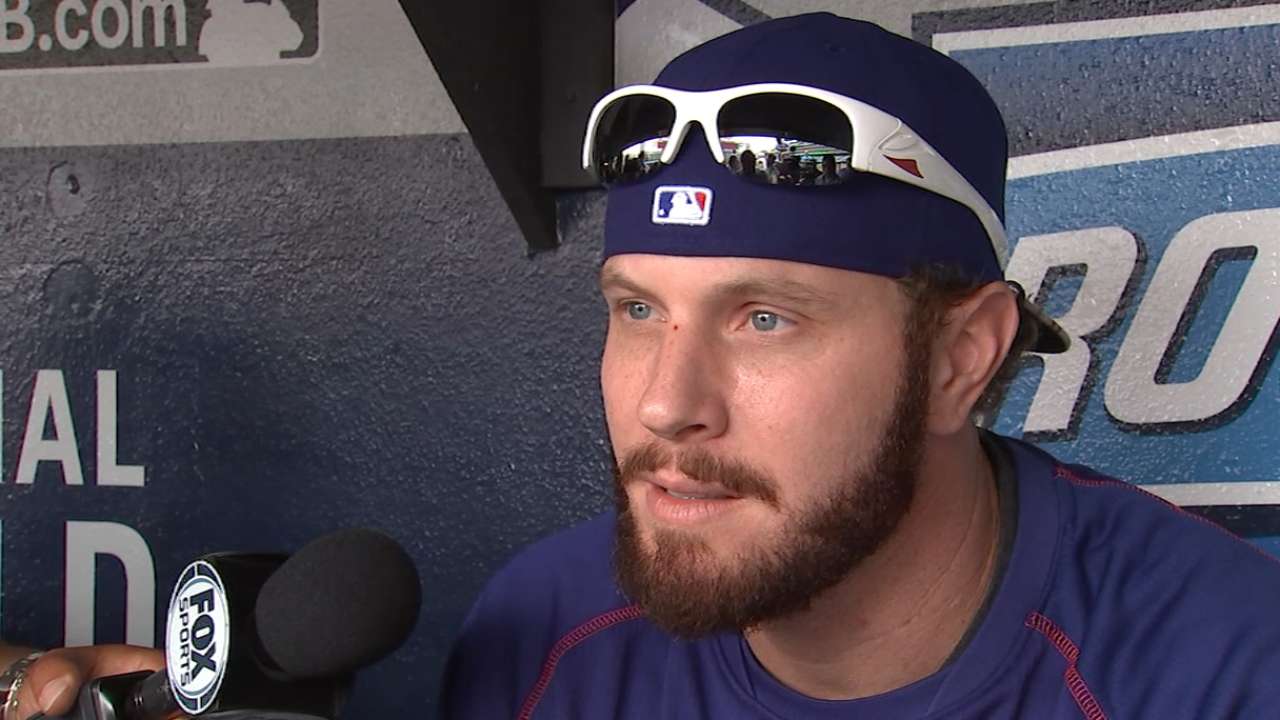 CLEVELAND -- Memorial Day marked his proper return to the Rangers and to the game it has so often seemed he was born to play. This is a game that has sustained Josh Hamilton, and this is a team that has, in the past, given him the proper support system, the proper distractions from his demons.
But Hamilton, who turned 34 last week, knows the day is coming when he will no longer be a baseball player, no longer be a Ranger.
So while his return to work here at Progressive Field on Monday was exciting and maybe even a little nerve-wracking, it was also, Hamilton hopes, the beginning of a new and more mature chapter in his life, one that extends long past his in-game expiration date.
"I want to be OK after baseball is over," said Hamilton, who went 0-for-3 with a walk and a run scored in the Rangers' 10-8 victory over the Indians. "I know I only have a few years left of it. So if I can do it while I'm playing the game and I can live life and be responsible and be a good father, then I know I'll be OK after baseball."
None of us can exactly know what it is like to walk in Hamilton's shoes.
What we can do is root for him to turn his life and his career around in this sort-of homecoming.
"I think he's just focused and happy being back on the field and getting an opportunity to play," said Indians outfielder David Murphy, Hamilton's friend and former Texas teammate. "Everybody knows what he's capable of. If there are any fans in Arlington that have not forgiven him, I'm sure in time he will earn their respect all over again."
Hamilton's second act with the Rangers began, just as manager Jeff Banister had said it would, with his teammates giving him a collective "big hug," be it the literal bear-hug variety doled out by Prince Fielder or a more figurative embrace of this atypical but welcomed midseason acquisition.
"You add an MVP to your lineup, and it's not going to hurt," Fielder said. "He's part of the family now."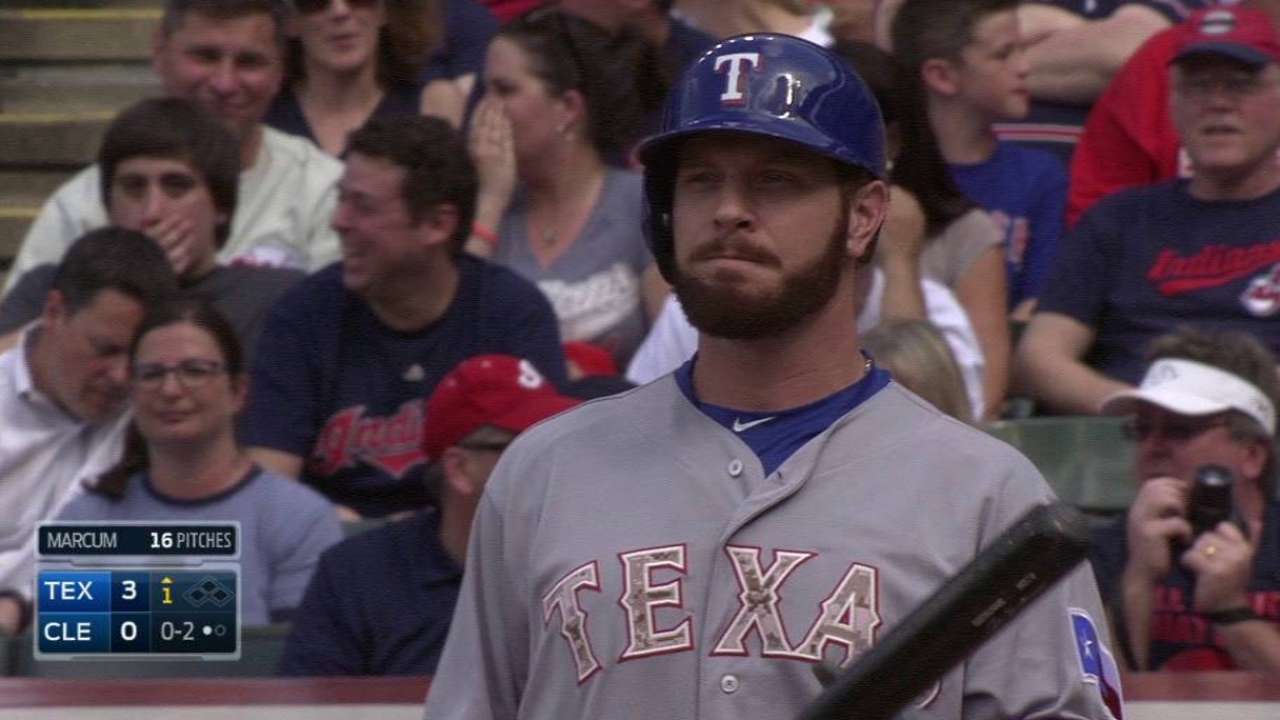 Hamilton joined the Rangers at an opportune time. Monday's win was their sixth straight and ninth in 15 games, and their lineup, after an ugly April, is once again the destructive and disruptive presence it had been before injuries famously intervened in 2014.
So nobody's looking for Hamilton, who batted fifth and played left field Monday, to be some sort of season savior now that he's recovered from offseason shoulder surgery. Furthermore, this team's meager financial attachment to Hamilton (the Rangers are only on the hook for about $6 million of his remaining salary through 2017) ought to expunge any big-contract pressures he might have felt in two unfulfilling years in Anaheim.
"We don't need him to come in and be anything other than what he is right now," Banister said. "We just need for him to give us what he can and be one of 25."
Hamilton struck out twice Monday after he whiffed nine times in 46 Minor League plate appearances. His swing and selectivity are clearly not where he wants them to be. And as far as the physical grind is concerned, Banister acknowledged that there will be a feeling-out process with regard to the workload Hamilton can handle. Hamilton will steal some playing time from the struggling Leonys Martin and from exciting rookie Delino DeShields Jr., but 12 games in Frisco and Round Rock were not enough for Hamilton to build up a true tolerance for everyday play just yet.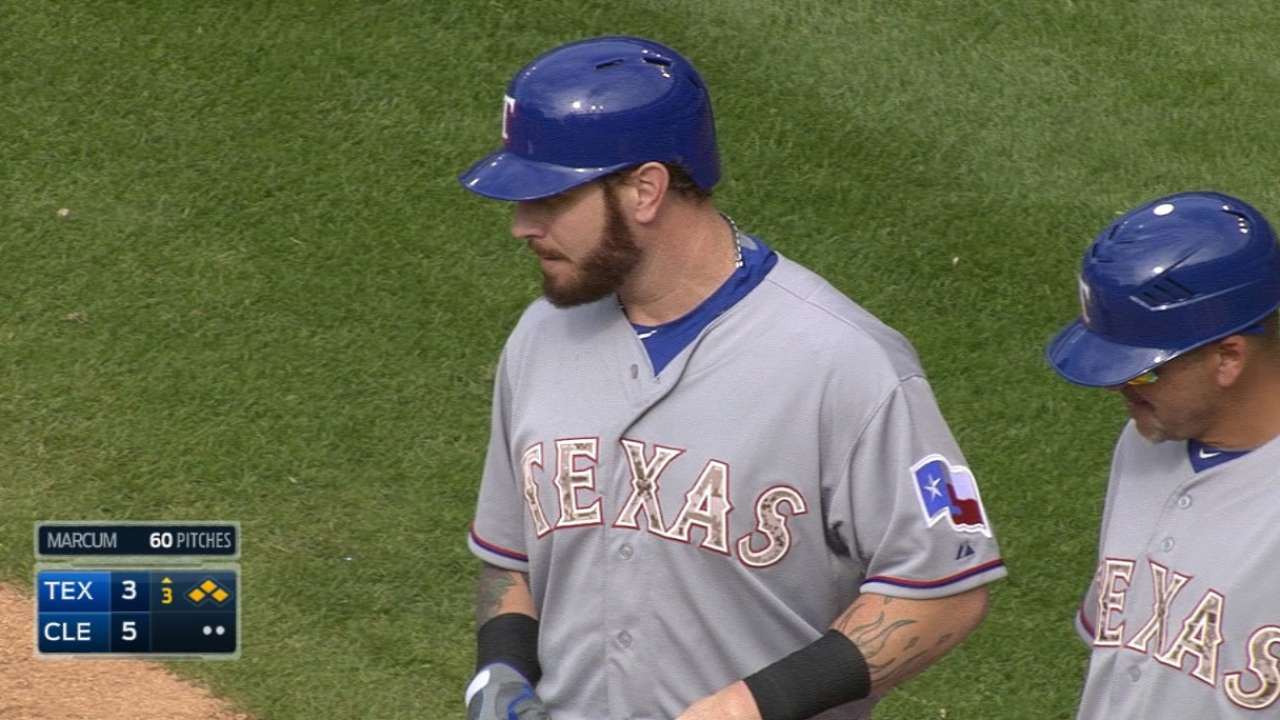 "The swing, the arm, those types of things come back in a shorter period of time than the legs will," Banister said. "And when you factor in the time down, the age, all of it, it needs to be a Spring Training environment. Well, he had a Spring Training environment against guys who were already into their season. That's an even tougher time, trying to catch up to speed. We will monitor it closely."
Again, though, this baseball stuff is simply secondary.
Hamilton has been given a unique opportunity to recalibrate his life in a welcoming and accommodating environment, and he has the baseball industry at large pulling for him.
What he does with that opportunity is up to him. But Hamilton understands there are issues at stake that extend well beyond the field.
"You have to grow up," he said. "I'm not saying I'm not a responsible guy, but you look at life a little differently and you make decisions a little differently because you're making them for your kids and for life after baseball. Life after baseball is very important."
Anthony Castrovince is a reporter for MLB.com. Read his columns and follow him on Twitter at @Castrovince. This story was not subject to the approval of Major League Baseball or its clubs.