Broken finger sends Loney to disabled list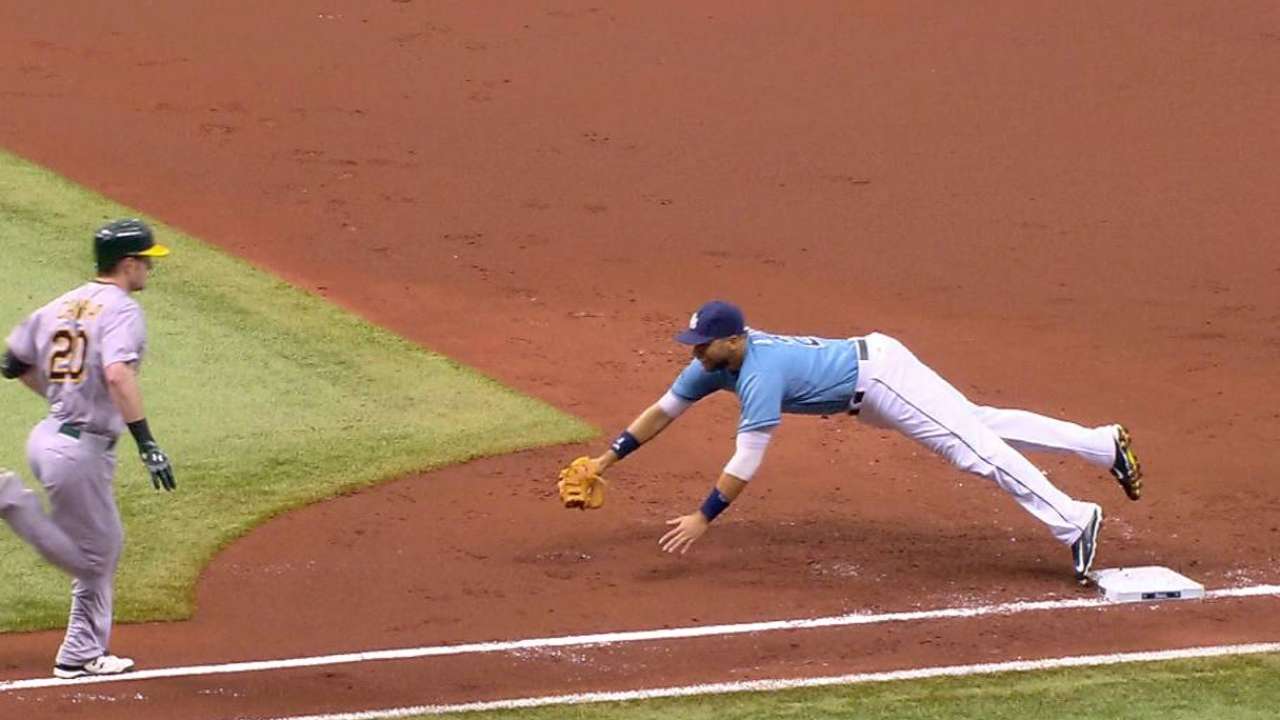 ST. PETERSBURG -- The Rays announced on Monday that they have placed first baseman James Loney on the 15-day disabled list after he broke the middle finger on his left hand sliding into third base in Sunday's 7-2 loss to the Athletics.
"That's a big blow," manager Kevin Cash said. "That's a guy who hits right in the middle of our lineup. We know he is going to be down for some time, so we are going to have to call on some guys to fill that void."
Loney expects to miss about four to six weeks with the injury, and Cash plans on having Logan Forsythe handle the majority of the work at first base.
In a corresponding move, Tampa Bay recalled infielder Tim Beckham, who had been optioned to Triple-A Durham after Friday's contest against the A's but was eligible to return before the 10-day waiting period was over because of Loney's injury.
"I had a flight at 11 a.m. [to Durham], but they called me and told me, 'Don't get on that flight, you're in the starting lineup today,'" Beckham said. "That was better news than me going to Triple-A."
Right fielder Steven Souza Jr. (sprained left wrist) and shortstop Asdrubal Cabrera (mild left groin strain) also sustained injuries in Sunday's contest and are listed as day to day. Neither is expected to hit the DL.
Cabrera said that his groin felt much better on Monday afternoon and that he is hoping to be in the lineup on Tuesday against the Mariners. Cash said the Rays are still waiting to hear about some tests performed on Souza's wrist.
The Rays also recalled infielder/outfielder Jake Elmore as a countermove to right-hander Preston Guilmet being optioned to Durham after Sunday's contest.
Elmore, who got the start in left field on Monday, has played in seven games for the Rays this season, his last appearance coming on May 8, when he went 1-for-3 with a RBI and a walk. In 13 at-bats this year, he is batting .308 with three RBIs.
"Elmore helps a lot simply because he can play all over the diamond," Cash said. "When you are a little bit banged up, that helps to have somebody you can stick in the outfield [and] in the infield, and in emergencies he can go behind the plate. That'll be a huge boost for us."
Worth noting:
• Matt Moore (Tommy John surgery) threw a bullpen session on Monday and is expected to have another outing at extended spring training before beginning a rehab assignment.
• Infielder Ryan Brett (left shoulder subluxation) and left-hander C.J. Riefenhauser (left shoulder inflammation) have both begun rehab assignments at Class A Advanced Charlotte. Brett went 2-for-3 with a double and two runs scored while playing seven innings at second base. Riefenhauser tossed a scoreless eighth inning, walking two and striking out one, and was transferred to Durham after his appearance.
Troy Provost-Heron is an associate reporter for MLB.com. This story was not subject to the approval of Major League Baseball or its clubs.