Lowe adds veteran voice to Seattle's 'pen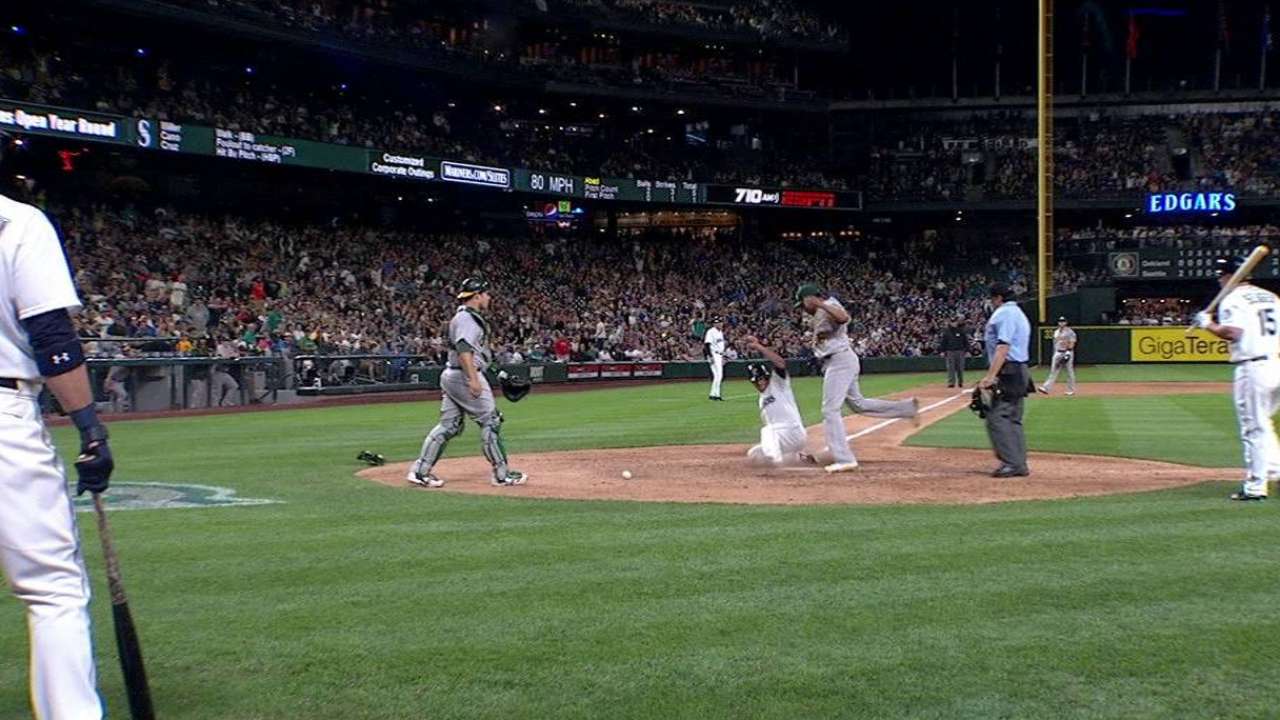 ST. PETERSBURG -- When veteran reliever Mark Lowe signed a Minor League deal with the Mariners in December, more than a few eyebrows were raised, as people questioned why the 31-year-old would rest his fate on trying to land a job with one of baseball's deepest and best bullpens.
Lowe, a 10-year Major League veteran who pitched in two World Series for the Rangers, had spent most of the previous two seasons in the Minors with the Angels and Indians and seemingly was destined for more of the same with the Mariners.
But after a strong showing this spring, Lowe got the call to Seattle three weeks ago and has put up a 1.13 ERA in nine appearances -- including a scoreless seventh inning in Monday's 4-1 win over the Rays -- and become a stabilizing force in a group that struggled early.
"Mark has pitched extremely well," manager Lloyd McClendon said prior to Monday's series opener with the Rays. "I've been very pleased. Heck, his velocity yesterday was 97, with some real good sliders. It's nice having a veteran arm down there who is versatile and can do a lot of different things. He's done great for us."
For Lowe it's a full circle, as he's back with the team with which he broke into the Majors from 2006 to 2010.
"This is where I kind of grew up in baseball," Lowe said. "Seattle was always a team I kept track of, even when I wasn't here. A piece of your heart is always with the team that gave you the chance to live your dream. I have a lot of good memories of pitching for this team. The tables have turned a couple times since I've been gone, but it's been a blast to be back here with these guys."
Lowe learned two years ago not to base his decision on where to sign on the previous year's bullpen success, as things often change quickly. It was more important for him to sign with a club with which he is familiar and is close to the house he and his wife are building in Vancouver, Wash., for a growing family that includes 3 1/2-year-old daughter Kennedy as well as an addition expected in November.
Lowe has always been a fun-loving sort, so he fits in well with the characters in Seattle's bullpen. But he also brings a veteran's voice now, with wisdom gained from growing up in the game.
"I used to sit back when I was with Texas and I wasn't pitching in situations that I thought I should be in, and at times that got to me and got me out of focus," he said. "Just complaining about things that aren't worth complaining about.
"The fact is, you're in the big leagues at the highest level. Whatever comes your way, embrace it, tackle it and go do your job. Maybe it took me to go through that to have that mind-set, but that's where I'm at now. Whatever they call me to do, I'm going to do it."
And so far he's done it very well.
"He was behind the eight-ball in Spring Training because of the number of arms we had going into spring," McClendon said. "But obviously he did well for himself. He's been getting guys out. He's done a nice job."
Greg Johns is a reporter for MLB.com. Follow him on Twitter @GregJohnsMLB, read his Mariners Musings blog, and listen to his podcast. This story was not subject to the approval of Major League Baseball or its clubs.