Aggressive approach fueling Howard
Resurgent Phillies slugger attacking more on the first pitch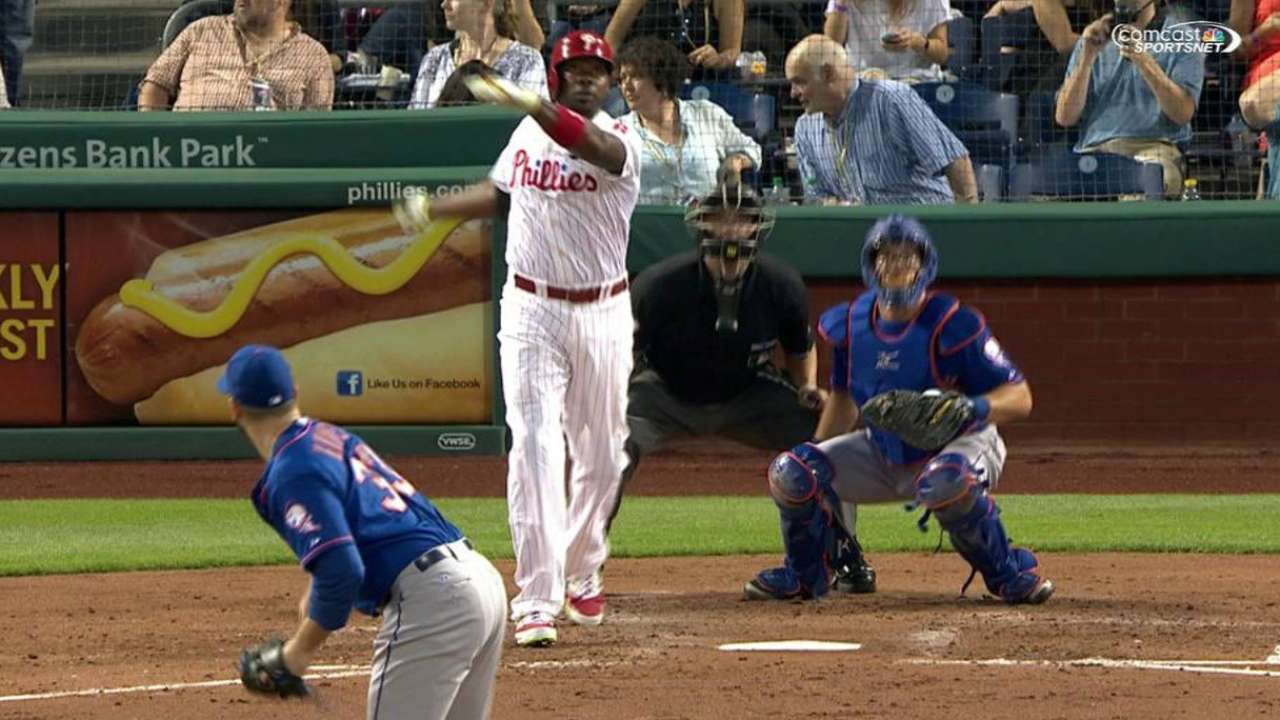 To say that it's been a tough few seasons for Ryan Howard is something of an obvious understatement. Once one of the most feared sluggers in the game, a combination of injuries (he played fewer than half the games in 2012-13) and underperformance (he was worth nearly a win under replacement level from 2012-14) made his bloated contract an anchor weighing down the Phillies. General manager Ruben Amaro Jr. admitted as much over the winter, telling local media that "it would probably be better for the organization not with him, but without him."
Unsurprisingly, the Phillies never were able to move Howard and the $60 million he's owed from 2015-17. But while most expected him to ride the bench and produce little when he played, Howard has been shockingly productive. By Weighted Runs Created Plus, an all-inclusive offensive metric that adjusts for park and league, Howard has been a better offensive player than stars like Andrew McCutchen, Jose Bautista, Jose Abreu, and Giancarlo Stanton.
So how, just a few months before his 36th birthday, has Howard turned it around? In large part, it's due to an obvious change in approach.
When you look at Howard's plate discipline statistics, a few things jump out immediately, most notably that he's been far more aggressive at the plate. For years, Howard, like most big leaguers, had been reluctant to swing at the first pitch, having long been coached to make a starting pitcher throw additional pitches to tire them out and get into the bullpen. Pitchers have been all too happy to take the free strike -- first-pitch strike percentage increased from 58.6% in 2008 to 60.9% in 2015 -- which is part of why strikeouts keep going up, and with the rise of dominant bullpens across the sport, getting the starter out hasn't been a winning strategy anyway.
In Howard's case, watching a hittable first pitch going by has been especially damaging. No matter whether you break it down by 2014, 2015, or his entire career, Howard attacking the first pitch has worked out well for him.
Howard, swinging at first pitch
2014 -- .458/.458/.661
2015 -- .333/.333/.917
Career -- .377/.384/1.148
Howard, like all other hitters, struggles when he allows the pitcher to get ahead, hitting only .188/.199/.359 in plate appearances where he's fallen behind, and that includes the years when he was still elite.
What he's done this year is to eliminate the opportunities to give the pitcher that easy first strike, by simply attacking those pitches more often.
2014 -- 7.2% first pitch swings, 170th in MLB
2015 -- 11.9% first pitch swings, 16th in MLB
Pitchers know that getting ahead of Howard is nearly a guaranteed out. It's why they've been so eager to throw him first-pitch strikes, 62.5% of the time -- a huge increase from last year's 54.9%. He's being more aggressive the right way, too, because while his swing rate is up to a career-high 54.1%, it only matters if he's swinging at the right pitches. So far, he is, as while his percentage of swings at balls outside the zone has increased only slightly, his percentage of swings at balls inside the zone has jumped to a career-high 74.1%, up from 68.8%. Per Statcast™, he's got the highest average batted ball velocity of the 13 Phillies with at least 20 plate appearances, at 93.13 mph.
Howard still has to prove that he can adjust when pitchers inevitably adapt to his newly aggressive approach, so he's not likely to keep this pace up all season. His age, contract, and below-average defensive skills all conspire to limit his overall value. But a few months ago, it seemed all but certain that the Phillies would have to simply release him and eat his contract. Now, if he can keep this up a little longer, it doesn't seem unreasonable that an American League team might be interested in him as a part-time DH. If that seems like only moderate praise, remember how far he's come. A more aggressive Howard is a better Howard.
Mike Petriello (@mike_petriello) is an analyst for MLB.com. This story was not subject to the approval of Major League Baseball or its clubs.