Hardy says back feeling better after early exit
O's shortstop was lifted as a precaution due to tightness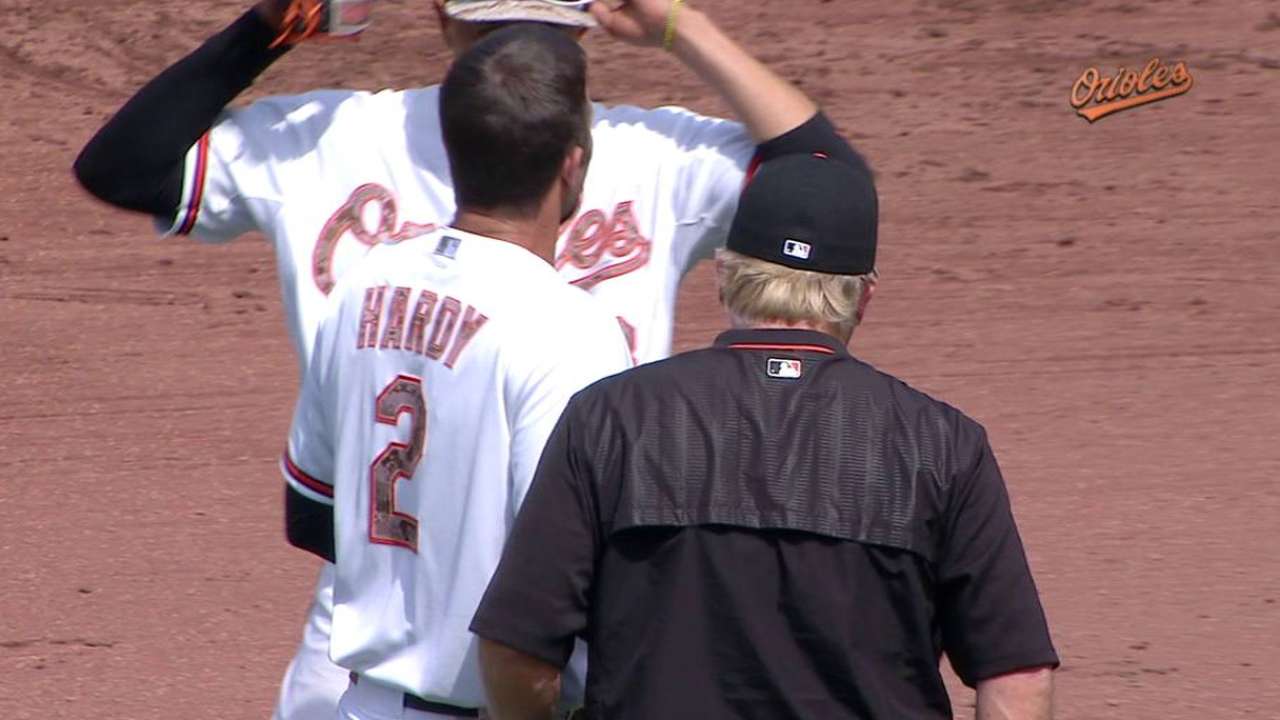 BALTIMORE -- Shortstop J.J. Hardy exited the O's 4-3 win against the Astros on Monday after the seventh inning with back tightness, but it doesn't appear to be anything serious.
Hardy said that his back was tight from the bed he slept on during the team's three-game series in Miami, and he was removed from the game after manager Buck Showalter saw how he was moving on the basepaths. Hardy hit a one-out single in the seventh, then he was out at second when Caleb Joseph hit into an inning-ending double play.
"That last trot down the first baseline going to second, I didn't like it," Showalter said. "He wanted to stay in the game, but we have a long turnaround finally between now and tomorrow."
"I was protecting it a little bit and I think Buck saw it and he just wanted to get me out of there," Hardy said.
Hardy said that his back was already feeling better than when he left the game, and he expects to be in the lineup on Tuesday.
"I expect to, unless I come in worse, which I don't anticipate," he said. "I should be in there tomorrow."
As far as long-term management of the injury goes, Showalter said that the Orioles would continue to monitor the shortstop's back. Hardy has had back problems in the past, and he was given the day off on Sunday as a precaution.
"See what happens? I get a day off and I get worse," Hardy said. "No, I honestly feel better right now than I did in the seventh. I think it was the right decision. Buck just saw me favoring it a little bit. It's good. It's not bad."
Connor Smolensky is an associate reporter for MLB.com. This story was not subject to the approval of Major League Baseball or its clubs.