Hamilton walks, scores in return to Rangers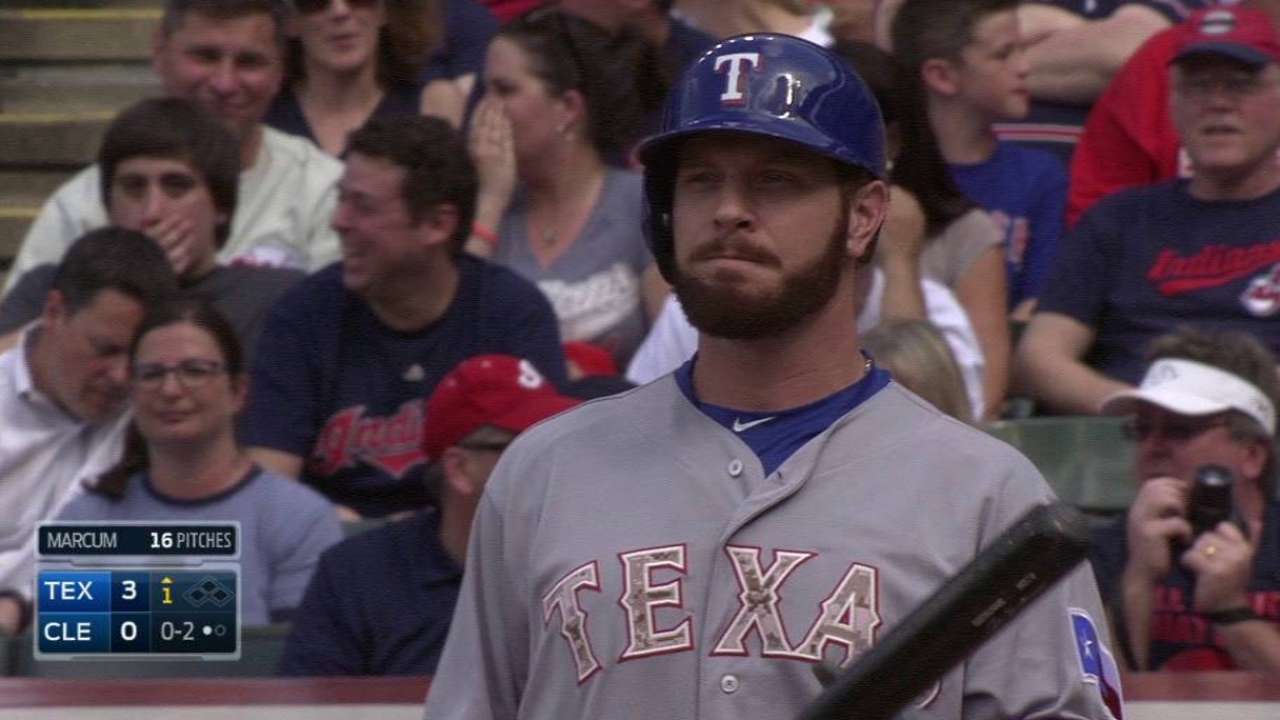 CLEVELAND -- Josh Hamilton returned to the Rangers' lineup Monday, batting fifth and playing left field. He went 0-for-3 with a walk and a run scored in his first game in the Major Leagues since an Oct. 15, 2014 Wild Card appearance with the Angels, and his first in a Rangers uniform since an Oct. 5, 2012 Wild Card game.
A tumultuous offseason that included a reported drug and alcohol relapse and a shoulder surgery preceded and April trade that has led him back to the place where he turned his life around: Texas.
The last time Hamilton switched teams, the circumstances were a bit different.
He was coming off a 43-home run season with Texas. He had just signed a five-year, $125 million contract to play with the Angels. His new team had just missed the playoffs despite winning 89 games. Alongside Rookie of the Year Mike Trout and future Hall of Famer Albert Pujols, Hamilton was supposed to be the piece that put the Angels over the top.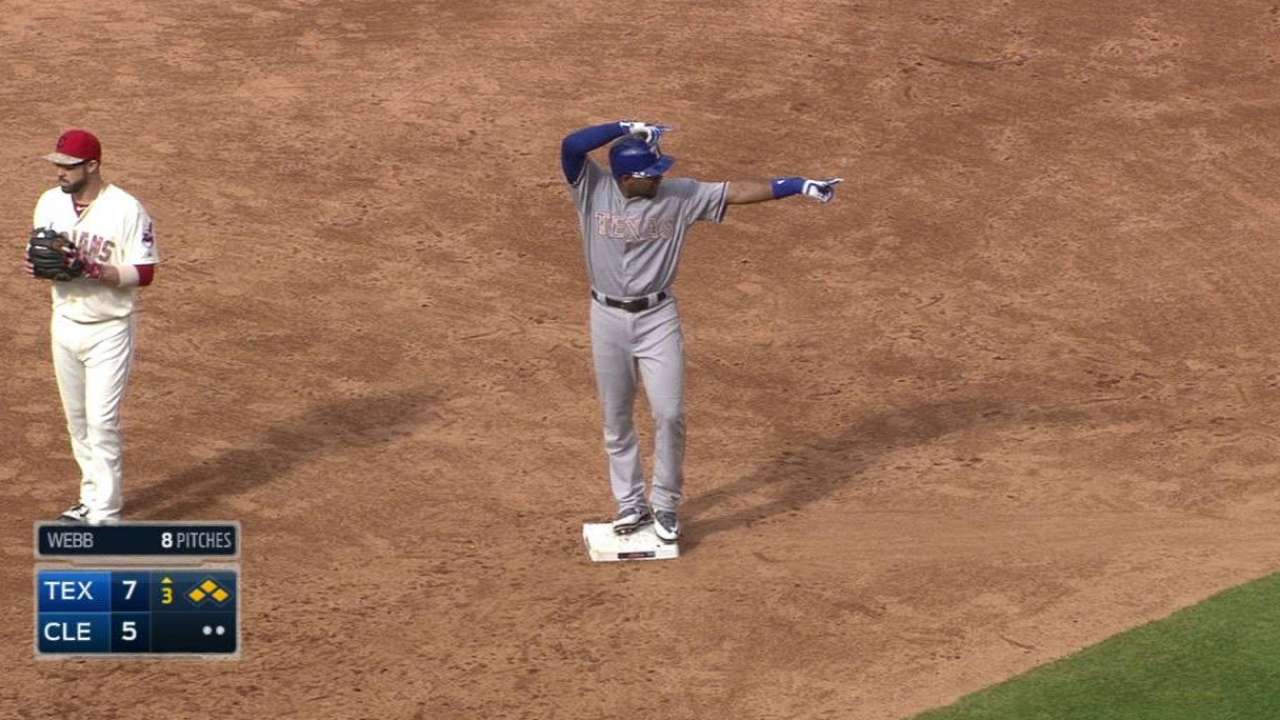 Expectations were high for Hamilton in his new home. This time around, that's changed.
Hamilton joins a Rangers team a quarter of the way through the season, with the club playing well. They've won their last five games, inching towards a .500 record. They've scored an MLB-high 121 runs in the month of May. The Rangers aren't leaning on Hamilton to return to his his MVP form of 2010. They just want him to be another one of the guys.
"I told him, go be one of 25," manager Jeff Banister said. "Enjoy today. Compete. Give us what you got. Don't try to give us anything more than that. He's ready to play. He's excited. He feels good about being back. These guys are a great group, they welcomed him back. They've been looking forward to that."
For Hamilton, that welcoming, pressure-free environment can only help.
"It's easy to enter into something new when that something new is working and going well," Hamilton said. "It's a little different situation if the team is struggling or something like that. It might add more pressure and expectation on yourself. The fact that they're swinging the bats well and playing the game how it needs to be played defensively and pitching, it makes it easier for me.
The move back to Texas is bigger than baseball for Hamilton. Rather than life revolving around baseball, it's more about baseball revolving around life. It's about his mental health, now. It's about his three daughters. His mother texted him before today's game, reminding him to get back to the basics: hustle, and have fun.
"You go through something like that and it's a reality check and a shock," Hamilton said of his offseason. "You have to grow up. I'm not saying I'm not a responsible guy, but you look at life a little differently and you make decisions a little differently because you're making them for your kids and for life after baseball. Life after baseball is very important and that's why I've made some decisions I've made now, because I want to be OK after baseball is over. I know I only have a few years left of it, so if I can do it while I'm playing the game and I can live life and be responsible and be a good father, then I'll know I'll be OK after baseball."
August Fagerstrom is an associate reporter for MLB.com. This story was not subject to the approval of Major League Baseball or its clubs.