Memorial Day especially moving for Lucroy
Brewers catcher dedicates time to support military endeavors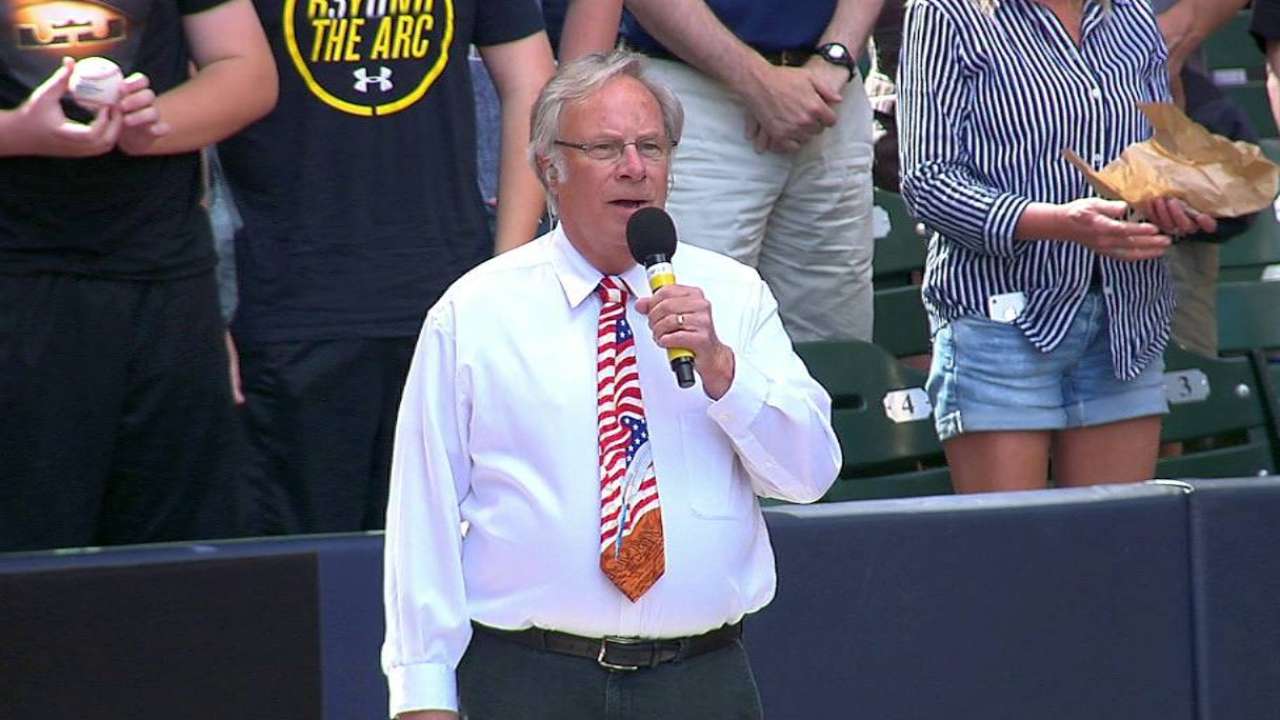 MILWAUKEE -- Every branch of the U.S. military was represented at Miller Park on Monday as the Brewers and Giants paused before the start of the Memorial Day matchup for a moment of silence in recognition of those who lost their lives in service to the country.
The ceremony carried extra meaning this year for Brewers catcher Jonathan Lucroy. Last fall, Lucroy volunteered for a Stars and Stripes Honor Flight with 88 World War II, Korean War and Vietnam War veterans who traveled from Milwaukee to Washington, D.C.
"One of them called me after I broke my toe," Lucroy said. "A Korean War veteran and Vietnam War veteran. I had called him over the winter because he got real sick, so he called me after I broke my toe to see how I was doing.
"That means a lot. This guy in particular, Roy Radke, he had endured a lot of loss. I was born in the '80s, so I was not even close to being alive when he was going through stuff, and a lot of people now take it for granted. I know I did. Not anymore, but I did."
Korea/Vietnam vet Roy Radke autographed #honorflight hat 4 all-star catcher @JLucroy20. New friends, mutual respect! pic.twitter.com/xjrSFBuDEq

— Honor Flight MKE (@SSHonorFlight) April 25, 2015
The experience, Lucroy said, sharpened his focus on donating time and resources to military endeavors. He is a supporter of Fisher House of Wisconsin, which provides services to military personnel and their families.
Some of Lucroy's work is done in tandem with the Brewers Community Foundation, which presented a $10,000 donation to the USO of Wisconsin before Monday's game. Then color guards from the U.S. Army Recruiting Battalion, Navy Operational Support Center and U.S. Marine Corps Fox Company Second Battalion presented the flags for a national anthem sung by Air Force Chief Master Sergeant Roger Towberman.
• Get Brewers Memorial Day gear
Both teams wore uniforms with camouflaged lettering and caps with camouflage bills. Brewers catcher Martin Maldonado donned camouflage gear behind the plate.
#Brewers catcher @Machete1224 in his #MemorialDay gear, which will be auctioned on June 14 to benefit @KoosforKids. pic.twitter.com/9mmvAdwOPG

— Milwaukee Brewers (@Brewers) May 25, 2015
At 3 p.m. local time, the game was scheduled to pause again as part of a national moment of remembrance.
"We have men and women who have fought evil forever, and for me it's a big day," Lucroy said. "I try to remember it every day, but today is especially important because this is the day we universally recognize these men and women for their sacrifices. It's a huge honor to be part of it."
Adam McCalvy is a reporter for MLB.com. Follow him on Twitter @AdamMcCalvy, like him on Facebook and listen to his podcast. This story was not subject to the approval of Major League Baseball or its clubs.