Remember when? Harper, Bryant meet again
Nats, Cubs rising stars played ball together growing up; 'Silk' immediately sets bar with homer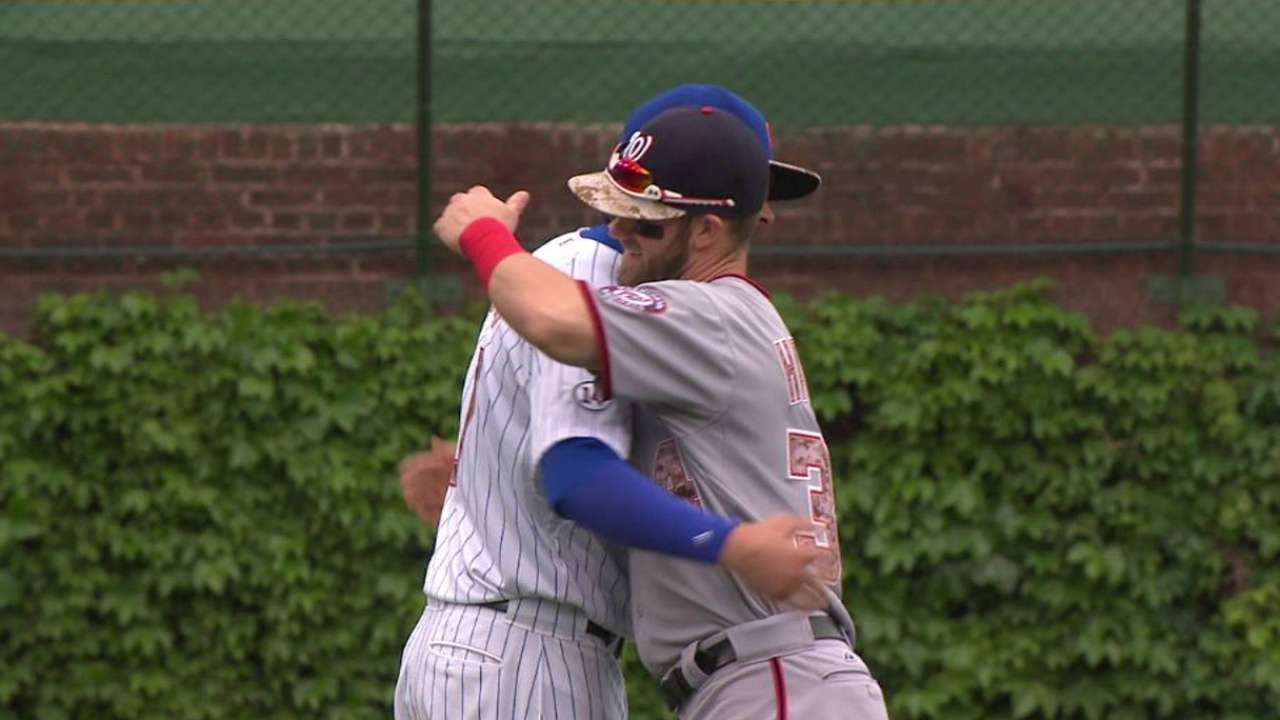 CHICAGO -- Bryce Harper and Kris Bryant grew up in Las Vegas and traveled in many of the same baseball circles as young players. But personality-wise, the two Major League rising stars almost appear as if they're from different planets. Bryant is mostly quiet and reserved, while Harper is not.
On Monday, before the Nationals beat the Cubs, 2-1, to open a three-game series at Wrigley Field, someone asked Harper if he had checked the flags on the center-field scoreboard to see if the wind was blowing in or out.
"No," the Nationals star said somewhat dismissively. "I don't need wind."
Bryant wasn't aware of that comment, but it's a good bet he wouldn't have been surprised.
"It's good to have guys who wear their hearts on their sleeves, and he's one of those guys," Bryant said. "It's awesome to see that. He plays so hard for his team. He's very confident. To play this game, you have to be confident and believe you're the best in the field. I do that in a different way, and he does that."
Even though Harper, 22, is 10 months younger, he's the veteran of the duo, so he shared his scouting report of Bryant.
"He's a great talent with a lot of power and very good at the plate," Harper said. "He knows his pitch [and] knows what he wants to do."
Harper then offered some information that Bryant's Cubs teammates, no doubt, will find interesting:
"When we were younger, we used to call him 'Silk.' He was so smooth with everything he did. He played third, played short, played a little outfield when we were younger. He pitched, of course, and he always hit very well."
In response? Bryant smoothly clubbed his sixth homer of the season to get the Cubs on the board in the first inning Monday.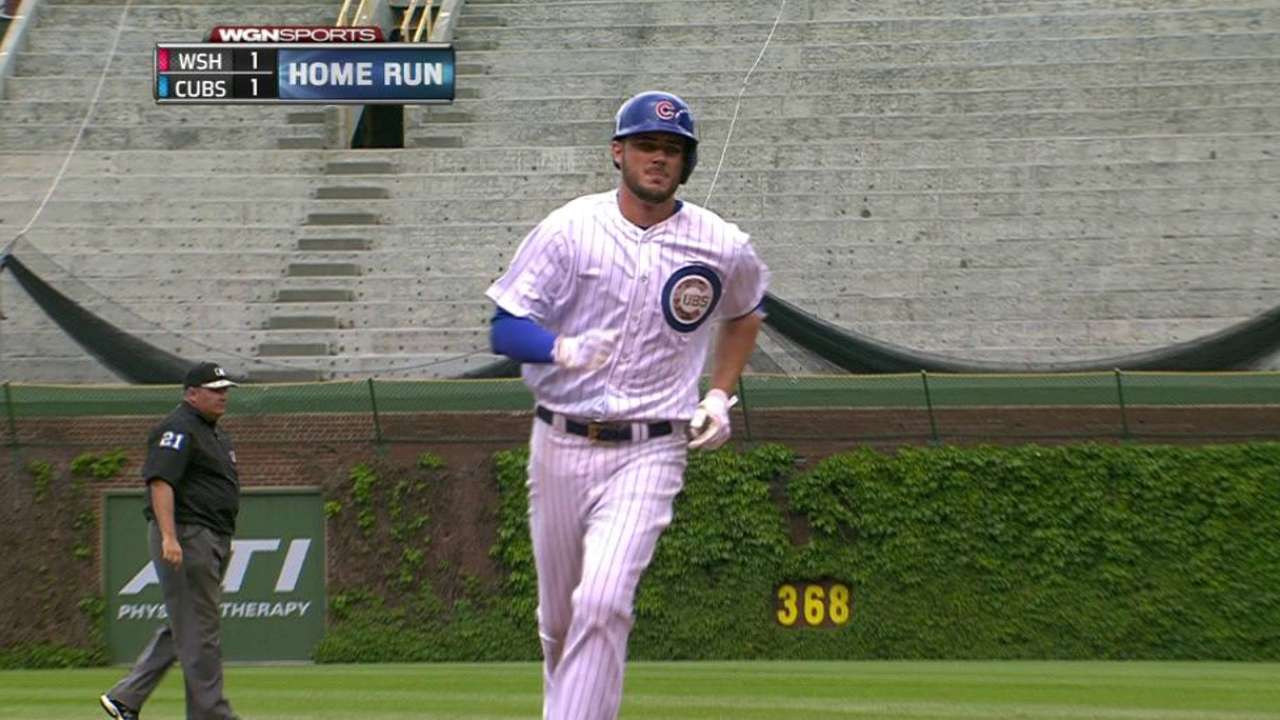 Bryant was looking forward to seeing Harper on Monday. The Cubs third baseman said he and Harper haven't kept in touch very much since they played with and against each other as kids. But Bryant said he hoped they could hang out and play golf in the offseason.
The two began playing together when Bryant was around 9 years old.
"He always played up with the older guys because he was so good," Bryant said. "He was always so much bigger and so much stronger than everybody and better. He always threw hard and hit the ball farther. I was like, 'Wow, this kid is going to go somewhere.' Obviously, he's here and doing what he's doing. I expected nothing else."
Bryant envisioned that Harper would reach the Majors as a catcher rather than as a pitcher.
"Just watching him behind the plate, the arm that he had, he threw out a lot of runners," Bryant said of Harper, who doubled and made a great catch during Monday's game. "I definitely didn't think he was going to be a pitcher; too much talent hitting-wise. He has all the tools, so I knew he would be on the offensive side."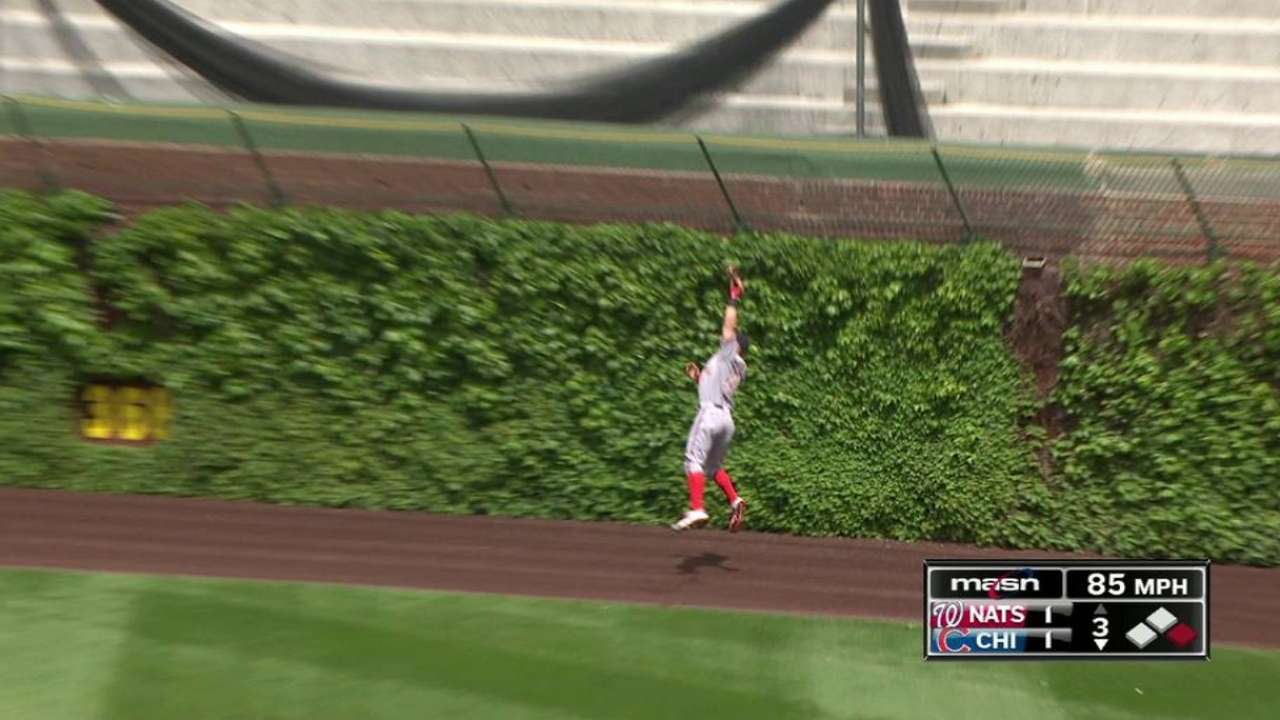 Because of his talent and personality, Harper took the quickest route to the Majors He was the No. 1 pick of the 2010 First-Year Player Draft out of high school, and this is already his fourth season with the Nationals. Bryant, 23, was the second pick of the 2013 Draft after spending three seasons at the University of San Diego. He's just recently entered his second month with the Cubs.
Bryant said he was unsure what would have happened if he chose the same path as Harper.
"His is kind of the unconventional route, but it worked really good for him," Bryant said. "I'm happy to see that work for him. For me, it was the right thing to go to college and do my thing. It was kinda cool we both ended up in the same spot."
Of course, Harper believes it should have happened sooner, that Bryant should have been promoted from the Minors sooner than he was. He created a bit of a stir in Spring Training when he tweeted that Bryant should have been with the Cubs from Opening Day.
If @KrisBryant_23 doesn't make the big league team out of camp, then that's a joke! I see you doin your thing brotha! #VegasMade #TheTruth

— Bryce Harper (@Bharper3407) March 14, 2015
Harper was more diplomatic on Monday.
"I understand the business side of it," he said. "What goes on that side. If I was the Cubs, I would have done the same thing. I'd want him for another year, too."
John Jackson and Sarah Trotto are contributors to MLB.com. This story was not subject to the approval of Major League Baseball or its clubs.