MLB.com Columnist
Jonathan Mayo
Buxton headlines Prospect Team of the Week
Top phenom raised average 26 points, drove in eight runs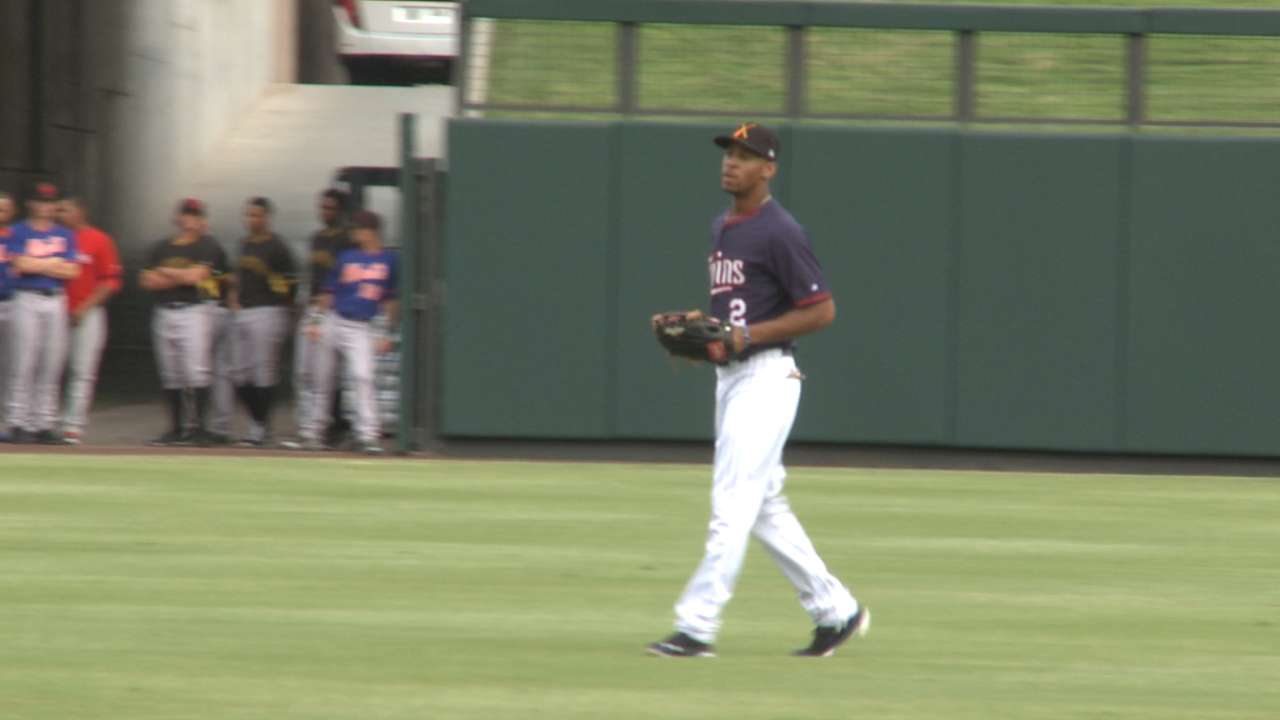 MLBPipeline.com's Prospect Team of the Week honors the best performances from the previous seven days. Any player currently on an organization Top 30 Prospects list on our Prospect Watch is eligible, including big leaguers.
Reports of Byron Buxton's demise have been greatly exaggerated.
It's true that the game's top prospect got off to a sluggish start with the Twins' Double-A Chattanooga team, leading to concern about his future. It's looking like it was more rust than anything else, a product of the talented center fielder missing so much time in 2014 due to injury. His overall numbers may still seem pedestrian, like his .267 average, but he's now fourth in the Southern League in slugging percentage (.506), second in RBIs (33) and fifth in stolen bases (13-for-14).
This past week, May 18-24, Buxton raised his batting average 26 points and his slugging percentage 58 points, making him the most impressive among our Prospect Team of the Week honorees.
C: Peter O'Brien, D-backs (No. 7 prospect)
5 G, .455/.500/1.091, 7 R, 3 2B, 1 3B, 3 HR, 12 RBIs, 1 BB, 4 SO
Yes, O'Brien has spent a lot more time in the outfield in 2015 than behind the plate, but he didn't start catching again until this month, so it was certainly worth noting. Wherever he plays, the power bat still works. He did nearly all of his damage in three games, homering in each while going 9-for-14 with all 12 of his RBIs for the week.
1B: Max Kepler, Twins (No. 15 prospect)
7 G, .407/.448/.815, 7 R, 5 2B, 2 HR, 9 RBIs, 2 BB, 0 SO, 1 SB
The Twins have been patient in waiting for the German-born Kepler to start using his raw tools in games more consistently. It looks like it's starting to click. Kepler doesn't have enough at-bats to qualify yet, but his average would be second in the Southern League if he did. Kepler hit in all seven games last week and has an active nine-game streak going. He had three multi-hit games last week, highlighted by a three-hit, three-RBI game on May 21.
2B: Carlos Asuaje, Red Sox (No. 25 prospect)
6 G, .348/.375/.696, 4 R, 3 2B, 1 3B, 1 HR, 6 RBIs, 1 BB, 3 SO
The 23-year-old infielder started the week off with a bang, with three hits -- including a double and a triple -- and four RBIs on Tuesday. He hit his first homer of the year on Friday, then banged out three more hits (two doubles) in the second game of a doubleheader on Saturday. Those five extra-base hits for the week were more than half of his total entering last Monday's play.
3B: Joey Gallo, Rangers (No. 1 prospect)
6 G, .375/.444/.875, 5 R, 3 2B, 3 HR, 8 RBIs, 3 BB, 8 SO
This is the second time the Rangers' slugger has made the Prospect Team of the Week as he continues to make up for lost time. He's now second in the Texas League in SLG and OPS, behind the since-promoted Carlos Correa. This past week, Gallo had a two-homer game May 19 -- one was an inside-the-park job -- with six RBIs, then homered again the next day. He also played left field for the first time, something to keep an eye on as the Rangers try to figure out a way to get his bat ready for the big leagues.
SS: Franklin Barreto, A's (No. 2 prospect)
7 G, .375/.429/.708, 6 R, 2 2B, 2 HR, 7 RBIs, 2 BB, 2 SO
The A's don't hesitate in challenging young hitters by sending them to advanced levels, so it wasn't a surprise the 19-year-old Barreto was pushed to the Class A Advanced Carolina League. He struggled initially, but has hit .314/.367/.500 this month, helped by this past week which started and ended with three-hit games. The first, last Monday, was a two-homer explosion for the shortstop.
OF: Byron Buxton, Twins (No. 1 prospect)
7 G, .387/.441/.774, 9 R, 1 2B, 4 3B, 1 HR, 8 RBIs, 3 BB, 5 SO, 3 SB
With four triples last week, Buxton is lapping competitors in the Minors with 11 three-baggers. After an 0-for-4 to start the week, Buxton collected at least one hit in the next six games, going a combined 12-for-27 in that span. He drove in four runs both on May 19 and May 21.
OF: Danry Vasquez, Astros (No. 20 prospect)
7 G, .419/.500/.710, 6 R, 3 2B, 2 HR, 11 RBIs, 5 BB, 3 SO
Yes, Lancaster in the California League is a nice place to hit, but Vasquez can't be blamed for his environment, especially not when he has a 10-game hitting streak going. He had a four-hit game on May 19 and three more on May 21 and is now eighth in the circuit with his .319 batting average.
OF: Bradley Zimmer, Indians (No. 3 prospect)
6 G, .450/.607/.850, 10 R, 2 2B, 2 HR, 3 RBIs, 6 BB, 1 SO, 2 SB
In his first two games of the week, Zimmer went 5-for-8, setting the tone for a week that saw him raise his average 20 points and his SLG nearly 50 points. He's second in the Carolina League with his .932 OPS and has gone an impressive 19-for-20 in stolen-base attempts, adding two more this past week.
LHP: Blake Snell, Rays (No. 9 prospect)
2 G, 1-0, 12 IP, 5 H, 1 R, 1 ER, 5 BB, 18 SO
He was bound to give up a run eventually, right? Snell began the week with six shutout frames against Buxton and Chattanooga on Monday to extend his overall streak to 49 innings without allowing a run. He gave up a run in his first inning on Saturday, then put up five zeroes after that to start a new streak, while allowing just three hits and two walks and striking out 12. He still tops the Minors in ERA and batting average against and is tied for the lead in strikeouts.
RHP: Tyler Mahle, Reds (No. 28 prospect)
2 G, 2-0, 13 IP, 9 H, 1 R, 1 ER, 2 BB, 12 SO
Mahle had two effective starts and got two wins to show for it. He was dominant on Monday, tossing seven shutout innings, allowing just four hits and a walk while striking out nine. On Saturday, he didn't miss as many bats, with just three strikeouts, but yielded just one run on five hits and a walk. He's now in the Midwest League's top 10 for ERA and has walked just eight in 52 2/3 IP.
Jonathan Mayo is a reporter for MLBPipeline.com and writes a blog, B3. Follow @JonathanMayoB3 on Twitter. This story was not subject to the approval of Major League Baseball or its clubs.