Tulo hopes to be more selective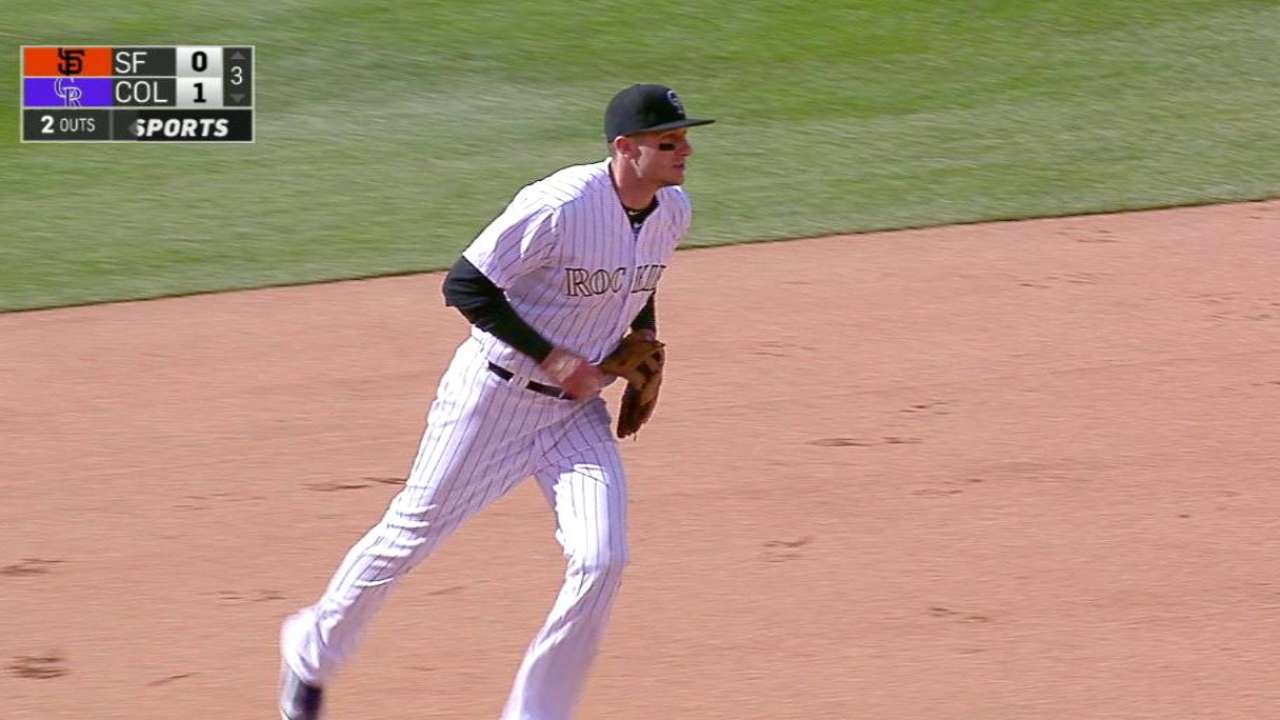 CINCINNATI -- Rockies shortstop Troy Tulowitzki is showing patience with himself, with the hope it translates into batting patience.
Tulowitzki has hit .232 with 18 strikeouts and two walks in 14 games this month. Last May, he hit .341 with a 1.042 OPS, seven home runs and 15 RBIs. Forget last year; how 'bout last month, when he hit .308 with an .847 OPS?
Like teammate Carlos Gonzalez, who has started even slower, Tulowitzki believes missing time last season because of August left hip surgery has had a lingering effect.
"Some of my goals should be to stay healthy, be on the field and not be as hard on myself," said Tulowitzki, hitting .272 with two home runs and 18 RBIs overall. "I missed half of the year last year. To say I was going to be right back to where I was last year when it was going really good, everybody might expect that, but it's not that easy."
Tulowitzki's is struggling with early-count pitch recognition, especially with the breaking ball that starts out on the plate and dips outside from right-handed pitchers and inside from lefties. He is a notorious first-pitch hitter -- .388 career, .385 this year -- but too many times he has swung at the wrong pitch and been forced to play catchup.
"It's a comfort feel -- at times you feel comfortable, and at times you feel uncomfortable," Tulowitzki said. "Right now, it's some days good, some days bad."
Tulowitzki acknowledges struggling with some odd factors. The poor weather has affected this California kid.
"It shouldn't be an excuse, but it's tough to play in that weather -- your hands are cold, you don't feel loose," he said.
The team's poor start and some comments by his agent led to speculation about possible trades. Even he can't pinpoint the distraction level.
"To sit here and say you don't think about it, I'm not sure," Tulowitzki said. "It's not easy. But by the time the game starts, my head isn't there. It might be when I'm talking to [media] or friends or family when they ask questions."
During the Rockies' just-completed 4-4 homestand, Tulowitzki accumulated eight of his 18 total RBIs. His run-scoring hits occurred on balls hit the opposite way, although he hasn't hit the screaming drives to the opposite gap that for years have served as a clear sign a Tulowitzki hot streak.
"I've been a player that's battled," Tulowitzki said. "Then when I'm hot, I'm not. I'm looking to get hot and stay hot. I'm still looking for that groove. I haven't found it this year."
Thomas Harding is a reporter for MLB.com. Follow him on Twitter @harding_at_mlb, and like his Facebook page. This story was not subject to the approval of Major League Baseball or its clubs.