Arenado does it all in win over Reds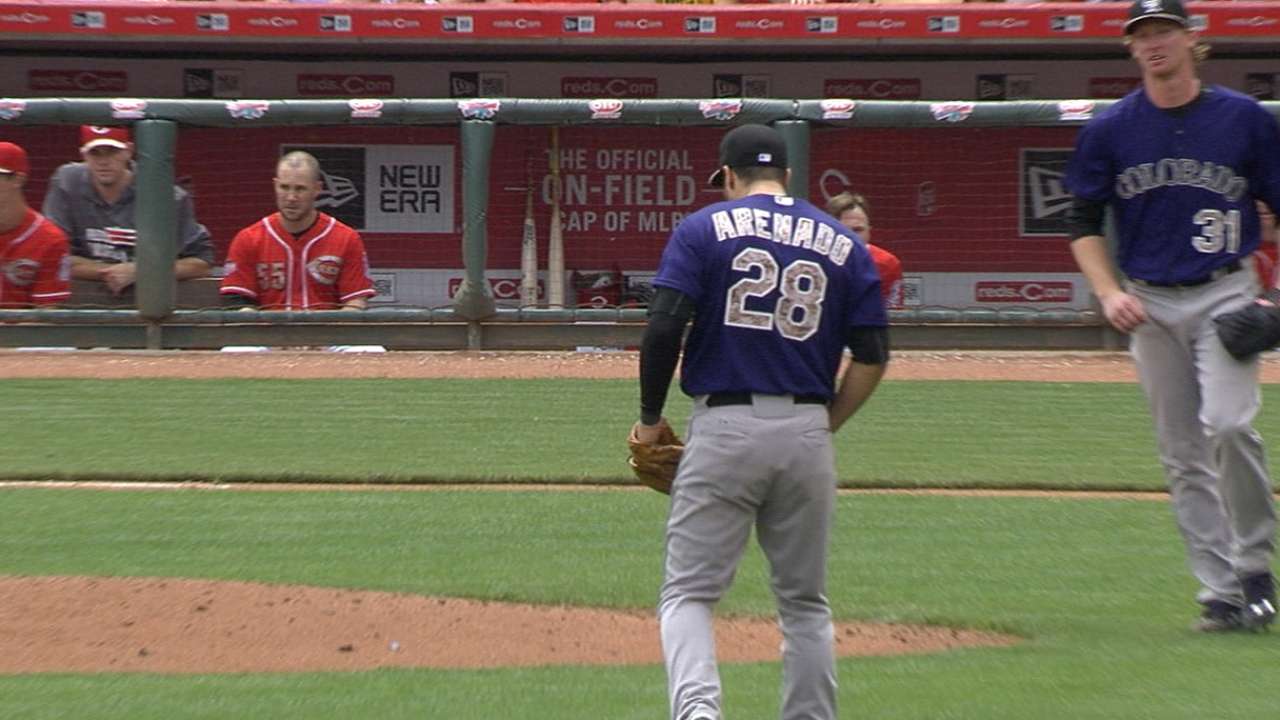 CINCINNATI -- Nolan Arenado put on a Memorial Day display of powerful hitting and dazzling fielding. But it was his execution of a fundamental -- a sacrifice fly in the ninth -- that gave the Rockies their third straight victory, 5-4, over the Reds before 20,516 at Great American Ball Park on Monday. It was Cincinnati's ninth straight loss.
Arenado had three hits, including an RBI single in the first and his ninth homer of the year in the fourth, off Reds starter Jason Marquis. The sacrifice fly came off Aroldis Chapman (2-3) and made a winner of Rafael Betancourt (2-1). John Axford earned his seventh save. Arenado also made several notable defensive plays.
"I just want to do what I can. When I have the opportunity to drive runs in, I'm going to do my best to do it," Arenado said. "It's not going to work out every time."
Couple Monday with a 4-for-5 performance with a homer and a double against the Giants in a home victory on Sunday and Arenado has seven hits in his last nine at-bats, with six RBIs.
"His defense is always elite, every day," Rockies manager Walt Weiss said. "He had gone through a tough stretch offensively, but he's definitely beyond that."
Rockies starter Eddie Butler rebounded from two short starts (5 2/3 innings total) with six innings, allowing four runs on nine hits, his blemishes coming on home runs by Todd Frazier and Marlon Byrd.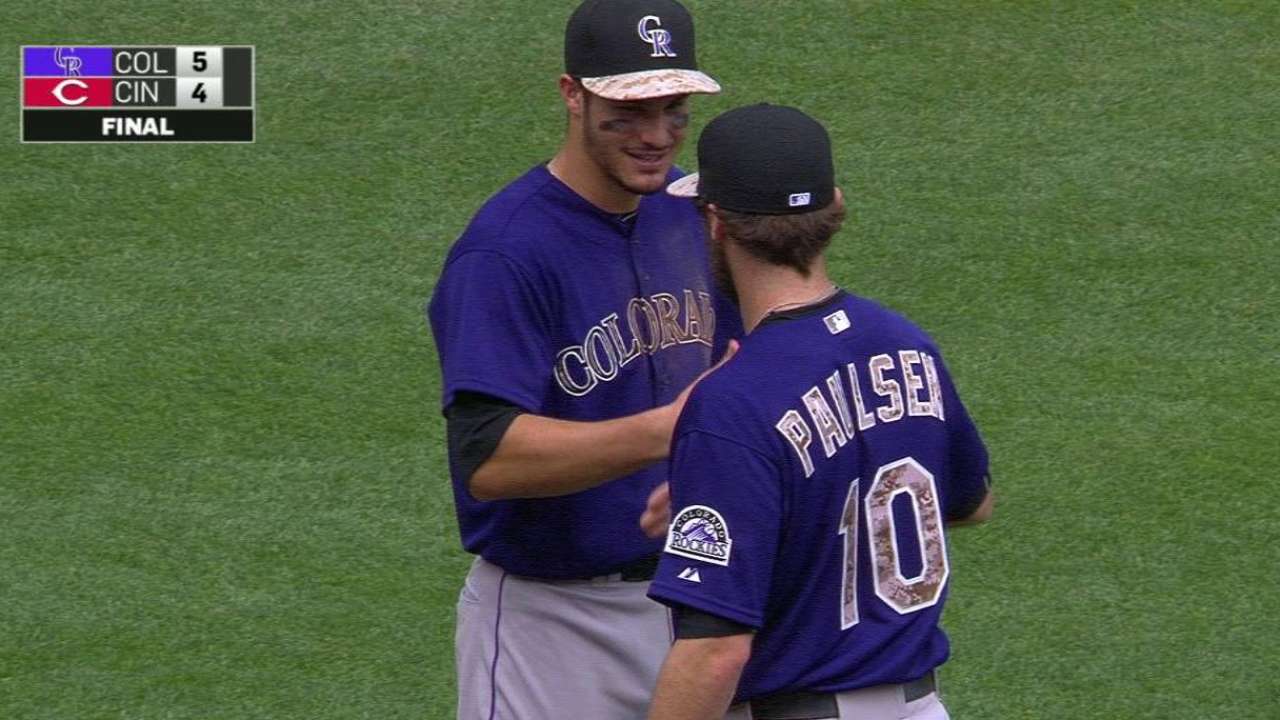 MOMENTS THAT MATTERED
Arenado giveth, taketh away: This day was full of Arenado defensive highlights. But two stood out. He dove to spear Billy Hamilton's line drive with a runner at first in the sixth inning. In the eighth, he added an unbelievable grab on a Skip Schumaker pop foul on which he flipped over the railing and into the stands. More >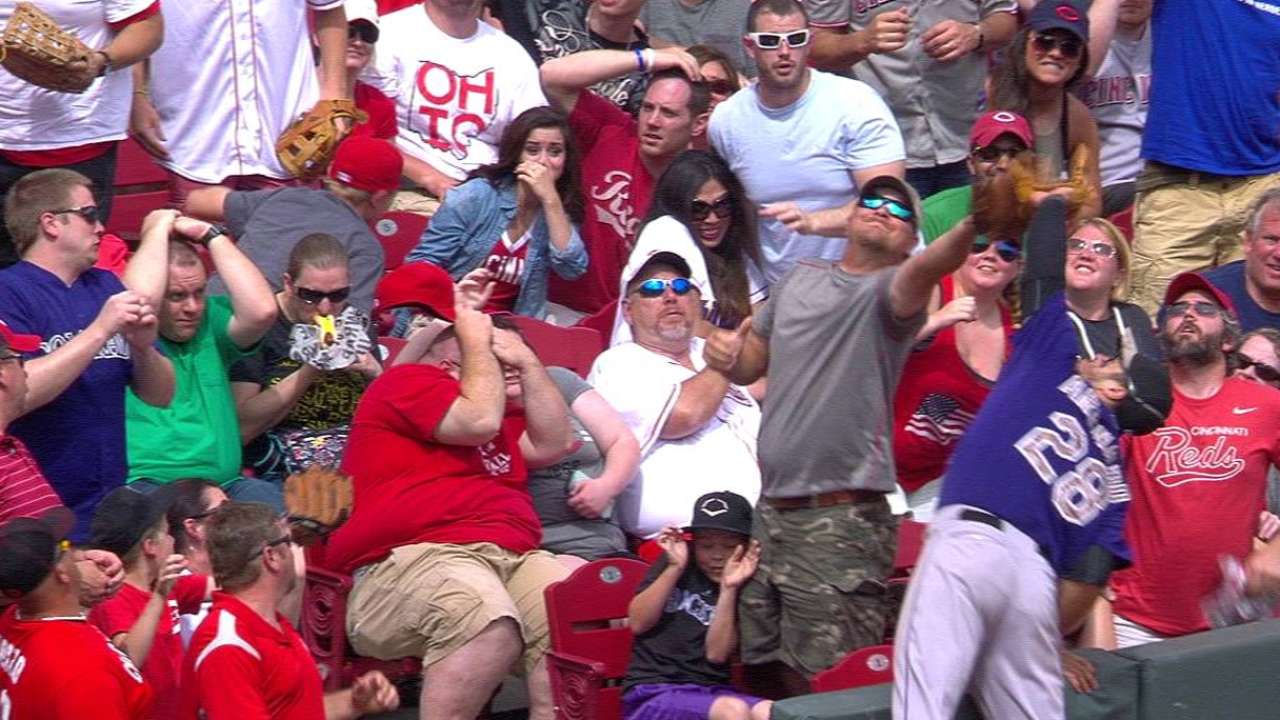 Downtown goes Frazier: Frazier gave the Reds a short-lived 2-1 lead in the first inning via a two-run homer off Butler. Frazier's team-high 13th shot of the season landed on top of the Cincinnati bullpen in left-center, just out of the reach of leaping Colorado center fielder Charlie Blackmon.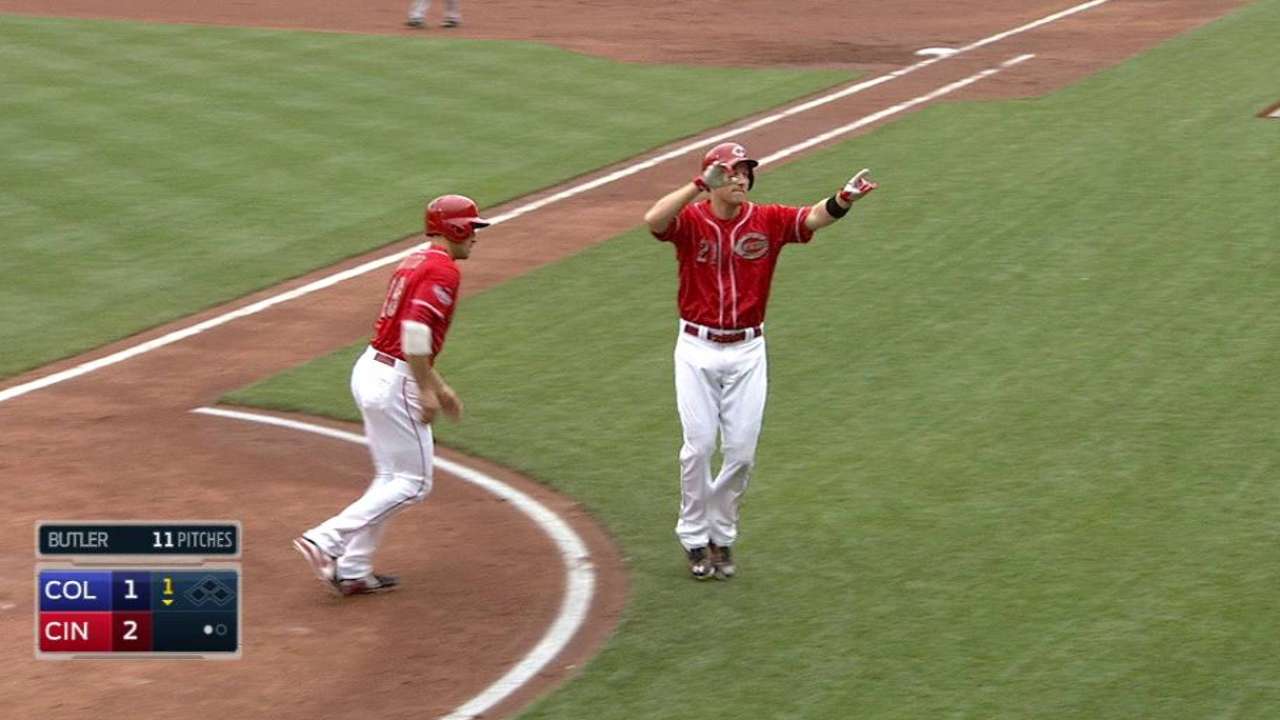 To those who wait: Rockies leadoff man Blackmon went 1-for-3 with two walks and a career-high three stolen bases. It was simple patience in the ninth that made the difference. Blackmon drew a walk vs. Chapman, with the third and fourth balls coming on close pitches. DJ LeMahieu followed with a single, then Arenado delivered the game-winning fly.
"He [Chapman] didn't throw a single pitch hard in warmups, so I figured he had no idea where it was going, and sure enough he wasn't right in the strike zone," Blackmon said. "If I was going to swing, make sure it was in the zone."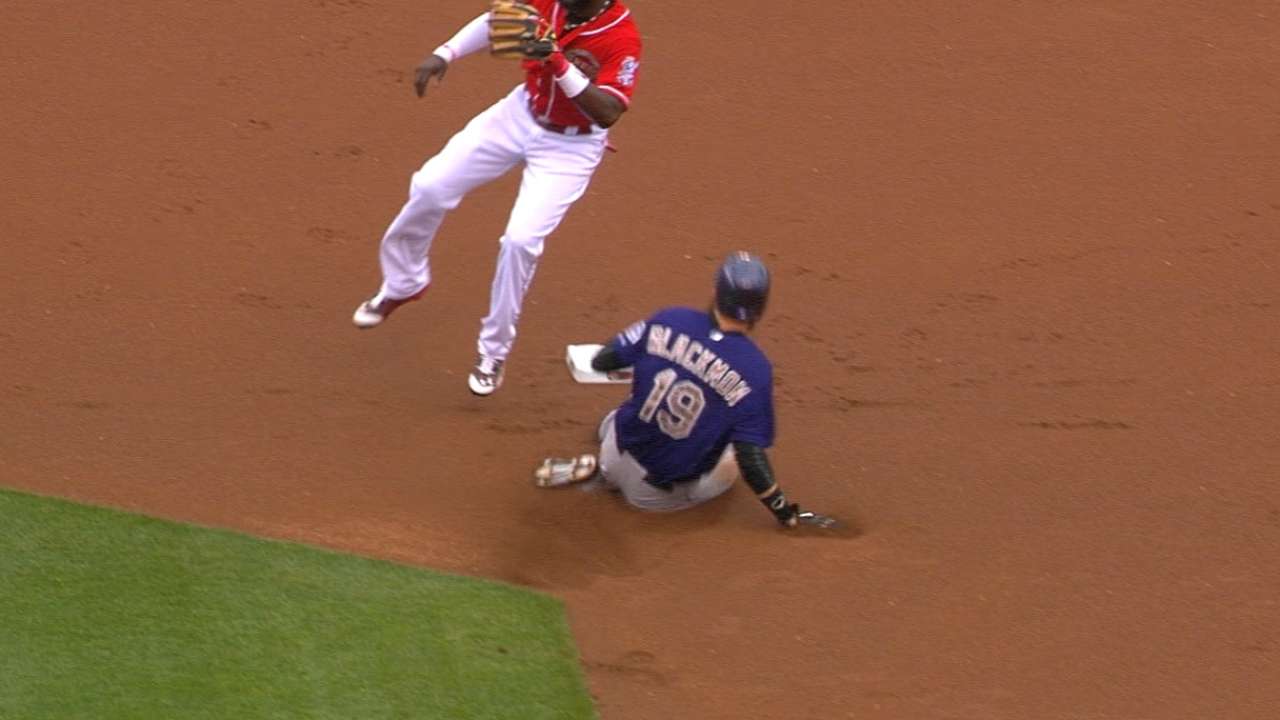 Fly like a Byrd: Byrd pulled Cincinnati into a 4-4 tie when he led off the sixth inning with a home run to right. Byrd's 10 homers this season are second on the team. His two hits Monday improved his season average from .203 to .211.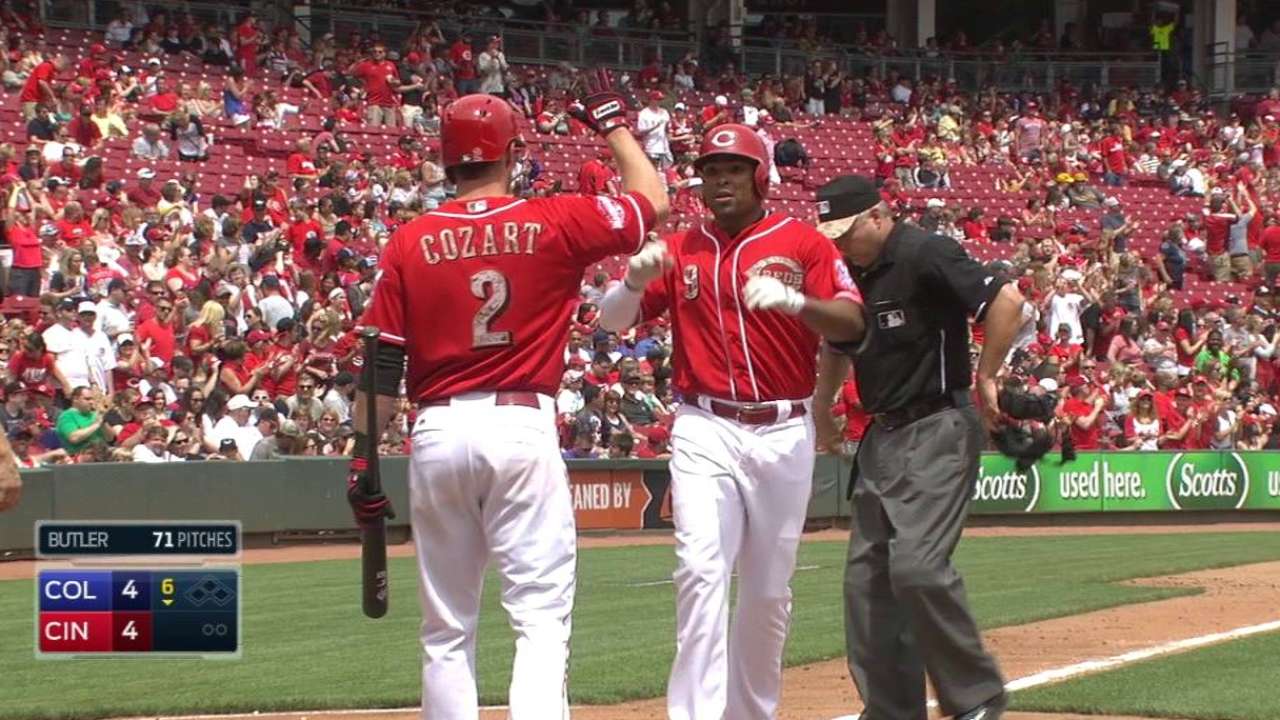 QUOTABLE
"We've been scuffling, but I see us turning it around. I see us pitching better. I see us taking better at-bats, and just playing better." -- Weiss, after the Rockies won their third straight game for the first time since April 24
"It stinks to play this way." Reds manager Bryan Price, after Cincinnati extended its longest losing streak since dropping 11 straight June 14-28, 1998
THINGS TO KEEP AN EYE ON
• In his last start, Butler threw first-pitch strikes to just eight of 18 batters (44 percent), and before Monday he threw first-pitch strikes to 95 of 177 batters faced this season (53 percent). Against the Reds, Butler's first pitch was a strike 16 times in 28 batters (57 percent), and he finished with strikes on 53 of his 82 total pitches.
"It was strides -- mountains -- better," Butler said. "They were coming out swinging early. The first inning was a little long-winded, but by the second inning they were swinging early in counts and I was able to get a lot of quick outs."
• Just before Monday's game, the Rockies scratched right fielder Carlos Gonzalez, who came down with a stomach bug. But by game's end, Weiss said Gonzalez looked "less green" and could return Tuesday. The Rockies rested Gonzalez and shortstop Troy Tulowitzki, both of whom have been struggling. More >
SOUND SMART WITH YOUR FRIENDS
Marquis batted eighth and center fielder Billy Hamilton ninth, the first time a pitcher did not bat in the No. 9 spot in the Cincinnati order since Red Lucas hit seventh on Sept. 7, 1933. Marquis went 1-for-2, while Hamilton went 1-for-4 with an RBI single.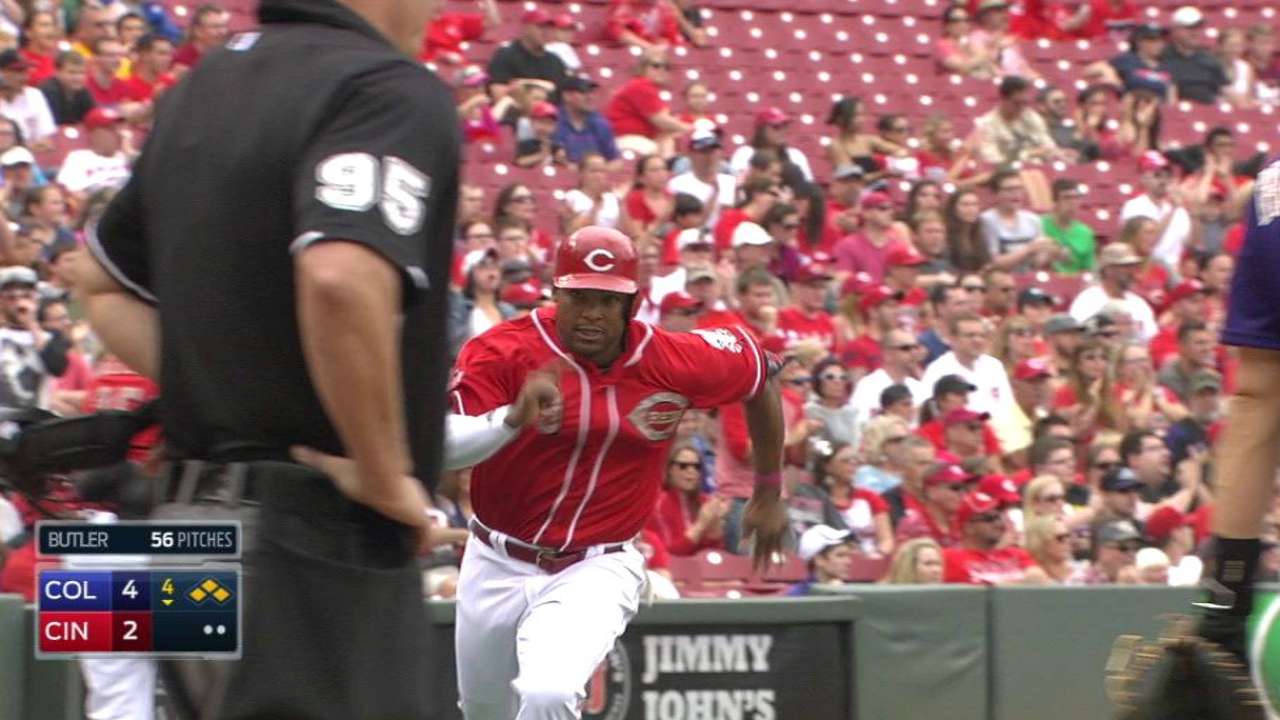 WHAT'S NEXT
Rockies: Lefty Jorge De La Rosa (1-2, 6.51 ERA), who blanked the Dodgers for 7 1/3 innings two starts ago but threw 108 pitches in just four innings in his last, hopes to return to the win column on Tuesday night against the Reds at 5:10 p.m. MT.
Reds: Rookie right-hander Michael Lorenzen will be making his fourth career start for the Reds. Lorenzen fared well in his first three starts, going 1-1 with a 2.81 ERA, but he has been working out of the bullpen since May 10.
Watch every out-of-market regular-season game live on MLB.TV.
Andy Call is a contributor to MLB.com. This story was not subject to the approval of Major League Baseball or its clubs.