Matusz gets 8-game suspension, opts to appeal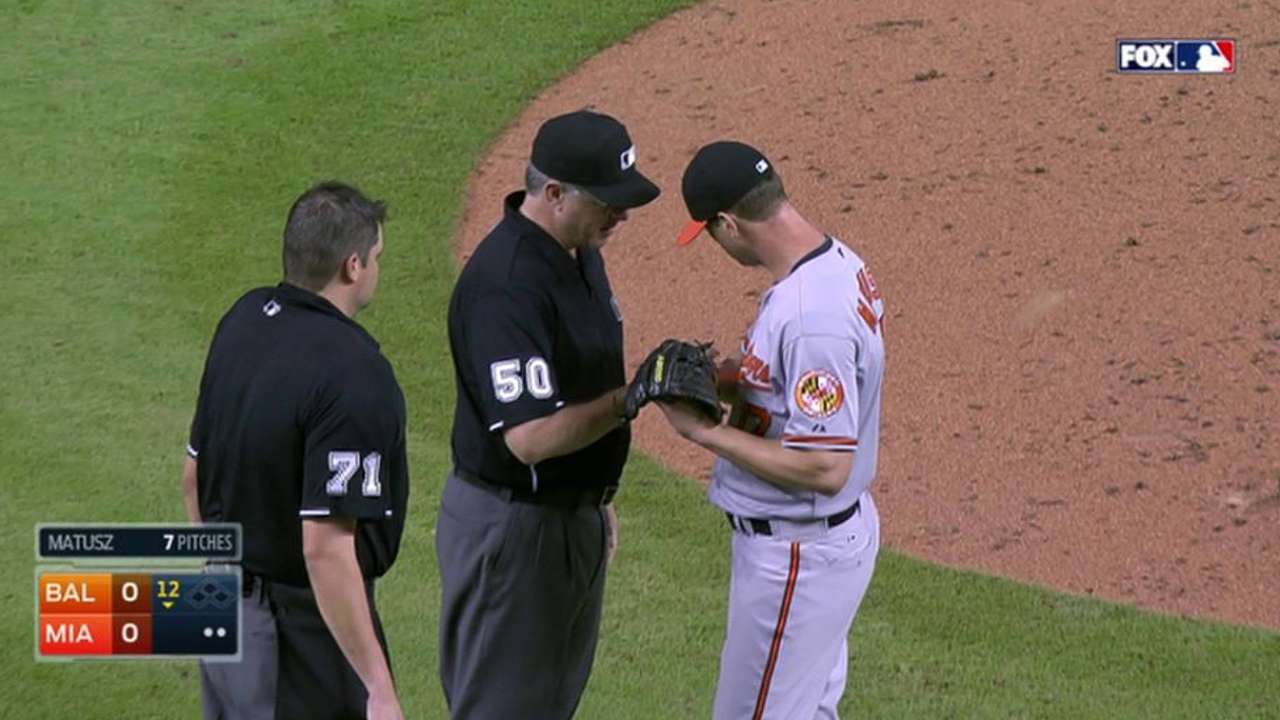 BALTIMORE -- Orioles pitcher Brian Matusz has been suspended eight games for having a foreign substance on his arm in Saturday's game against the Marlins, Major League Baseball announced on Monday.
Matusz has appealed the suspension, but Orioles manager Buck Showalter is unsure of when the process will take place. Brewers pitcher Will Smith was suspended eight games for the same offense on Friday, but he has yet to get a verdict on his appeal.
"They are basing it off precedent and each case is different," Showalter said. "That's why you have the appeal process, to make sure it's not just some blanket punishment. Each case is different. You have to start somewhere and work from there."
Matusz will be available to pitch until the appeal is heard. After that occurs, the Orioles would have to go with a six-man bullpen or a seven-man 'pen with one fewer position player.
"I'm going to get through today, try and win the game today, and then the same way tomorrow and see if we get a feel for when the appeal process is," Showalter said. "You have to be ready to move in all directions with each day."
Showalter said he would not get involved in the appeal process, but he did not seem overly critical of his pitcher.
"It's one of those things that publicly you are always going to be supportive of your players," he said. "Privately, you are always trying to make people aware of the ramifications of their actions."
O's executive vice president of baseball operations Dan Duquette discussed why Matusz would use a foreign substance.
"Pitchers, they're trying to grip the ball so they can make an effective pitch and I think Brian Matusz's intent was pure, that he wanted to grip the ball to make a pitch," Duquette said. "Dependent upon the conditions, where you are, the stadium, the temperature -- there are a lot of variables that go into gripping a baseball.
"It's a pitcher's responsibility to make a good pitch and get the hitter out, so the pitchers want to grip the ball effectively to be able to have confidence they can make a pitch."
Connor Smolensky is an associate reporter for MLB.com. This story was not subject to the approval of Major League Baseball or its clubs.