Giants relieved to escape rainy, wild Denver
San Francisco endures more than seven hours of delays, taxed bullpen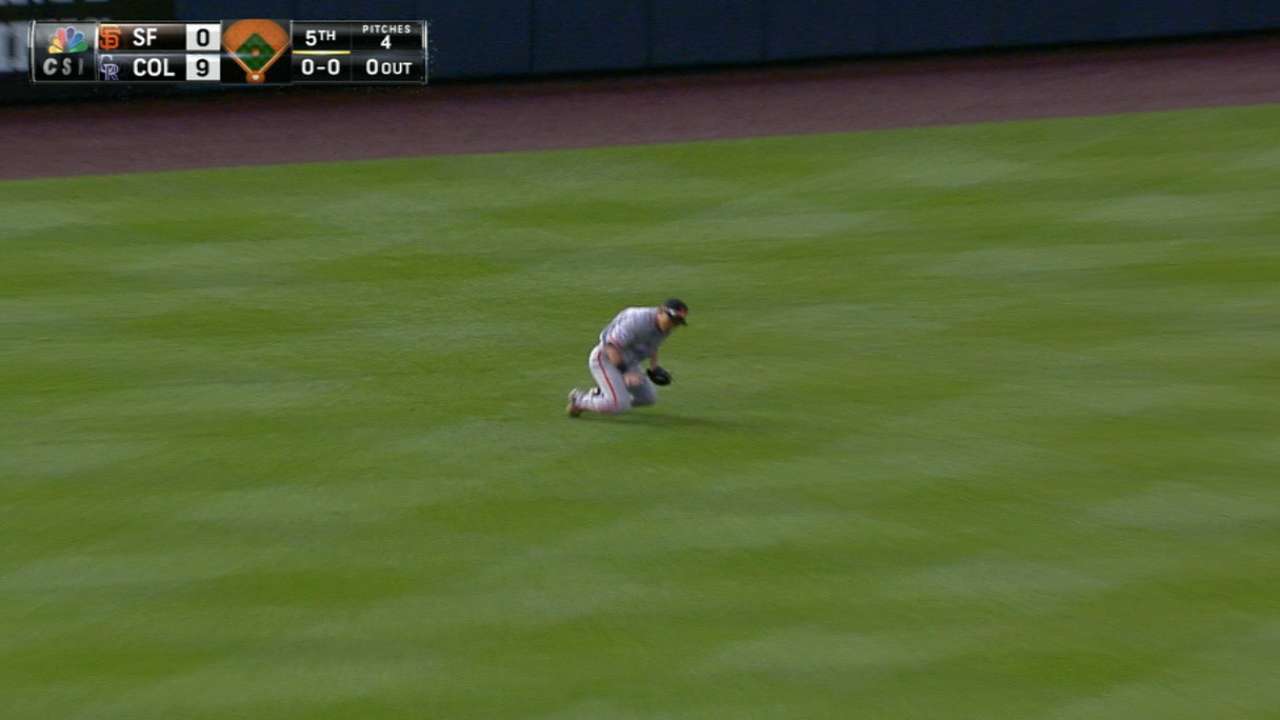 DENVER -- The Giants' series against the Colorado Rockies became a success when their charter flight took off Sunday night for Milwaukee, the team's next stop.
Miller Park, the Milwaukee Brewers' playpen, has a retractable roof. That assures the Giants of avoiding the seven hours and seven minutes of rain delays that tested their patience here.
"It was a long three days," Giants manager Bruce Bochy said.
One way or another, time seemed to nag the Giants, who were pounded, 11-2, in Sunday's series finale after their eight-game winning streak dissolved in the second half of Saturday's day-night doubleheader.
They hopscotched through various and sundry starting times, disrupting the routine players savor. Beginning with Thursday's afternoon affair against the Dodgers, they followed that with a night game here Friday, day and night games Saturday and an afternoon game Sunday. On top of that, the lengths of the games totaled 12 hours and 11 minutes. The Giants nearly spent more time at the ballpark than at their hotel.
The rain delays bugged players most. Both teams had to endure them, but the Giants probably weren't as accustomed to such interruptions as the Rockies were. Giants catcher Buster Posey explained the inconvience of the delays, particularly those that held up the first pitch Saturday and Sunday.
"As a baseball player, 30 to 40 minutes before the game you're really starting to hone in and get focused," Posey said. "So when you're told to back off, that can be a challenge sometimes."
As is the case with most Coors Field series, this one featured plenty of offense. Colorado outscored the Giants 32-26. Though San Francisco managed to split the four-game set, all that scoring pushed Bochy and the club's strategists over the edge and forced them to add right-hander Hunter Strickland to the staff, which prompted third baseman Casey McGehee to be designated for assignment.
A look at basic statistics conveyed the Giants' urgency to deepen the bullpen. Except for long reliever Yusmeiro Petit, each of the other six relievers had pitched in at least 20 games, placing all of them among the National League's top 35 in appearances.
Had the Giants spent another day here, the bullpen would have been severely taxed. To spare exhaustion Sunday, they needed a gutty effort from Jean Machi, who allowed three runs and five hits but lasted 2 2/3 innings after starter Tim Hudson allowed eight runs in 3 2/3 innings.
"Machi gave us the innings that we needed to rest other guys," Bochy said.
When the Giants will catch up on their rest is anyone's guess. Their next scheduled off-day is June 4. But fatigue and the fight against it come with the Major League territory.
"We have to regroup," Bochy said.
Chris Haft is a reporter for MLB.com. Read his blog, Haft-Baked Ideas, follow him on Twitter at @sfgiantsbeat and listen to his podcast. This story was not subject to the approval of Major League Baseball or its clubs.