Rockies ride eight-run frame to victory
Bettis, Arenado, Tulo make big contributions in Rockies' season-best inning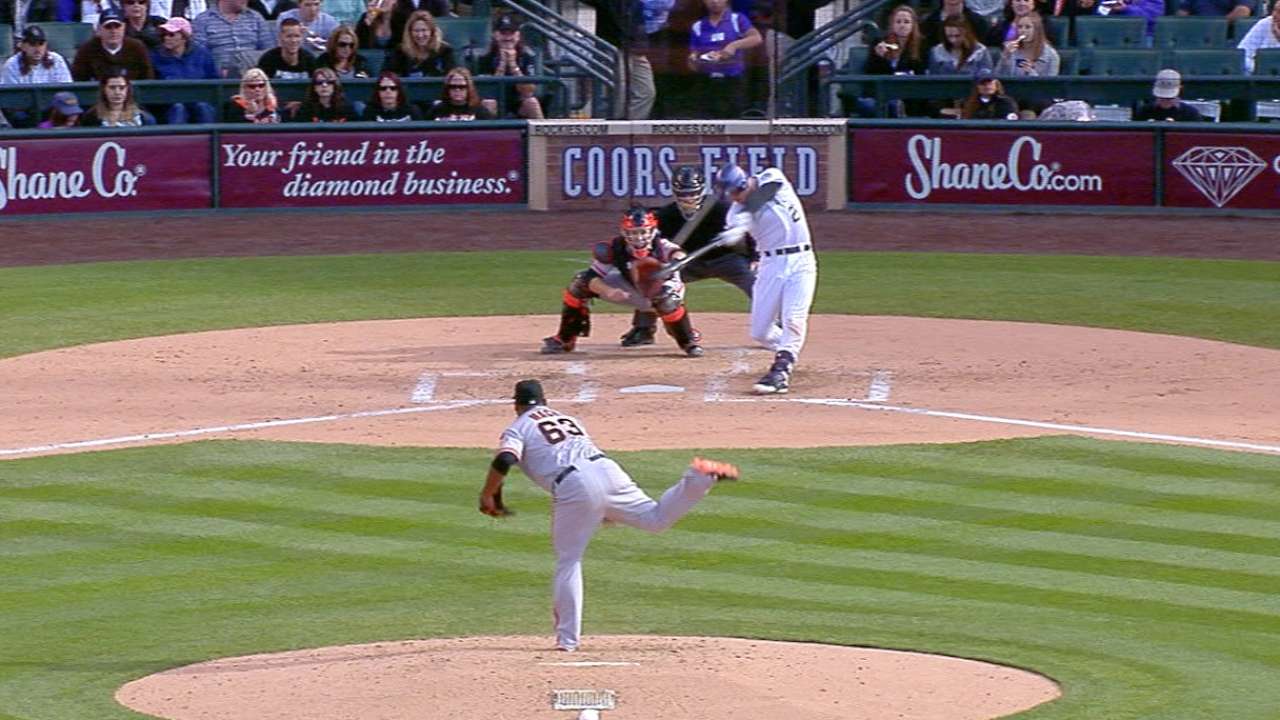 DENVER -- One run through the lineup card was all the Rockies offense needed Sunday afternoon. One inning was all they needed as well.
Colorado batted around in the fourth and eventually scored eight runs in the frame, the offensive catalyst behind an 11-2 win over the Giants at Coors Field.
"I thought we executed really well today," Rockies manager Walt Weiss said.
Ben Paulsen grounded out as the second batter of the inning, but seven of the next eight Rockies hitters reached safely off Giants starter Tim Hudson and reliever Jean Machi. Even the one out in that stretch was productive. It was a run-scoring groundout from starting pitcher Chad Bettis -- the first RBI of his career.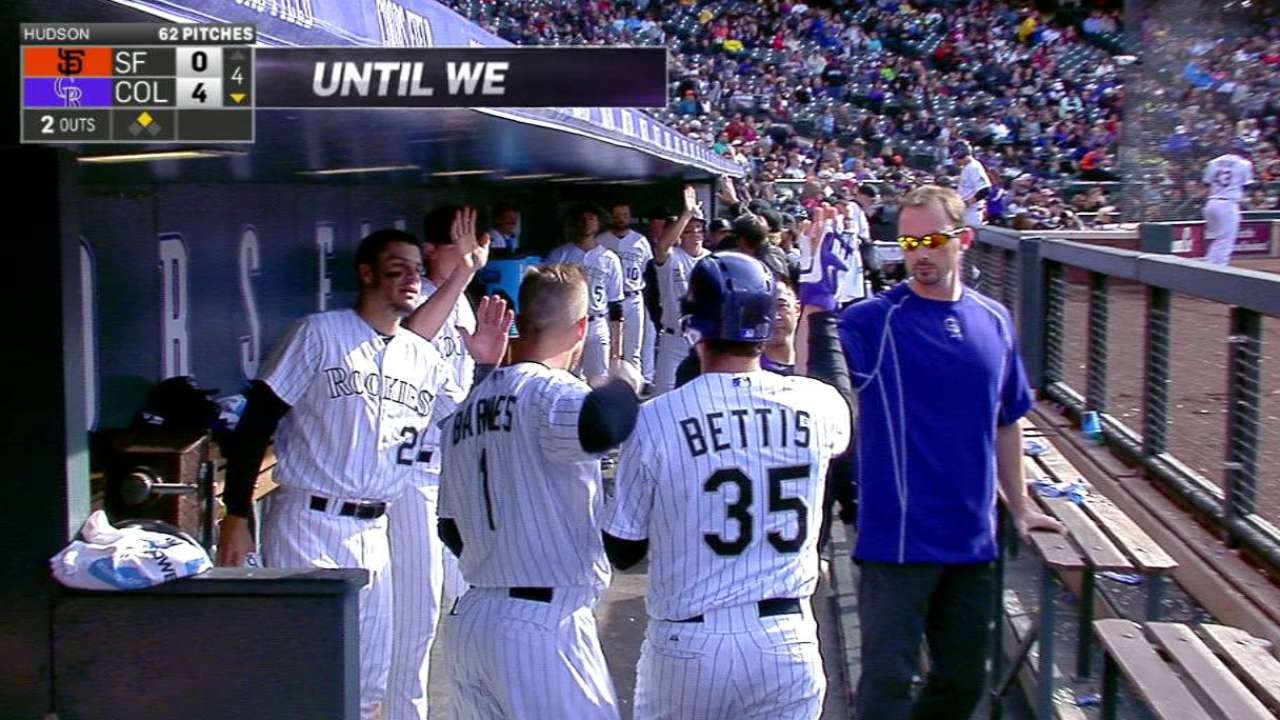 Bettis' offensive contribution came with men on the corners and followed RBI singles from Nick Hundley and Daniel Descalso. Weiss put Descalso in motion from first, and Bettis did the rest.
"Did a nice job on a hit-and-run with two strikes," Weiss said. "You don't typically do that [with a pitcher], but Chad handles the bat well."
The offense continued back at the top. Charlie Blackmon drew an easy walk, and reserve outfielder Rafael Ynoa made the most of his rare start with yet another Rockies single. Colorado already had three across in the inning and led 4-0 but Troy Tulowitzki took it a step further with a two-run single to center.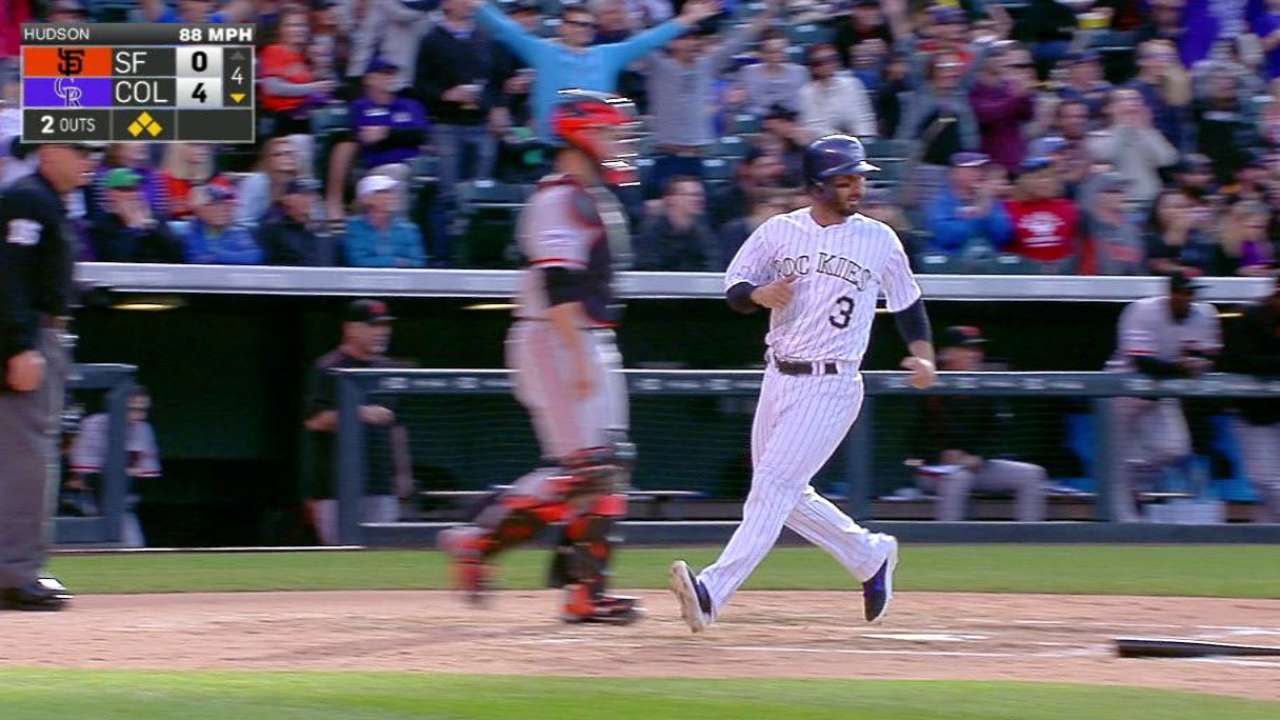 Hudson out. Machi in.
"Tim Hudson's a good pitcher, but we had some good at-bats against him," Nolan Arenado said. "Obviously, he probably didn't have his best stuff because he's usually a great pitcher."
The pitching change, though, wasn't very effective. Contributions from Arenado bookended the inning -- the Rockies third baseman led off the frame with a single and then crushed Machi's first pitch into the left-field seats for a three-run homer.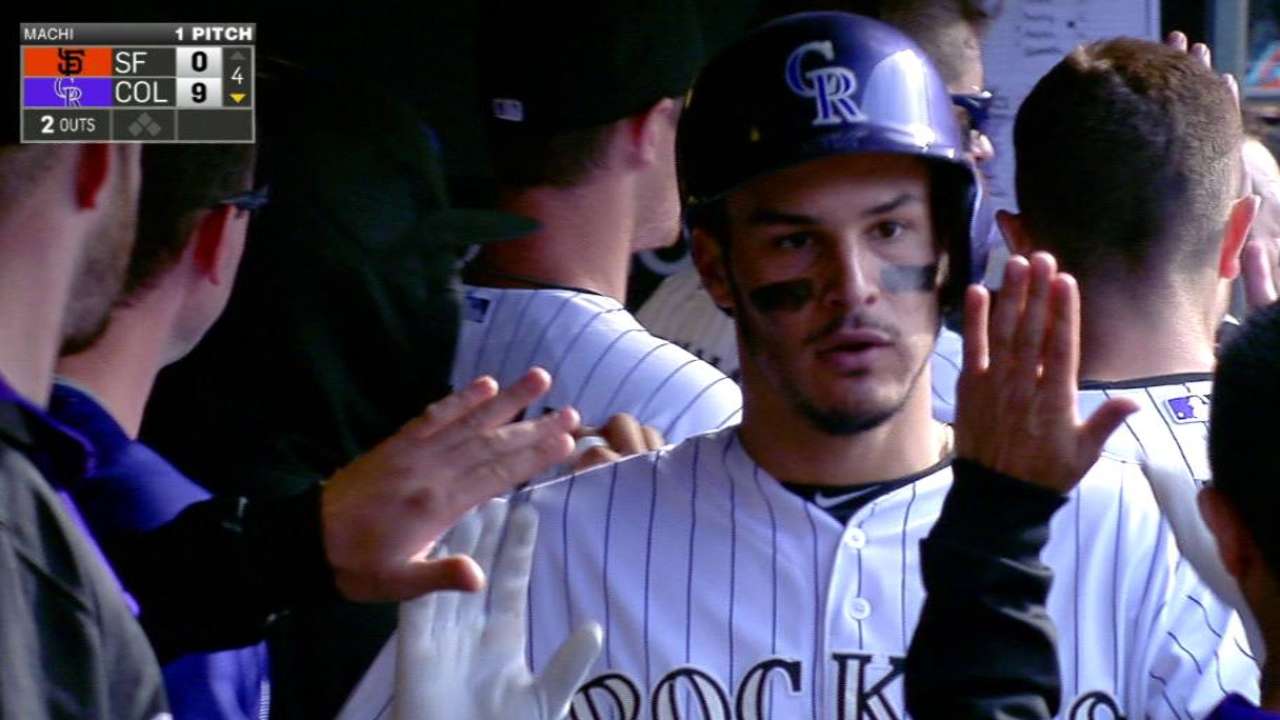 The blast handed the Rockies a 9-0 lead and signaled their highest scoring inning of the season.
"We took care of business today," Arenado said.
Dargan Southard is an associate reporter for MLB.com. This story was not subject to the approval of Major League Baseball or its clubs.