Bernie takes his place among Yanks' greats
Four-time World Series champion has No. 51 retired, Monument Park plaque unveiled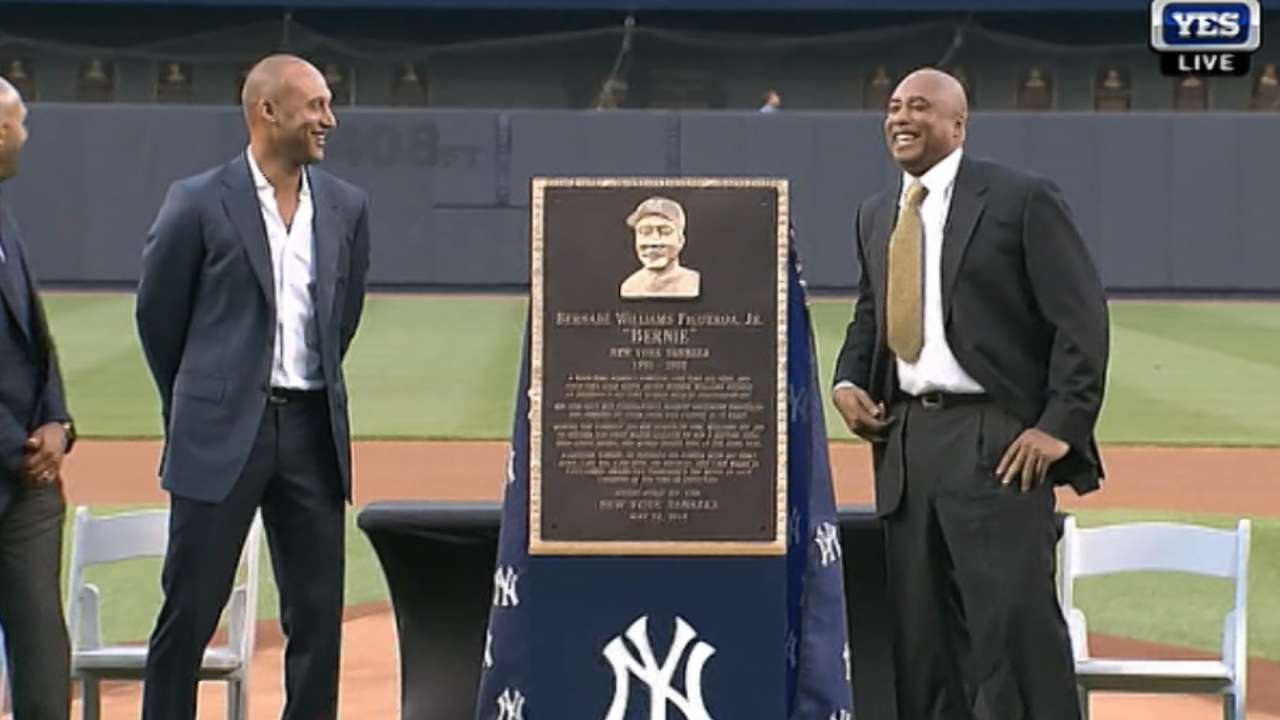 NEW YORK -- This was the celebration that Bernie Williams put off for nine years, unsure about embracing what it would represent. To join the past Yankees greats in Monument Park and take his uniform number out of circulation demanded an acknowledgement that his playing days were over, and that was a difficult dream to part with.
Yet as Williams stood at a podium Sunday, delivering 10 minutes of heartfelt remarks in the center of a Yankee Stadium where he never played, he was surprised to discover that it was not bittersweet at all to say goodbye. In a geographical sense, now Williams and his No. 51 will always reside in center field for Yankees home games.
"The Yankees organization has been on me for years to have this day," Williams said. "I have been putting it off for many years. I didn't really think it was that important. It took nine years, and I really wanted to make sure that I was not going to come back."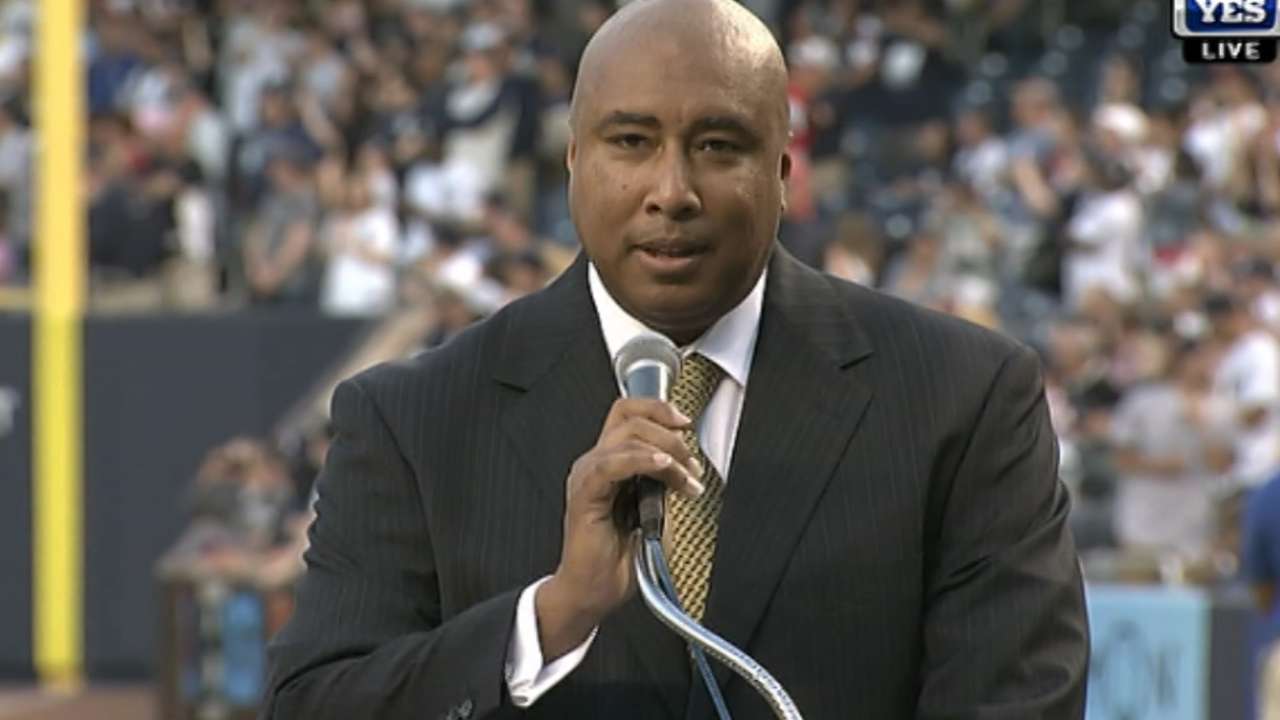 A four-time World Series champion who spent his entire 16-year career with the club, Williams batted .297 in 2,076 games and became the 18th number retired in Monument Park. In franchise history, he ranks third in doubles (449), fifth in hits, sixth in games and runs (1,366) and seventh in homers (287) and RBIs (1,366).
A five-time All-Star and four-time Gold Glove Award winner, Williams was the MVP of the 1996 American League Championship Series and won a batting title. Williams said that the ride to Yankee Stadium for the night in his honor offered the same nervous energy of the October stage, where he shined so often during his playing days.
"I started feeling the butterflies in my stomach, almost like I used to feel going to an important game," Williams said.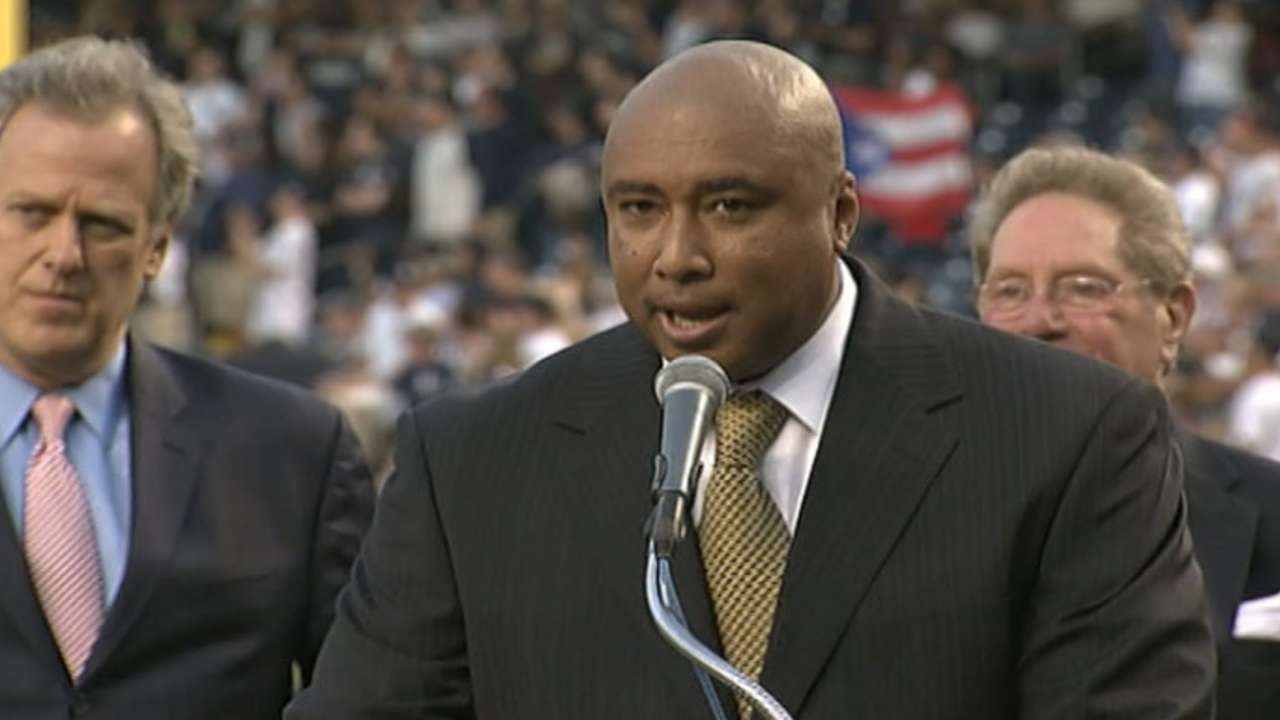 The widely-held respect for Williams was apparent in a star-studded turnout. The guest list included Derek Jeter (in his first Yankee Stadium appearance following his retirement), Andy Pettitte, Jorge Posada, Mariano Rivera, Gene Michael, Roy White, Willie Randolph, David Cone, Tino Martinez, Paul O'Neill and Joe Torre.
At one point, Williams paused his remarks to tell Torre: "Joe, you're the man. Thank you for being there for me."
"Bernie was every bit as important as anybody on that ball club," Torre said. "Pressure never bothered him. He was a good team guy. He was important to winning."
Williams' mother, Rufina Figueroa, was on hand for the ceremony, sitting next to Williams' brother Hiram and his children, Bernie, Beatriz, Bianca and Abriana. As chants of "Ber-nie Will-iams" echoed through the bleachers, managing general partner Hal Steinbrenner presented Williams with what could be considered his fifth Yankee ring, a 14-karat white gold treasure with his No. 51 encrusted in diamonds.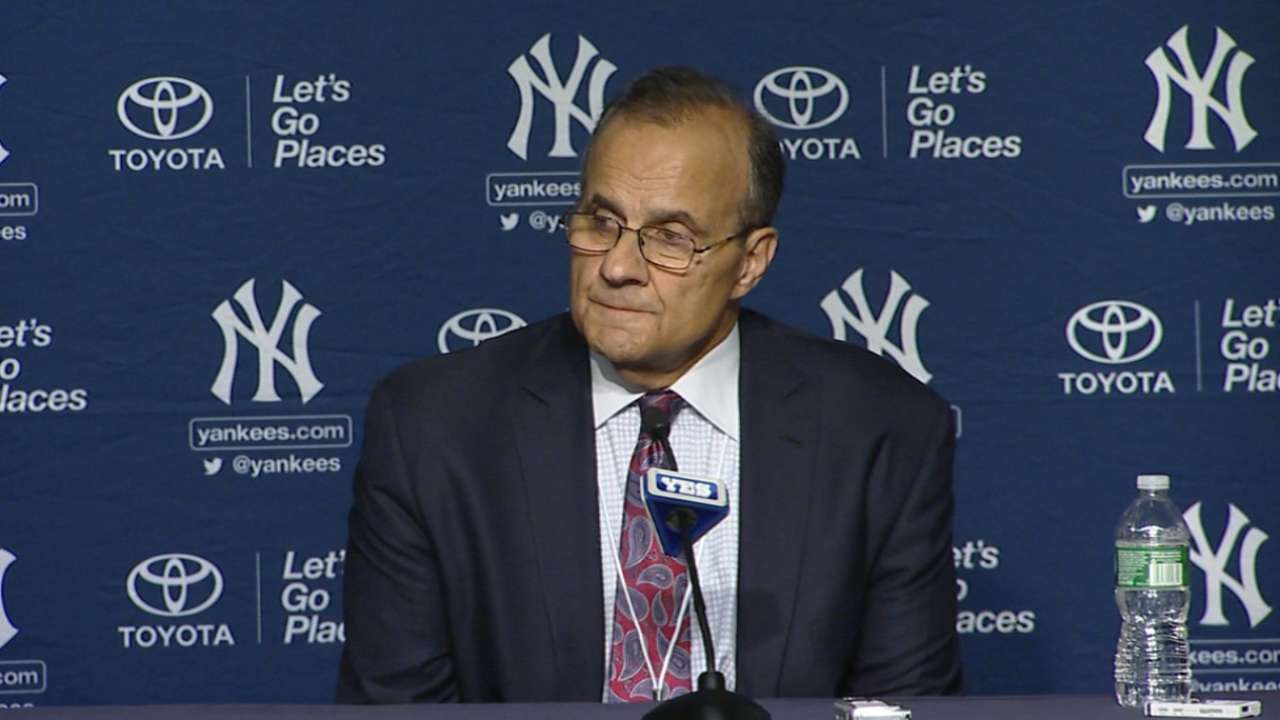 "This is unbelievable," Williams said. "Never in my wildest dreams would have I ever thought that a skinny little 17-year-old kid from Puerto Rico could be here this day in this celebration. I am overwhelmed."
Though much reference has been made to the "Core Four" of Jeter, Pettitte, Posada and Rivera, there is a sense from those involved that there would have been no Yankee dynasty without Williams, who helped turn the franchise around from its doldrums in the early 1990s.
"We know that we couldn't have won those championships without Bernie being right in the thick of things," Pettitte said.
Thus, it seems appropriate to embrace the suggestion that general manager Brian Cashman offered earlier this season, referring to the group as the Yankees' "Fab Five." Cashman volunteered that phrasing on the day that Williams finally set the ink on his MLB retirement papers, confirming the obvious for a career that ended in 2006.
Williams never wanted to leave the Yanks, who wanted to keep him, too. With heavy flirtation underway with the Red Sox as a free agent, Williams and the late George M. Steinbrenner found a way to reach common ground and stay in pinstripes, a development that Williams referenced in his remarks Sunday.
"I promised them, if five or 10 years from now, if I ever decide to come back, I will always play for the Yankees," Williams said.
Though Williams was reluctant to put his bat aside, he has found new challenges in the music world. That serves as no surprise to his former teammates, who still remember Williams as fondly for his guitar strumming on team planes and in the clubhouse as they do for his switch-hitting power.
"To be honored by this organization is what dreams are made of," Williams said.
Bryan Hoch is a reporter for MLB.com. Follow him on Twitter @bryanhoch, on Facebook and read his MLBlog, Bombers Beat. This story was not subject to the approval of Major League Baseball or its clubs.