Mattingly: Frias' rotation spot not in jeopardy
'It can happen to anyone,' Dodgers manager says of rough outing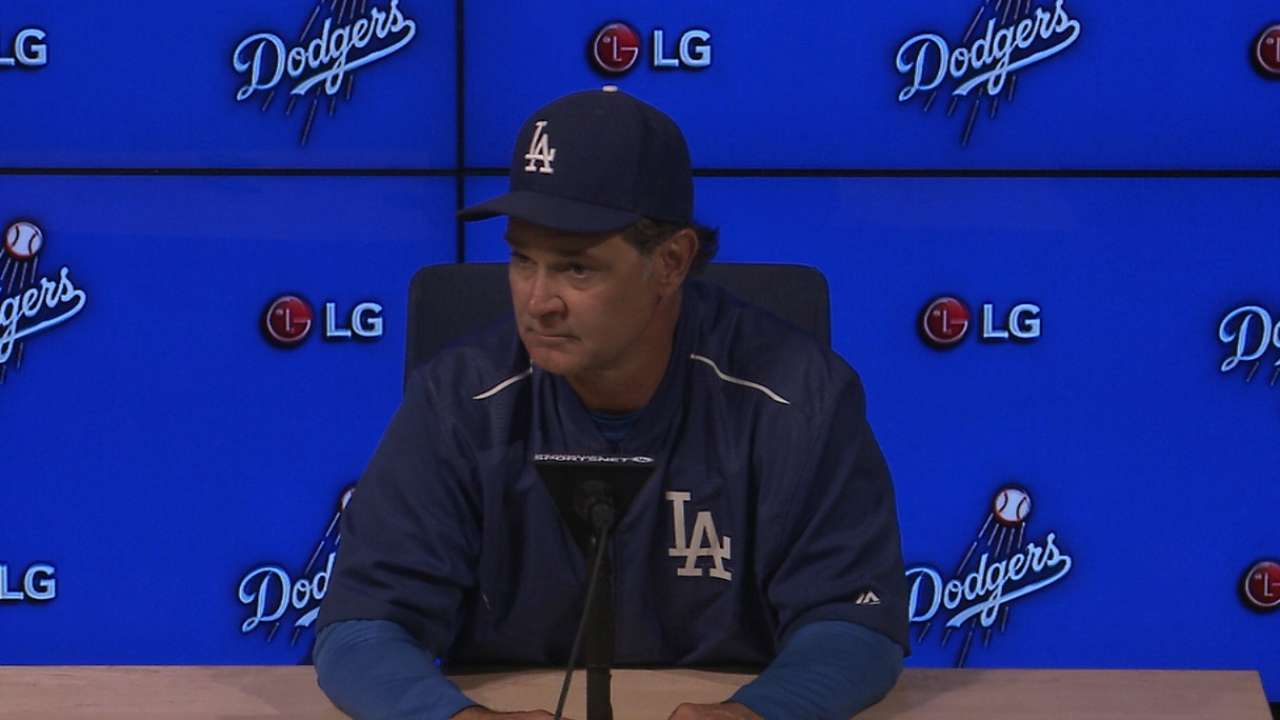 LOS ANGELES -- If the last two games proved anything, it's that the Dodgers can't know what they'll get from starters Mike Bolsinger and Carlos Frias.
It could be genius, like Bolsinger's eight scoreless innings Saturday night. Or it could be ghastly, like Frias' 11-3 loss to the Padres on Sunday. That's why management wants to trade for more pitching.
Meanwhile, Zach Lee threw seven scoreless innings for Triple-A Oklahoma City and the former No. 1 Draft pick could be next on the tryout sheet as the club has reason to worry, with veterans Hyun-Jin Ryu and Brandon McCarthy lost for the season.
Manager Don Mattingly plays the roster he's dealt.
"No, we can't make decisions based on one start," Mattingly said when asked if Frias' rotation slot was in jeopardy after following four promising starts with a real clunker. "It can happen to anyone.
"We haven't seen that at all this year. He had one game last year. A lot of balls were in the middle of the plate and big leaguers are going to hit those. It looked like he had trouble throwing his fastball for strikes."
Outings like this are why Frias has been in the organization for nearly a decade and two management teams haven't been able to decide if he's a starter or reliever. He's done both in eight of his nine seasons.
All but one of the run-scoring hits off Frias came on fastballs or cutters. Frias has had these outings before. Think back to his two starts of 2014. In his debut against the Nationals, he threw six scoreless innings. But his other start was a true Coors Field nightmare, allowing eight runs on 10 hits in two-thirds of an inning.
He went four-plus innings in this one, but that was out of necessity. The first four batters he faced scored -- a double by Yangervis Solarte, a pair of walks and Justin Upton's fourth career grand slam and third against the Dodgers. Upton also doubled in two runs in a four-run second inning.
"That's kind of the game for us at that point for us to prepare and have everyone available for tomorrow," Mattingly said of needing Frias to take one for the team.
Frias said he struggled with his command, but didn't have flashbacks to Coors Field.
"It wasn't my best day today," he said. "That's part of the game. I made a couple mistakes and like I've said before, there's no room for mistakes."
He said he wasn't worried about losing his spot in the starting rotation.
"That's part of the game," he said. "These days are going to happen to anyone. I just have to be ready for the next one."
Then there's the offense. Despite a spirited pre-game resistance to major changes from Mattingly, the bats remained AWOL against James Shields until stirring for three runs in the seventh inning, two on Alex Guerrero's seventh home run. The Dodgers have scored nine runs in the last eight games.
Ken Gurnick is a reporter for MLB.com. This story was not subject to the approval of Major League Baseball or its clubs.