Collins meets with struggling Mets after loss
Manager tells players they can play better, not to feel sorry for themselves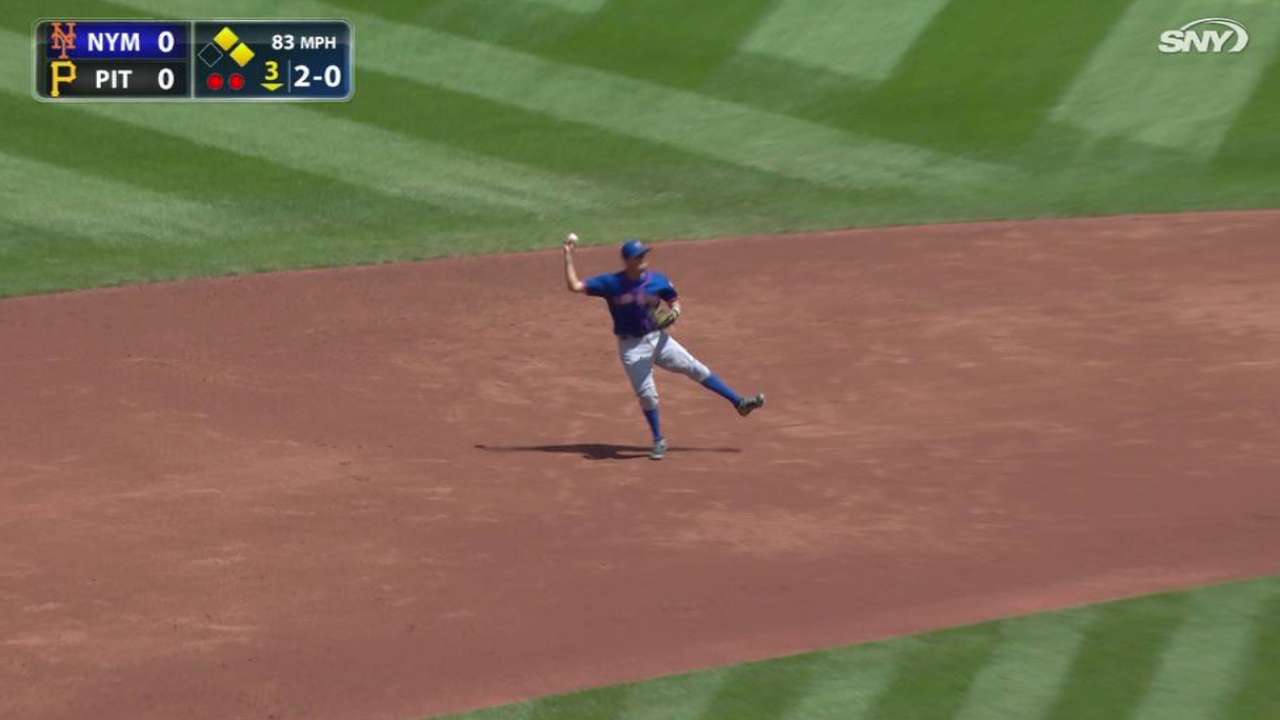 PITTSBURGH -- Moments after his team trudged off the field for the third straight day, recording fewer hits (20) than the Pirates scored runs (21) during a three-game sweep, Mets manager Terry Collins walked into PNC Park's visiting clubhouse ready to preach. He told the Mets they are "the best of the best." He told them they are capable of playing better than they showed in Sunday's 9-1 undressing, their second consecutive blowout loss and their seventh straight road defeat. He told them not to feel sorry for themselves, nor for the injured multitude unable to help.
In short, Collins told the Mets not to whine but to win.
"He said all the right things," starting pitcher Jon Niese said. "I told him in the cafeteria afterwards, 'I couldn't have said it better myself.' Everything he said, I was thinking it."
It was not a meeting so much as a memo: play better. Collins simply felt the Mets needed to hear something, anything, considering how poorly they performed over three games in Pittsburgh. His players struck out 36 times in the series. The Pirates outscored them, 21-4. They lost for the fifth time in six games and the 10th time in their last 14.
"You definitely inventory what went wrong," said outfielder Michael Cuddyer, who was 1-for-8 with three strikeouts in the series. "You don't flush away that. But that being said, you also don't dwell on the results of it."
Though their pitching was as much to blame as their offense in Pittsburgh, a starting lineup missing David Wright, Travis d'Arnaud and now Lucas Duda and Juan Lagares has limited the Mets. The team has struggled to make contact throughout May, which Collins called a significant issue for a club that does not hit for much power. Two of the four runs the Mets scored at PNC Park came home on a wild pitch and a groundout.
For a while, the Mets' 11-game win streak in April masked many of their problems -- but no longer. Heading back home after a three-game road trip, the Mets rank in the National League's bottom three in runs scored, batting average, on-base percentage and slugging percentage. The absences of Wright and d'Arnaud have smarted, as has the lack of production of others. Outfielder Curtis Granderson finished 1-for-11 in Pittsburgh with seven strikeouts and a double play. Cuddyer has not driven home a run in a week, has not hit a home run since May 1 and owns one extra-base hit in his last 78 plate appearances.
"It's not fun," Cuddyer said. "There's no question about that."
If relief is in sight, the Mets should find it in the next series, with the Phillies sending starting pitchers with 7.11 and 5.44 ERAs to the mound the next two days.
Sitting in second place with 117 games left in the season, just 2 1/2 games back of the Nationals, the Mets insist they are not panicking. But another week or two of play like this may cause that to surface. The Mets know it. Collins knows it.
It is a situation they desperately seek to avoid.
"This is our stage," Collins said. "We're not dead. We're not dead in the water by any stretch of the imagination. We've just got to get it going. And we plan on starting tomorrow."
Anthony DiComo is a reporter for MLB.com. Follow him on Twitter @AnthonyDiComo and Facebook, and listen to his podcast. This story was not subject to the approval of Major League Baseball or its clubs.